As Aston Martin continues to celebrate 20 years of one of its iconic supercars – the original V12 Vanquish – it is now also celebrating a new record for the largest gathering of V12 Vanquish ever seen.
Aston Martin Works in Newport Pagnell, Buckinghamshire – the heritage home of the marque and the place where all 2,589 V12 Vanquish, V12 Vanquish S, and V12 Vanquish S Ultimate Edition models were built between 2001 and 2007 – hosted its unique Vanquish Day on Sunday 31 October when owners from all over the UK attended in their cars to create the new record.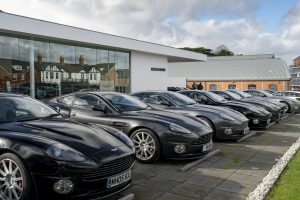 A total of 78 Aston Martin V12 Vanquish from all corners of the country made the trip to the heritage home of the brand to celebrate the two decades since the first production version of the sports car was revealed.
Also in attendance were cars that highlighted the significance of the V12 Vanquish story in the history of Aston Martin – from the Project Vantage concept car which pointed the way to its production-ready cousin when it was revealed in 1998, to the Aston Martin CALLUM Vanquish 25, a modern reimagining of the original car created by its designer Ian Callum.
The world-renowned former Aston Martin designer of cars such as the DB7 and V12 Vanquish took time out to attend the event and addressed the scores of owners who had travelled to Newport Pagnell for the record-breaking celebration.
A unique, and light hearted, V12 Vanquish-only 'concours' competition was officiated by Aston Martin Owners' Club Chief Judge Mark Donoghue, with all those who attended on the day also receiving a very special Aston Martin Works shield car badge denoting their participation in the celebrations.
President of Aston Martin Works, Paul Spires, commented: "We are indebted to the owners of these remarkable cars for making Sunday such a fantastic day, and by turning out in such numbers ensuring we set a new V12 Vanquish record.
"Despite dubious weather and, in many cases, big distances to drive, the celebration was hugely well supported, and I'm very pleased that so many people were able to help us mark this important anniversary for what was, until the marque's Continuation programme was established in 2017, the final Aston Martin production car to leave Newport Pagnell."