Overdrive Club, the UK's newest membership club for drivers, is proud to announce details of its inaugural Tour – a two-day celebration of Yorkshire roads with a surprise or two included.
The Yorkshire Rendezvous Tour is open to 11 cars, and starts on Friday 24th of September at the magnificent 18th century mansion at Oulton Hall just south of Leeds. The event moves across the North Yorkshire Moors to the picturesque medieval town of Helmsley then breaks east towards the coast for an overnight stop at Saltburn-by-the-Sea on Saturday 25th September – where things get really exciting….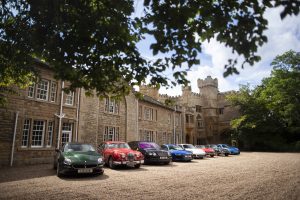 Included in the package is an evening at The Arches Country House where guests may elect to enjoy a quick run around a tarmac rally stage.
Meals and breakfast will be provided by private chefs, before guests depart for a southbound drive that takes in both moorland and coastal scenery – and some of the best roads in the UK – before tracking back towards the 12th century country house at Hooton Pagnell for the 'Rendezvous' aspect of the Tour.
The Overdrive Yorkshire Rendezvous, held on the grounds at the 12th century country house and estate at Hooton Pagnell, is an opportunity for drivers to bring up to 120 cars to display at a venue that is not normally open to the public.
For one day, grounds will be open from 12 till 430pm, with food and drink options available on site, a jazz band for entertainment, and family friendly games such as croquet and garden chess available for little ones. The Sunday 'Yorkshire Rendezvous' element is included in the Tour, or available as a separate event-only ticket. Guests can arrange to stay at Hooton Pagnell on Sunday evening – or other luxury accommodation – via the Overdrive Club concierge (spaces limited).
The Overdrive Club Yorkshire Rendezvous Tour operates on a 'just add fuel' basis with all food, and accommodation included. The price for this limited event is £1300 per car (single occupancy) or £1750 per car (two people).
About Overdrive Club
Overdrive is born from passion. Founders Adrian and Lee Brooks are the father and son team responsible for Production Park – a community of studios, businesses and educational facilities working together to create live experiences and events. It's a beacon of industry in the north of England.
Their extensive collection of classic and performance cars – from E-Type to Mk1 Golf GTi – led them to meet automotive engineer Alex Hearnden and together they formed Overdrive. The club is a new bringing together of cars and travel with international ambitions, but with a firm commitment to its roots in the stunning scenery of Yorkshire and surrounding counties.
The Yorkshire Rendezvous is just the start. A full calendar of events is planned for 2022, ranging from single day UK destinations to fully catered week-long European tours. A unique digital membership is also being developed, empowering members to find diverse and interesting new routes to enjoy in their cars.