Silverstone Auctions' Race Retro auction catalogue is an absolute delight with some of the finest classic and competition cars being offered on the 21st and 22nd February at Stoneleigh Park, Warwickshire.
At the end of last week, we all got to hear the new theme song for the forthcoming James Bond film, No Time To Die, so what could be better than an Aston Martin DB5 in Silver Birch.
WHEN YOU CLICK ON LINKS TO VARIOUS MERCHANTS ON THIS SITE AND MAKE A PURCHASE, THIS CAN RESULT IN THIS SITE EARNING A COMMISSION. AFFILIATE PROGRAMS AND AFFILIATIONS INCLUDE, BUT ARE NOT LIMITED TO, THE EBAY PARTNER NETWORK AND AMAZON
This 1964 Aston Martin DB5 is quite possibly one of the very best examples available, having undergone a meticulous and methodical restoration over a number of years. It comes from a private collection where it has been fastidiously maintained and stored.
It was in 2002 when this mammoth restoration project started and was fully documented over the next ten years. The work was quite extensive including £20,000 being spent on the re-building the engine to unleaded 4.2-litre specification, thereby increasing the torque and making it more powerful, but also improving the experience.
The current vendor bought the car in 2016 when the car was refinished in Silver Birch and added and correctly stored in his collection.
This is certainly a car for a collector, with 5 miles since its restoration was finished in 2012 and now estimated at £725,000 to £825,000 with an extensive history file, this DB5 must be one of the best.
Continuing the Aston Martin theme, the DB2 had great success in motorsport in the 1950s, its greatest moment must have been coming 1st, 2nd and 3rd at Le Mans in 1951.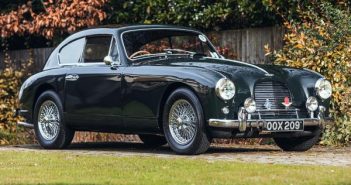 In 1953 Aston Martin replaced the DB2 with the DB2/4 and Silverstone Auctions are offering a 1954 version which does come with an entry into the Mille Miglia and was formerly owned by Philip Gould a founding member of the 1980s pop band Level 42.
This car has had an eventful life, initially residing in Sussex it was bought in 1970 and underwent a full restoration before it was sold in the early 1980s. Philip Gould then owned the car later on in the decade at which point the engine underwent a rebuild, along with other work to the brakes, suspension and wiring loom.
In 1997 the DB2/4 passed on to the next owner who cherished it for the next 20 years, restoring the bodywork and giving it a fresh coat of British Racing Green paint, but leaving the interior as it by now had a lovely patina. The engine was rebuilt by specialists Davron, along with the carburettors, steering, suspension among many other items which led the car to be awarded third in class at the Aston Martin Concours d'Elegance at Duxford in 2016.
In 2016 the DB2/4 was sold to the current owner and vendor, who added it to his significant private collection. He also saw this as an opportunity to fulfil a life long dream of doing the Mille Miglia. He successfully applied for and received the FIVA papers and an entry to the event, however, personal circumstances have meant that he is unable to fulfil the dream at the moment.
Having spent over £30,000 on keeping the car to the exacting standards it deserved during 2017 and 2019, it is now being offered with an extensive history file for an estimate of £145,000 to £165,000.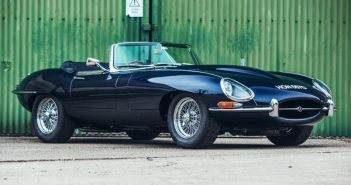 Moving on to our next British classic, the 1965 Jaguar E-Type and one that comes with a number of upgrades by E-Type re-engineering specialists Eagle.
This particular Series 1 open two-seater E-Type was supplied new to Jaguar in New York, USA before returning to the UK in the 1990s.
It then underwent a full restoration, documented in the file with photographs, and was sold almost immediately after completion via Eagle E-Types in 1999. The opportunity was also taken to update this E-Type using the extensive options offered when purchasing a car from Eagle.
In 2005 Eagle sold the car on behalf of the owner to its next custodian who was so taken with Eagle's work that he commissioned a full Eagle E-Type and sold this car as his neared completion.
Prior to its sale Eagle took the opportunity to refresh the engine and the current vendor then purchased the car in 2014.
This E-Type is the best of both worlds, it comes with the original looks, drive train and bodywork but with the performance that comes from Eagle's Supersport upgrade package. It also has a Jaguar Heritage Certificate, detailed history folder and offered at an estimated at £240,000 to £280,000. This is a stunning classic car prepared for modern motoring.
Our final lot in this release is the 1957 Jaguar XK140 Special Equipment. Launched in 1954 the XK140 replaced the XK120 with a number of improvements and enhanced styling.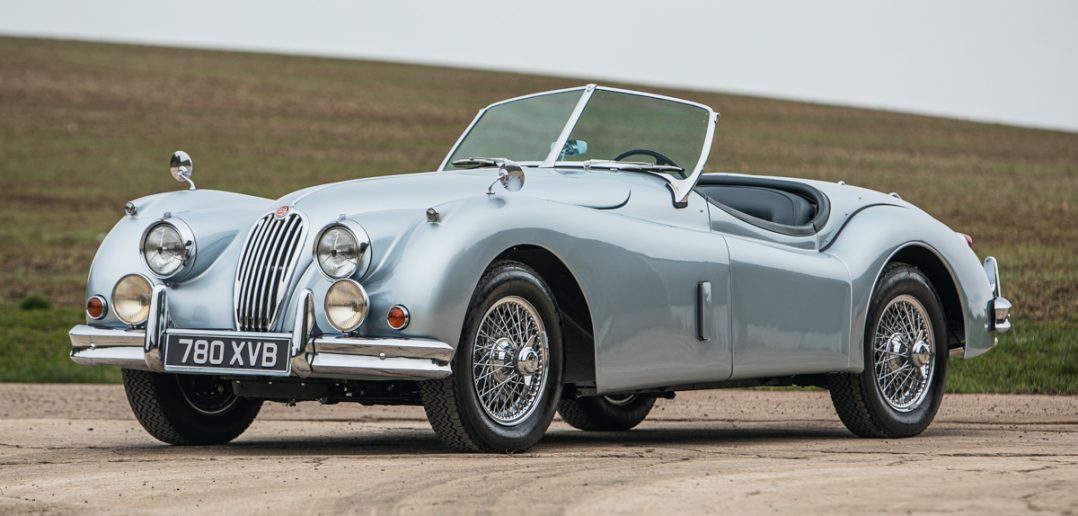 In 1957 this XK140 was delivered new to Jaguar Cars in New York and returned to the UK 60 years later where it was treated to a full ground up restoration.
The original engine was rebuilt by Jaguar specialists and other mechanical components were either replaced or restored. The bodywork was stripped back to bare metal and re-painted in Arctic Blue with the interior re-finished in grey with new carpets.
This XK140 is now presented in sparkling showroom condition with a large history file at an estimated £80,000 to £90,000, which is a very sensible offering bearing in mind the restoration costs far exceed the estimate. This is a wonderful opportunity to own a fully restored and stylish British classic.
Joe Watts Silverstone Auctions Classic Car Specialist commented: "The DB5 is quite possibly the most iconic of all British cars. Known around the world and made famous in the James Bond films, when offered in this immaculate condition always sparks interest."
"It is also accompanied in this sale by the DB2/4 which is a very attractive Aston Martin, again a lovely classic and this one comes with a very interesting history."
"The Jaguars of the period offered here are very stylish and beautifully presented cars, an attractive option should you prefer."
"These are just some of the highest quality cars we are offering at Race Retro this coming weekend."
The two-day auction will be preceded with an automobilia sale offering a selection of watches, signed prints, books, luggage and other items of automobilia.
Silverstone Auctions Race Retro Show auction takes place on the 21st and 22nd February. The team can be contacted on 01926 691141 or email enquiries@silverstoneauctions.com and would be happy to talk with you about any of the Lots on offer. Alternatively, you can speak with them on the day.