The Mercedes-Benz X-Class: an adventurer with premium qualities now has Camper Van Concepts
The new X-Class combines the typical characteristics of a pickup with the classic strengths of a Mercedes. As a pickup it is robust, strong and with good off-road capability. At the same time its good looks, options list, comfort and safety features are typical Mercedes-Benz passenger car qualities. Building on this base – the first Camper Van Concepts are about to be launched.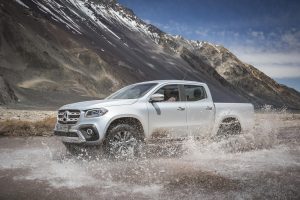 With wide track, coil springs allround and long wheelbase, it delivers exhilarating performance on and off road. It can be ordered with either rear-wheel drive or with engageable all-wheel drive. From mid-2018 a high-torque V6 diesel engine with all-wheel drive as standard will provide even more agility. The outstanding traction of all-wheel drive models comes from low-range gearing and optional differential lock on the rear axle. A fording depth of up to 600 mm, a ground clearance of as much as 222 mm (optional suspension with raised ground clearance), a maximum gradeability of 100 percent and DSR (Downhill Speed Regulation) mean that the X-Class is ideally equipped to cope on even the most challenging of trails. With a towing capacity of up to 3.5 t, it is also capable of towing a wide variety of trailers, including caravans.
Camping concepts based on the X-Class
The Mercedes-Benz booth at the CMT Show for Tourism and Leisure 2018 in Stuttgart sees the debut of some concepts for the X-Class.
Camper Van concepts from Tischer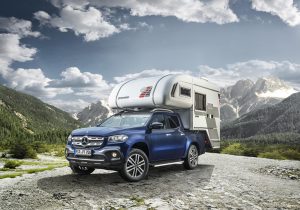 Despite its compact size, the demountable cabin from bodybuilder Tischer offers a comfortable sleeping system. It has headroom of almost two metres, a kitchen with a 3-burner gas stove and three cosy seats which can convert into a second bed in a few simple steps. With a large, fold-away wash basin and swivelling toilet unit, the integrated bathroom manages to offer enough space to take a shower. The sandwich design of the cabin sections ensures reliable stability and excellent insulation properties.
Mobile Camping concepts from VanEssa
A different concept on the basis of the X-Class has been developed by VanEssa mobilcamping: a heavy-duty pull-out module weighing around 250 kg with a fully equipped kitchen – including such features as a coolbox, cooking and washing-up facilities as well as space for crockery and supplies. A second pull-out module offers even more space for further items. VanEssa protects the load compartment with a cover made out of yacht-deck-look teak wood, water-resistant with strength and durability. Pneumatic struts prop the cover up at an angle of 45 degrees. For trips over several days, VanEssa advises the fitting of a roof tent with rear-facing entrance.