Tests for drivers who want to tow a heavy trailer or caravan could be scrapped as policy makers race to lighten the load for examiners and get more HGV drivers out on the road.
This proposal is part of a DVSA consultation running from the 21st of July to the 7th of September, which proposes significant changes to existing regulations.
WHEN YOU CLICK ON LINKS TO VARIOUS MERCHANTS ON THIS SITE AND MAKE A PURCHASE, THIS CAN RESULT IN THIS SITE EARNING A COMMISSION. AFFILIATE PROGRAMS AND AFFILIATIONS INCLUDE, BUT ARE NOT LIMITED TO, THE EBAY PARTNER NETWORK AND AMAZON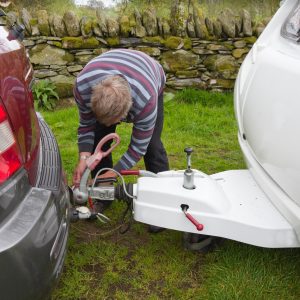 Currently, drivers who passed their car test after the 1st of January 1997 can only drive a vehicle up to 3,500kg maximum authorised mass (MAM), towing a trailer of up to 750kg MAM. More experienced drivers who got behind the wheel prior to 1st of January 1997 are granted grandfather rights', permitting them to tow a car and trailer combination of up to 8,250kg MAM. A typical family car and family caravan combination can easily weigh in at more than 3,500kg.
The timing of the consultation is controversial given the growing popularity of caravanning holidays, with 30,000 people taking the trailer test in 2018, up from 20,000 in 2014/2015. And as travel restrictions persist, many holiday makers have decided to swap Barcelona for Brighton and the Costa del Sol for Cornwall. So much so, the Caravan and Motorhome Club (CMC) announced that sales rose by 71% in July 2020, 37% of which were by people who have never owned a caravan.
Neil Greig, Director of Policy and Research at IAM RoadSmart said: "If a test is no longer a requirement, this raises some serious safety concerns, especially at this busy holiday time. We are very concerned the decision will exacerbate an existing safety situation as currently, as per DVSA's own safety checks, up to 1 in 6 caravans they stopped had a serious safety issue, while 4 in 10 small trailers were also found with serious safety issues. Many of these could have been avoided by better training and awareness of towing safety best practice."
"The DSA had a clear safety reason for introducing the test in 1997, and these reasons are still valid. People need proper training to be able to drive an articulated vehicle, particularly when they are doing so for the first time."
The trailer and caravan tests are designed to help holidaymakers with some of the issues they may encounter while towing. These include dealing with a lateral swaying movement of the trailer referred to as snaking, or pitching, which is when the caravan's front end moves up and down, pulling the rear of the car around like a seesaw. If drivers are no longer trained to manage these situations and the popularity of domestic holidays continues, the decision to scrap the test is likely to come under further scrutiny.
For more information about IAM RoadSmart, which helps to improve driving and riding skills through courses and coaching, visit www.iamroadsmart.com.