Shining Bright
With age, all headlights will cloud, yellow and certainly lose their sparkle. Not only does this prematurely age the look of your car, it also reduces the efficiency of your headlights offering very poor night visibility and can fail an MOT. Prevent this with the T-Cut Headlight Restoration Kit (THK001).
You could, of course, take your vehicle to a garage or bodyshop to have this work done – but with this kit from T-Cut you can complete the work yourself. Not only do you save money, you also have the satisfaction of completing the work yourself  and seeing the results of your labour.
The Kit
WHEN YOU CLICK ON LINKS TO VARIOUS MERCHANTS ON THIS SITE AND MAKE A PURCHASE, THIS CAN RESULT IN THIS SITE EARNING A COMMISSION. AFFILIATE PROGRAMS AND AFFILIATIONS INCLUDE, BUT ARE NOT LIMITED TO, THE EBAY PARTNER NETWORK AND AMAZON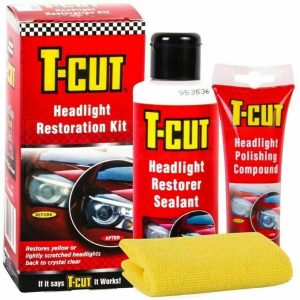 This kit is designed to restore the crystal clear finish of your headlight assemblies. The kit contains:
Headlight Polishing Compound
Headlight Restorer Sealant
Microfibre Cloth
The combination of these products, used as per the instructions, will leave your headlights bright, clear, polished and protected. You need no other tools or products other than what is included in the T-Cut Headlight Restoration Kit.
T-Cut Quality
The T-Cut brand is well established, offering tried and tested products to cover a range of cleaning, restoration and finishing products to all. The range can be purchased on-line and delivered to your door.
A Selection From Amazon
Last updated on September 18, 2023 12:11 pm