Classic Investments, a UK-based restoration specialist, has completed the ultimate restoration of an awesome 1969 Dodge Charger and is looking for a buyer that wants a no-holds barred piece of American muscle with the added benefit of modern-day reliability.
Highly desirable, this iconic model was made famous through the 60's classic film Bullitt as well as the 70's TV show Dukes of Hazzard. This particular example has been upgraded with high-performance components and is ready to be enjoyed in modern traffic.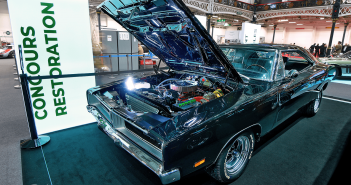 This original R/T car was fully stripped and had all rust removed, before being rebuilt to better than new condition.
The original suspension is improved to include adjustable Koni dampers, while steering feel is sharp thanks to polyurethane bushes. The brakes have been upgraded with a new Servo unit, 11-inch discs and rotors at the front and 11-inch uprated drums at the rear.
The 440ci Magnum V8 engine is now-fully balanced and running a performance camshaft, a Holley 770 Street Avenger series 4 barrel carburettor and stainless-steel exhaust.
The engine has already been run in, so the car is ready to be enjoyed to the maximum from the moment of purchase.
The interior has been comprehensively retrimmed. Prior to the fitment of the new trim and carpeting, the structure was soundproofed for comfort on long journeys. All original components are rebuilt including radio, gauges, speedometer, switches and centre console. Custom wood grain steering wheel with natural Wenge trim, fine Italian leather seats and a strip of beautifully polished Wenge wood between them.
Editor in Chief at Magneto magazine, David Lillywhite, said: "The Charger looks really good, exactly the right spec (engine, seats etc) and right colour for the car. Matching numbers is a big deal in the muscle car world, as it is with Porsches. It's obviously up with the Mustang as the most iconic muscle car out there."
Classic Investments carried out the entire restoration in-house, including re-chroming of all parts, reupholstering and restoring seats and interior trim in order to guarantee perfection.
Agris Alksnis, founder of Classic Investments, commented: "More than 3000 hours have been put into making this the ultimate Dodge Charger R/T. For anyone who wants a classic muscle car, but without the fear of unreliability, this is the car for an enthusiast who cannot get enough of iconic cars such as this."
This 1969 Dodge Charger R/T is available now from Classic Investments and for information and purchase enquiries go to www.classic.investments.