Recently launched website AutoClassics will be heading to the NEC in January as partner of Autosport International's Historic Motorsport area.
AutoClassics is the all-new online global marketplace for classic cars. Combining 1000s of cars for sale with the latest news, market analysis and entertaining features making it the perfect pairing for the popular historic section.
Located in Hall 6, this year the Historic Motorsport area will be even bigger and better. Following the success of the celebratory feature of the Lotus 49 for its 50th anniversary and the HSCC's tribute to 50 years of Formula Ford, organisers are dedicating even more space to the area in 2018.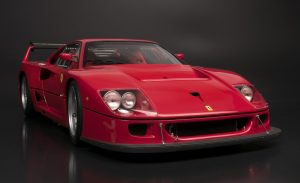 The larger, repositioned area within the hall has enabled organisers to move the COYS auction to the centre of the historics area. Taking place on the Saturday of the show, the auction draws huge crowds each year to see millions of pounds worth of iconic road and race cars go under the hammer. The cars up for auction will also be on display for visitors to admire throughout all four days of the show.
The extra space also means there will be a much larger display of historic vehicles than in recent years.
Making up part of this increased display will be partner AutoClassics, which will be on stand 6110. Visitors will have the opportunity to win a head-turning Amalgam Ferrari F40 LM, which will be featured on the stand, if they sign up to the site.
Continuing its long relationship with the show, the HSCC will be featuring a line-up of iconic Formula Junior cars on stand 6220 to celebrate 60 years since the open wheel racing series' inception.
AutoClassics Global editor-in-chief, David Lillywhite, said: "We're delighted to not only be attending Autosport Internationalbut also to be partnering such an impressive and continually popular area of the show. I, for one, can't wait to walk around the Historic Motorsport area and take in the incredible line-up of automotive and motorsport heritage set to be on display."
The event is part of Motorsport Network's UK title, Autosport – one of the world's leading print and online motorsport publishers.
Motorsport Network is the world's largest independent automotive and motorsport-related digital platform, connecting millions of people who love motorsport and cars. The network also creates key industry events including Autosport International and the annual Autosport Awards.
Make sure you head over to www.autosportinternational.com to get your tickets.