News From Revolution Wheels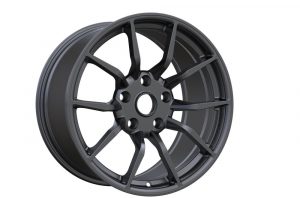 Revolution Wheels, long known and associated more for their unique range of bespoke wheels for rally vehicles, will be showing their range of race wheels for the first time on stand no. 8618 at Autosport International at the NEC from January 11th to 14th inclusive.
The range of race wheels has been months in testing and sets new standards in construction and performance, achieved by the use of FEA technology to design the wheels, ensuring that weight saving doesn't compromise strength. Modern flow-form casting techniques, using virgin alloy, results in wheels able to pass with ease the stringent 690kg impact and cornering fatigue test, resulting in wheels that perform better, are more durable and will last longer.
Customers Matter
Understanding what their customers want from a wheel has enabled the company to create a standard where each wheel can be customised to suit specific vehicle requirements by machining the wheel to any offset within its range.
Revolution's managing director, Warren McKiernan says, "We found a niche some years ago dealing with the more discerning type of rally competitor, who would rather purchase a wheel that was custom-made and deal with distributors of ours who were knowledgeable about the product and passionate about the sport – and that really built the brand. With our new range of race wheels, we will be able to cater for a wider audience but on the same basis."
Motor Sport Heritage
Since the company began back in the late 60's, it has managed to stay abreast of trends in manufacture and it is this heritage that enables Revolution Wheels to continue to offer retro wheels for classic competition vehicles, as well as the newcomers to racing who demand a product that is not only technically advanced but also craftsman finished.
"With customers such as Jimmie McRae and Stig Blomqvist over the years, demanding a wheel that they can totally rely on, it isn't really surprising that we should have quietly had a path beaten to our door by customers seeking that little extra," concludes McKiernan.
Balancing proud heritage with an eye to the future, Revolution Wheels will be pleased to discuss visitors' requirements as they view the new range on the stand.