Barons has a really strong and extensive line-up for its British Heritage, Classic and Sports Cars sale at Sandown Park next Tuesday, 5th June. Naturally there's an excellent British contingent among the entries – including an ex-Scotland Yard Morris Minor Panda Car, a brace of superb E-types and an MG Midget with just 840 miles(!) on the clock. The sports car element includes a glorious RHD Maserati Merak once owned by musician Andy Leek of Dexys Midnight Runners fame.
WHEN YOU CLICK ON LINKS TO VARIOUS MERCHANTS ON THIS SITE AND MAKE A PURCHASE, THIS CAN RESULT IN THIS SITE EARNING A COMMISSION. AFFILIATE PROGRAMS AND AFFILIATIONS INCLUDE, BUT ARE NOT LIMITED TO, THE EBAY PARTNER NETWORK AND AMAZON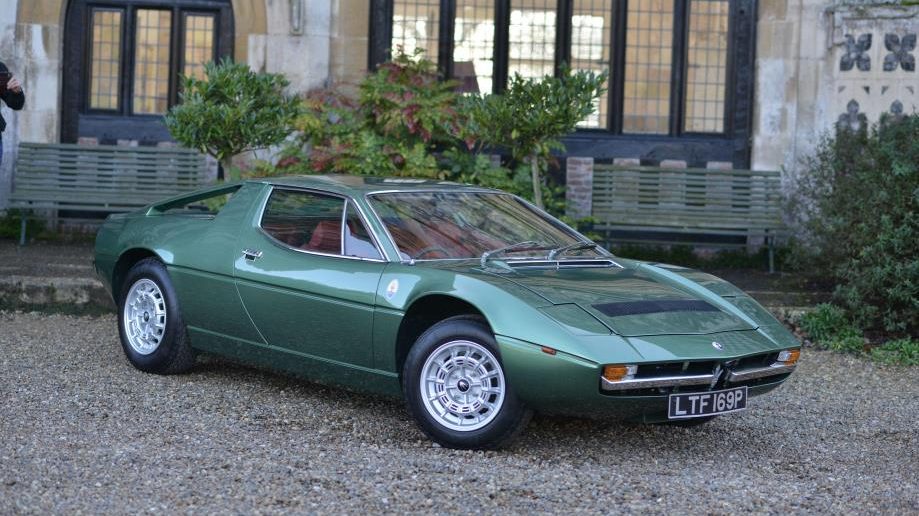 In a nice nod to the political climate, especially for a British Heritage sale, there is also the cherished registration number E2 URO – which, at £1,750 to £2,500 might be some small consolation for a Remainer…
British-built cars make up half the entry for the sale, with Aston Martin, Austin, Daimler, Ford, Jaguar, Lotus, MG, Morris, Rolls-Royce and Triumph all represented, beginning with the oldest car in the auction, a charming 1932 Austin Seven whose only exercise in the past eight years has been a gentle run round the garden (£4,000-£6,000).
The development of the MG marque can be traced from the 1950s to the '70s, starting with the beautifully-restored 1953 MGTD and 'showroom-standard' TF on offer (£14,000-£18,000 and £22,000-£27,000 respectively). It then moves on to the sleeker 1957 MGA (£25,000-£30,000) – which has covered just 200 miles in seven years – and the positively modern 1972 B GT £9,000-£12,000), which has just emerged in stunning condition after a 25-year restoration, before entering the rubber-bumper era with the 1978 Midget. This latter wasn't actually registered until 1980 and has a jaw-droppingly low mileage of 840 – MOT certificates show it as 784 in April 1989. Estimate: £8,000-£11,000.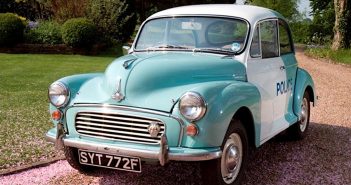 Morris Minor fans have two absolutely classic examples of this charismatic and quintessentially British car to choose from. The 1968 Morris Minor Panda Car was delivered new to Scotland Yard. A Deluxe model, at £4,000-£6,000 it's sure to 'arrest' the attention of keen bidders. The light grey, 1957 convertible is just waiting to be taken out on a summer picnic. Offered complete with the original registration number 229 BKP it carries an estimate of £7,000-£8,000.
There are plenty of Jaguars in the sale, starting with a 1978 XJ6 4.2 which is offered at no reserve. This highly original car has had just three owners – the last two being husband and wife. Another three-owner Jaguar is the very rare 1968 340 Auto, which has an estimate of £16,000-£20,000.
E-types are always popular, and the pair going under the hammer at Sandown Park amply demonstrate the appeal of the model. The 1963 Series 1 3.8 roadster is very well presented, in Old English white with burgundy leather interior. The last owner spent £142,000 buying the car and getting it to the condition it is in today, and it is offered at £75,000-£95,000. The opalescent blue 1964 4.2 FHC is another head-turning car (estimate £65,000-£90,000).
There are plenty of Ford fans out there, and the 1987 Capri 280 Brooklands Capris – this special edition is number 75 from the final 100 Capris ever made – is likely to cause quite a stir. It has covered just 72,000 miles in 31 years and, at £22,000-£29,000 is a fantastic opportunity to acquire a highly collectable example of one of Britain's most cherished classics. Another late Capri comes in the form of the 1987 2.8 Injection (£8,000-£10,000), while one of the classic hot hatches – a 1986 Escort XR3i is offered at £11,000-£13,000. This latter is a remarkably low mileage example. In 1990 it was put into storage in a warm garage, showing a mileage of 26,563 and wasn't driven again for 15 years. It now has a mileage of 27,156 and is in superb original condition.
The June 5 sale has some fine examples of international marques as well, headed by the stunning 1975 Maserati Merak. Unusually, this is an original right-hand drive model and it has recently undergone a full, no expense spared, restoration. Formerly owned by musician Andy Leek of Dexys Midnight Runners fame, it is immaculate and, at £65,000-£80,000 is offered at two-thirds the cost of the restoration.
A second Maserati will also go under the hammer at Barons next week – the 2004 4200 Coupé has a fantastic 4.2 V8 Ferrari/Maserati F136 engine and is very smart. It is offered at no reserve – which should result in some interesting bidding battles on Tuesday.
Finally, the 1965 Mercedes-Benz 220 SE Coupé is a very handsome beast. All sweeping lines, fins and chrome it has had just two owners from new and carries an estimate of £28,000-£33,000. For further information please visit www.barons-auctions.com.