The CCA auction at the Practical Classics Classic Car and Restoration Show at the weekend had a fantastic sale rate of 79% of cars sold with a number of key cars selling over their top estimate and achieving a total sale of £2.4 million.
Saturday, day one of the sale, saw the 1982 DeLorean DMC-12, 1990 Mercedes 420SEC and a 1988 BMW M635 CSI take the honours of exceeding their top estimates with some strong bidding on the phones, internet and in the room.
Sunday, day two of the sale, saw British marques do very well and the headline cars attracting lots of interest. Following on from the previous day, the fierce bidding continued with lots of international bidders from as far away as New Zealand and Hong Kong, with lots of interest in the star lot, a 1969 Fiat Dino 2.4 Coupe.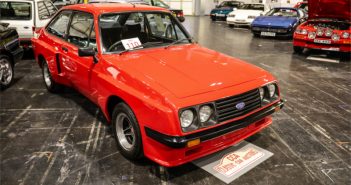 SATURDAY
With 97 lots up for auction, proceedings kicked off well with some enthusiastic bidding.
It wasn't long before there were huge cheers as Lot 108 a 1990 Mercedes 420 SEC went for more than double its original estimate, selling at £21,645.
Lots of enthusiastic bidding led to the 1977 Ford Escort Mk2 RS2000 X-Pack achieving £39,960, a 1986 Renault Alpine GTA V6 Turbo went for £16,095 and the beautiful 1970 Jaguar E-Type 4,2 Series 2 Roadster achieved £62,160. A 1964 Land Rover 88" SII A received a round of applause for selling at £26,640 and a cracking little VW Golf from 1976 went for £10,101!
There were also some other notable sales; the very rare, right-hand drive 1982 DeLorean DMC-12 which went for £40,515 after an engaging bidding war as well as the 1988 BMW M635 CSI that attracted a lot of attention and after fierce bidding went for £23,865.
SUNDAY
Another full day at auction saw 91 cars being presented for sale; the star lot being the stunning 1969 Fiat Dino 2.4 Coupe which attracted a lot of interest, including a number of bidders from around the world. Bidding was very strong with the car selling for £62,160 and eventually staying in the UK.
The beautiful 1967 Mercedes 250 SL Pagoda sold at £53,280 and the barn find Ferrari Testarossa which had been the subject of interest all weekend, sold well at £29,415. The remarkable time warp Ford Escort 1.6i Cabriolet with under 3,000 miles on the clock sold for £23,310 and the 1989 BMW 325i Sport sold well at £29,082.
The Jaguars started well from the off with the 1968 340 getting bidders fired up and settling at £11,100. Following a few lots later and after some fierce bidding the 1990 XJS V12 Convertible in breath-taking condition sold well above its estimate for £28,305. Other Jaguars fared very well, with the E-Types again proving very desirable.
A 1960 Daimler Dart SP250 which was offered for no reserve did very well achieving £16,095 whilst a 1936 Douglas Endeavour, a motorcycle in need of a full restoration was offered at no reserve sold for £9,990.
Gary Dunne, Classic Car Auctions auction manager commented "This was CCA's third year at the Practical Classics Classic Car and Restoration Show and yet again a fantastic start to our year. Well over £2 million worth of cars sold and a sales rate of 79% is a testament to our vendors and buyers alike. See you there next year!"
Note:
All sold prices quoted are inclusive of buyers premium but excluding VAT.
2019 Forthcoming Auctions
25th May – CCA May Classic Car Sale, Warwickshire Event Centre
3rd August – CCA August Classic Car Sale, Warwickshire Event Centre
5th October – CCA October Classic Car Sale, Warwickshire Event Centre
7th December – CCA December Classic Car Sale, Warwickshire Event Centre