WHEN YOU CLICK ON LINKS TO VARIOUS MERCHANTS ON THIS SITE AND MAKE A PURCHASE, THIS CAN RESULT IN THIS SITE EARNING A COMMISSION. AFFILIATE PROGRAMS AND AFFILIATIONS INCLUDE, BUT ARE NOT LIMITED TO, THE EBAY PARTNER NETWORK AND AMAZON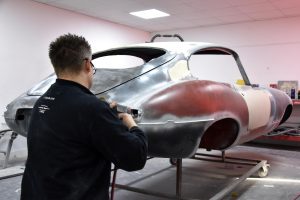 E-TYPE UK OPENS NEW STATE-OF-THE-ART BODYSHOP TO BRING ALL MAINTENANCE AND RESTORATION OPERATIONS IN HOUSE

E-Type UK – one of the leading authorities for all things Jaguar E-Type – has opened a brand new, state-of-the-art bodyshop at its Kent headquarters to bring all operations in house and ensuring every demand can be met to the highest standards.

The Hadlow-based company identified the need to have a fully-fledged bodyshop on site to ensure it delivers the very best service in one place. To accommodate the expansion, the decision was taken to move the showroom to an adjoining building which allowed more cars to be displayed. Later this year work will commence to further redevelop the showroom area in order to enhance the customer experience.
Investment in State-of-the-art Equipment
E-Type UK now boasts a sound and fire-proof metalwork area, a bespoke filler and finishing area with high-intensity lighting as well as a high-performance, state of the art Todd Engineering Poseidon paint booth.
The new paint booth will allow E-Type fanatics to tailor cars to their exact requirements, with its low-profile-downdraught floor and LED lighting together with E-Type UK's mixing room making for the perfect finish.
Award-winning personnel will oversee operations in the new bodyshop, including technician Steve Williams, who has 28 years of experience under his belt – comprising 14 years working with classic Ferraris, with many Concours awards to vouch for the standard of his work.
Sean Savage – who also received honours for his paintwork expertise – Dean Foster and Verdan Chick join Steve on the team ready to deliver the finest bodywork solutions for E-Type UK's loyal customer base.
The new facility will give E-Type UK the perfect place to carry out full bodywork repainting and detailing – staying faithful to the original colours and finishes – use original repair methods for big and small tasks and replace shell and body parts manufactured to Jaguar specifications.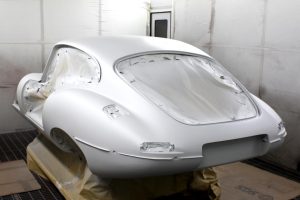 Marcus Holland, Owner/Managing Director of E-Type UK, said: "Delivering the highest levels of quality to our clients is paramount, and the only way we can guarantee work is completed to our exacting standards is to bring work we have previously outsourced in house. Having internal resource means we can also manage restoration programmes more effectively. By recruiting the very best talent in the industry and installing state-of-the-art facilities, we are now able to produce work to Concours-winning levels. I am delighted to say that we are now undertaking work from other classic specialists as our reputation spreads around the country."
For more details on E-Type UK, head to www.etypeuk.com