The National Motor Museum's Land Speed Record breaking 1920 Sunbeam 350hp has been fitted with a replacement gearbox to match its rebuilt engine, decades after losing its original gearbox.
The ongoing project to restore and preserve Sir Malcolm Campbell's iconic machine, which set a 150mph World Land Speed Record nearly a century ago, has been a labour of love for Beaulieu's workshop engineers.
WHEN YOU CLICK ON LINKS TO VARIOUS MERCHANTS ON THIS SITE AND MAKE A PURCHASE, THIS CAN RESULT IN THIS SITE EARNING A COMMISSION. AFFILIATE PROGRAMS AND AFFILIATIONS INCLUDE, BUT ARE NOT LIMITED TO, THE EBAY PARTNER NETWORK AND AMAZON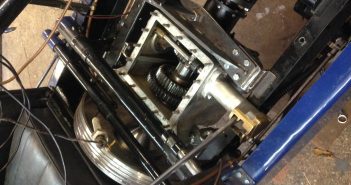 Having painstakingly rebuilt its complex V12 engine, they triumphantly took this landmark vehicle back to Pendine Sands in South Wales in 2015, for a low-speed reconstruction of its World Land Speed Record 90 years earlier.
However, while the engine was then in fine fettle, the non-original gearbox has always been the Achilles' heel in this car's history and has long been the missing part of its puzzle. At some point after World War II, the original gearbox was removed and by the time the Sunbeam became an exhibit at the National Motor Museum, it was fitted with a temporary gearbox from an Albion 35hp. Only designed to handle a tenth of the engine's power, this gearbox also lacked a transmission brake – an important part of the Sunbeam's original brake set-up.
Reinstating a suitable gearbox has been a priority for the engineers, as the next stage of the car's ongoing preservation. With help from the museum's supporters, a sturdy Bentley C-type gearbox has been sourced and adapted to fit the Sunbeam's chassis with custom-made mounts. This unit has proven, in other applications, to be well suited to the task of handling the colossal power of the 18-litre V12 engine.
Best of all, this is enabling the engineers to install a robust and historically correct transmission brake and propshaft. Once the full installation has been completed, the Sunbeam will have the robust transmission its mighty engine deserves.
The 1920 Sunbeam 350hp can usually be seen on display at the National Motor Museum, as part of a multi-media presentation which also features its record-breaking stablemates the 1927 Sunbeam 1,000hp, 1929 Golden Arrow and 1960 Bluebird CN7.
Although great strides have been made, a project such as this cannot be rushed. Further funding is always required for the ongoing preservation of the museum's collection. If you are keen to help with funding support, please get in touch at pr@beaulieu.co.uk.
The National Motor Museum's collection of over 280 vehicles is world-famous, along with its extensive range of motoring artefacts, photographic images, specialist reference library and film and video library. For more information about its collection and services see www.nationalmotormuseum.org.uk.
Visitors can enjoy all of the features of the attraction with a ticket to Beaulieu, including entry to the National Motor Museum, On Screen Cars, World of Top Gear, the ancestral Montagu home Palace House, Secret Army exhibition, Beaulieu Abbey and its grounds and gardens. Tickets can be bought in advance online. For tickets and details see www.beaulieu.co.uk or call 01590 612345.