New Year heralds some great new automotive anniversaries
With the arrival of 2018 comes a happy New Year packed with exciting automotive anniversaries. And, as tradition now dictates, many of these key motoring milestones will be celebrated in stunning style with mouth-watering displays and eye-catching track parades at the annual Silverstone Classic (20-22 July).
In recent years, the famous Silverstone Grand Prix circuit has staged record processions featuring evocative E-type Jaguars, fabulous Ferrari F40s, evergreen Porsche 911s and, last summer, amazing Jaguar XJ220s and cutting-edge McLarens amongst a whole host of other glittering cavalcades.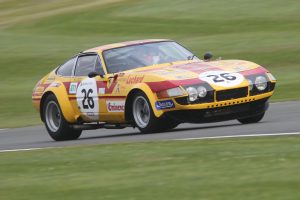 Ferrari is back in the spotlight in 2018, with the standout 365 GTB/4 celebrating its 50th birthday. Better known as the 'Daytona' in deference to the Italian company's 1-2-3 finish in the previous year's 24 Hours of Daytona, the sensational Pininfarina-styled grand tourer was launched at the Paris Motor Show in 1968 and quickly defined a generation of sports cars.
Although rival supercar manufacturers were moving towards a mid-engined layout, Ferrari stuck to the traditional front-engined, rear-drive format to create one of the world's most iconic fastback GTs. Armed with a potent 4.4-litre V12, the Daytona had plenty of performance to go with its film star good looks and came with a top speed in excess of 170mph.
In total, Ferrari produced just 1,406 Daytonas between 1968 and 1973. The majority of these were coupés but 122 were spyder soft-tops, and 15 were lightweight competition cars that took GT class wins at Le Mans in 1972, 1973 and 1974 as well as, pertinently, enjoying considerable success at Daytona in the States. It is hoped examples of all three variants will be part of another soul-stirring gathering at Silverstone in July.
Clubbing Together
Working in partnership with the event organisers, ever-enthusiastic car clubs arrange many of these headline birthday celebrations at the Classic specially for their members – a number are already well-advanced with their plans for even bigger and better parties in 2018.
With the marque's strong competition heritage, it is no surprise that the Porsche Club of Great Britain always revels at the world's biggest classic motor racing festival. In 2018, the now legendary sports car company will be hailing its very first model – the ground-breaking 356 – which entered production exactly 70 years ago in 1948.
The Aston Martin Owners Club, too, will be honouring important anniversaries: 70 years of the DB1 and 60 years of the DB4. The cheeky little Austin Healey Sprite is another notable model turning 60 in 2018.
Jaguar car clubs are similarly always out in force; this July, they will be acclaiming 70 years of the XK120 and 50 years of the XJ saloon.
Whether celebrating or not, unprecedented numbers of motoring clubs now choose to stage their main annual gathering at the Silverstone Classic. Taking advantage of an exclusive ticket offer, a record assemblage of more than 120 clubs attended in 2017, between them displaying more than 10,000 privately-owned cars over the enormous three-day extravaganza.
"Nowhere else will you get to see so many famous and legendary marques and models all lovingly maintained and displayed by their owners," enthused Nick Wigley, CEO of Goose Live Events, the company behind the Silverstone Classic. "The sheer scale of these amazing displays and incredible track parades is a landmark feature of the Silverstone Classic – a real celebration of motoring, auto design and memorabilia."
Silverstone Classic Early Bird Ticket Prices
Members of car clubs registered with the Silverstone Classic (a simple online process) are offered a fantastic advance ticket package. This special deal includes two adult general admission event tickets plus an infield vehicle display pass, allowing classic car owners to park on their club's allocated stand right at the heart of the event and thus be a major part of the record-breaking three-day extravaganza.
Full ticket information – including details of discounted Early Bird offers available until the end of March – is available on the silverstoneclassic.com website.