BMW STAYS ON TOP
The BMW 3 Series retains its title as the most searched for car in the UK, according to Auto Trader – the UK's largest online marketplace for new and used cars. The 3 Series has held this title for seven consecutive years, and was searched for over 40 million times on Auto Trader in 2017, closely followed by the hugely popular Volkswagen Golf, which has sat in second position for nine years running.
The annual top ten listing indicates the nation's enduring interest in premium models, with BMW and Mercedes-Benz featuring five times in the list.
Auto Trader's top ten most searched for cars in 2017
| | | |
| --- | --- | --- |
| RANK | MAKE | MODEL |
| 1 | BMW | 3 SERIES |
| 2 | VOLKSWAGEN | GOLF |
| 3 | MERCEDES-BENZ | C CLASS |
| 4 | FORD | FOCUS |
| 5 | BMW | 1 SERIES |
| 6 | BMW | 5 SERIES |
| 7 | FORD | FIESTA |
| 8 | AUDI | A3 |
| 9 | MERCEDES-BENZ | E CLASS |
| 10 | VAUXHALL | ASTRA |
In a year dominated by the demonisation of diesel, the results have been broken down using Auto Trader's Fuel Type filter to reveal the most searched for diesel, petrol, hybrid and electric cars in 2017. The BMW 3 Series was the most searched for diesel car, followed by the Volkswagen Golf and BMW 5 Series respectively. The Volkswagen Golf tops the list of the most searched for petrol cars, in a list which is dominated by family car favourites, including the Ford Focus, Ford Fiesta, Honda Civic and Vauxhall Corsa.
Auto Trader's top ten most searched for cars in 2017, broken down by fuel type 
RANK
DIESEL

MAKE AND MODEL

PETROL

MAKE AND MODEL

HYBRID

MAKE AND MODEL

ELECTRIC

MAKE AND MODEL

1
BMW 3 SERIES
VOLKSWAGEN GOLF
TOYOTA AURIS
NISSAN LEAF
2
VOLKSWAGEN GOLF
BMW 3 SERIES
TOYOTA PRIUS
BMW i3
3
BMW 5 SERIES
FORD FOCUS
MERCEDES-BENZ E CLASS
MERCEDES-BENZ B CLASS
4
MERCEDES-BENZ C CLASS
FORD FIESTA
MITSUBISHI OUTLANDER
RENAULT ZOE
5
MERCEDES-BENZ E CLASS
AUDI A3
MERCEDES-BENZ C CLASS
VOLKSWAGEN GOLF
6
AUDI A3
BMW 1 SERIES
TOYOTA YARIS
HYUNDAI IONIQ
7
BMW 1 SERIES
MERCEDES-BENZ C CLASS
LEXUS CT 200H
KIA SOUL
8
FORD FOCUS
VAUXHALL ASTRA
BMW 3 SERIES
MITSUBISHI OUTLANDER
9
AUDI A4
HONDA CIVIC
TOYOTA RAV4
TESLA MODEL S
10
VOLKSWAGEN PASSAT
VAUXHALL CORSA
VOLKSWAGEN GOLF
VAUXHALL AMPERA
WHEN YOU CLICK ON LINKS TO VARIOUS MERCHANTS ON THIS SITE AND MAKE A PURCHASE, THIS CAN RESULT IN THIS SITE EARNING A COMMISSION. AFFILIATE PROGRAMS AND AFFILIATIONS INCLUDE, BUT ARE NOT LIMITED TO, THE EBAY PARTNER NETWORK AND AMAZON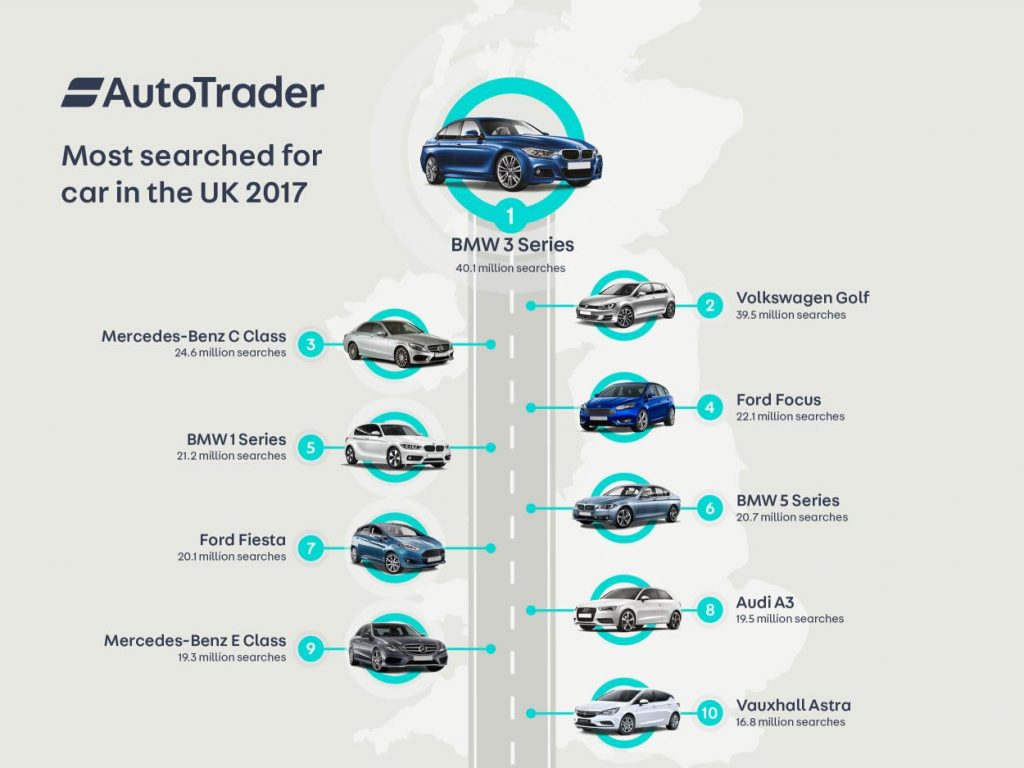 Ivan Aistrop, Road Test Editor at Auto Trader, said:
"These results show that British car buyers are very keen on spoiling themselves, with premium manufacturers featuring very heavily in our list of most searched-for cars.
"In fact, if you look at the list of most searched-for diesel cars, you'll see it contains more premium products than for any other fuel type, suggesting that diesel cars are still desirable for buyers despite recent negative press coverage. At the same time, one look at the list of the most searched-for electric cars shows you that the market now offers some really capable and desirable choices, putting us in a great place to take the step towards an all-electric future.
The most searched for electric car in 2017 was the Nissan Leaf, followed by the BMW 13 in second place and the Mercedes-Benz B Class in third place. Toyota takes the top two spots in the most searched for hybrid lists, with the Toyota Auris and Prius coming first and second respectively.
About Auto Trader
Auto Trader Group plc is the UK and Ireland's largest digital automotive marketplace. Auto Trader sits at the heart of the UK's vehicle buying process and its primary activity is to help vehicle retailers compete effectively on the marketplace in order to sell more vehicles, faster. Auto Trader listed on the London Stock Exchange in March 2015 and is now a member of the FTSE 250 Index.
The marketplace brings together the largest and most engaged consumer audience. Auto Trader has over 90% prompted brand awareness and attracts an average of 60 million monthly cross platform visits a month, with circa 70% of visits coming through mobile devices.
The marketplace also has the largest pool of vehicle sellers (listing more than 470,000 cars each day). Over 80% of UK automotive retailers advertise on autotrader.co.uk.