AUTO TRADER GIVE AWAY SIX BRAND NEW CARS DURING ENGLAND'S 6-1 THRASHING OF PANAMA
Auto Trader, the UK's largest digital marketplace for new and used cars, is currently organising the delivery of six brand new cars to six lucky competition winners following England's victory against Panama in the World Cup on Sunday.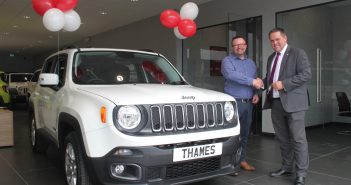 The cars were won through Auto Trader's #AutoTraderGoals competition, which instructs entrants to post #AutoTraderGoals on Twitter, Facebook or Instagram as soon as England score a goal. Winners are selected at random and a brand-new car is up for grabs for every single England goal. Competition entrants without social media can also enter with their email at autotrader.co.uk/goals.
Following England's first group game against Tunisia on Monday 18th June, Auto Trader gave away a brand-new Jeep Renegade to the competition's first winner, Nick Browne, from Egham, and an Abarth 595 for the second goal in that game to Kendra Florence, from Teeside.
So far the #AutoTraderGoals competition has received over 34,000 official competition entrants across the two England games, with England's second group game against Panama showing a 94% increase in entries.
Auto Trader's Audience and Brand Director, Lei Sorvisto, said: "Since England's first World Cup game #AutoTraderGoals has been posted over 98,000 times on social media, which clearly demonstrates how the campaign has engaged a huge amount of people all over the UK"
"But the scale of the competition also shows how incredibly lucky our first eight #AutoTraderGoals winners were to win a brand-new car, so congratulations to all of them and good luck to everyone getting involved with England's next game against Belgium on Thursday."
Visit autotrader.co.uk/goals for more information and full terms and conditions.