Nissan 370Zki
Nissan is getting into the winter sports spirit this month with a specially constructed, one-off 370Z Roadster "snowmobile." Dubbed the "370Zki" – pronounced "370-Ski" – the 332-horsepower 370Z Roadster is ready to tackle ski slopes and backwoods trails alike with its front skis and rear snow tracks replacing the iconic sports car's usual high performance tires. The Nissan 370Zki makes its world debut this week at the 2018 Chicago Auto Show.
"The Nissan 370Zki continues our recent tradition of bringing imaginative winter vehicle concepts to the Chicago Auto Show. With the Nissan Z's long heritage of motorsports competition, the 370Zki seemed like a natural combination," said Michael Bunce, vice president, Product Planning, Nissan North America, Inc. "Prior to its debut here in Chicago, we put the 370Zki through its paces on the slopes in Wyoming where its performance heritage really came through."
Transformation
Transforming the factory stock 370Z Roadster to the snow track-carving 370Zki presented a few understandable obstacles. To make room for the rear DOMINATOR® Tracks from American Track Truck, Inc., the entire drivetrain was first removed from the 370Z Roadster. Then a custom lift kit was designed and engineered, lifting the vehicle three inches from the normal height. Next came fabrication of custom mountings for the rear suspension springs and three-inch custom spacers to mount the snow tracks to the wheel hubs. The factory brakes were retained but the brake lines had to be rerouted and the exhaust system was modified to fit under the vehicle. The rear wheel wells were also modified for clearance of the four-foot-long snow tracks.
In front, the suspension was modified to accommodate the new ride height, and adaptors were made to allow the appropriate travel and rotation for the front skis – which were also supplied by American Track Truck, Inc. – and mounted with spacers to the stock wheel hubs. The engine and transmission also had to be custom-mounted and a front skid plate fabricated to prevent damage during snow excursions.
By comparison, the cosmetic part of the conversion was relatively easy. The custom body wrap was created and applied by Icon Image Graphics and the headlights were tinted yellow to resemble ski goggles.
"Nissan's full range of winter adventure-ready vehicles will be on display throughout the Chicago Auto Show, from our best-selling Rogue AWD to the powerful TITAN 4×4 and TITAN XD 4×4 lineups," said Bunce. It's also fun to shake things up with something totally unexpected once in a while – and that's the Nissan 370Zki."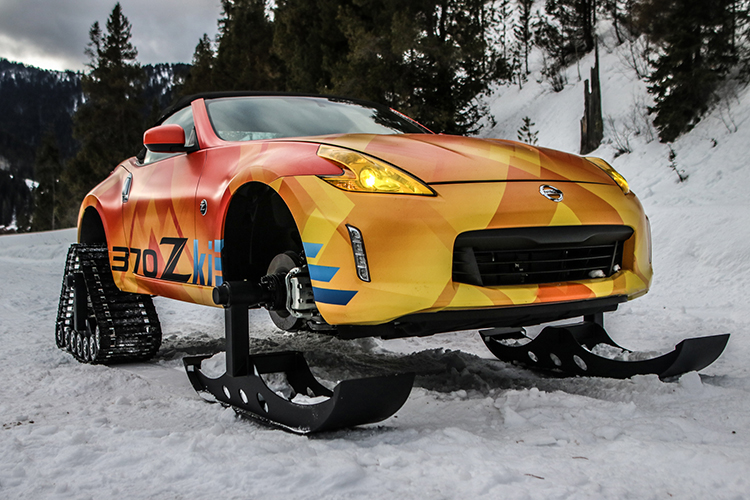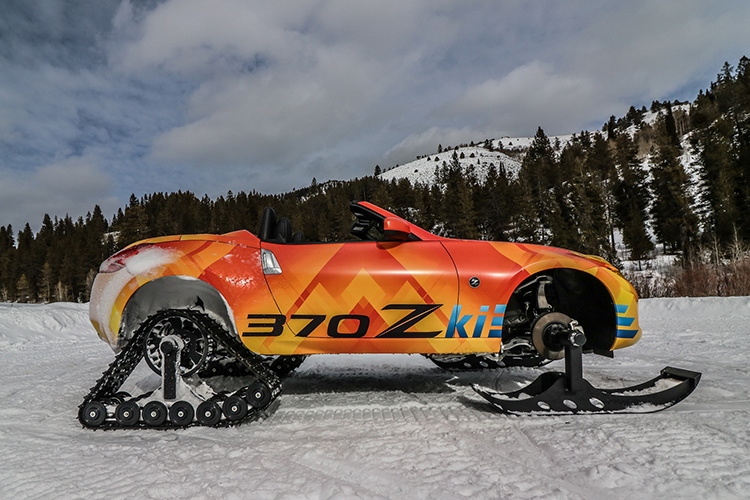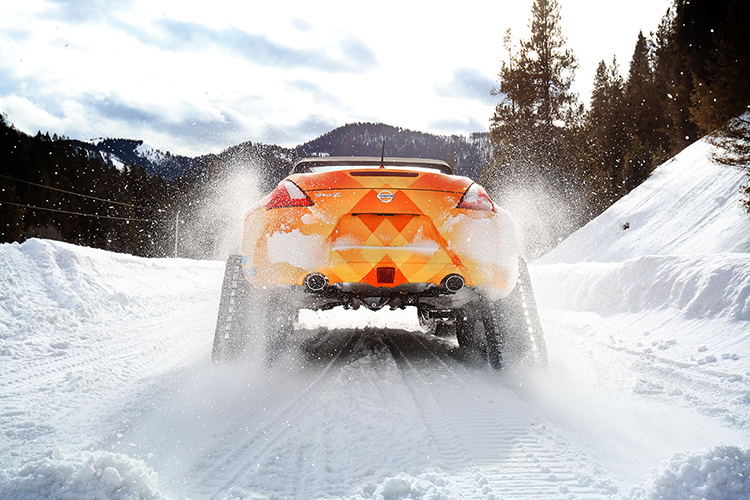 Nissan 370Zki Project Build Specifications
Base Vehicle:             Nissan 370Z Roadster
Drivetrain:                   332-horsepower 3.7-liter DOHC V6, 7-speed automatic transmission, rear-wheel drive
Top:                                  Cloth power-folding roof with fabric inner liner
Modifications:
| | |
| --- | --- |
| Part/system | Supplier/modification |
| DOMINATOR® Tracks | American Track Truck, Inc. |
| Width 15 inches | |
| Length 48 inches | |
| Height 30 inches | |
| Front skis | American Track Truck, Inc. |
| Width 12 inches | |
| Length 56 inches | |
| Wheel wells | Opened up front and rear |
| Wheel spacers | 3-inch front and rear |
| Suspension | Custom mounting fabrication front |
| | and rear |
| Brakes | Factory spec front and rear, |
| | relocated – including brake lines |
| Steering | Factory spec |
| Engine | Factory spec 3.7-liter V6, 332 hp, |
| | 270 lb-ft torque |
| Body wrap | Icon Image Graphics |
The Nissan 370Zki will be on public display at the 2018 Chicago Auto Show, which runs Feb. 10-19 at Chicago's McCormick Place. Also on display will be a custom Nissan Armada Snow Patrol SUV (link to release).
For more information on the Nissan 370Zki and the complete lineup of 2018 Nissan vehicles, please visit www.nissannews.com.