Updated third-generation flagship SUV for Kia in the UK
Kia's flagship SUV in the UK, the stylish seven-seat Kia Sorento, has a subtly sportier look for 2018 with the introduction of 'GT-Line' and 'GT-Line S' variants and the availability of a new eight-speed automatic gearbox. Pricing for the range starts at £28,995, with the 'GT-Line' and 'GT-Line S' versions available for £36,495 and £41,995 respectively.
The eight-speed auto replaces the previous six-speed unit and is offered in four of the seven Sorento models. It is standard with 'GT-Line' and 'GT-Line S' and optional with 'KX-2' and 'KX-3' versions.
As a result of the increased number of ratios, economy with the new auto gearbox improves to 43.5mpg compared with the previous automatic, while CO2 emissions are cut from 174g/km to 170. The eight-speed gearbox was designed and engineered in-house by Kia's R&D team in Korea and offers up to five different shift and throttle programmes, accessed through the Sorento's electronic Drive Mode Select. Drivers can leave the car to shift for itself, or change gears with steering wheel-mounted paddles in 'GT-Line' and 'GT-Line S'.
The Sorento continues to be available with a six-speed manual gearbox in 'KX-1', 'KX-2' and 'KX-3' versions, with fuel economy of as much as 49.6mpg and CO2 emissions starting at 149g/km, depending on wheel and tyre size.
All versions are seven-seat SUVs powered by a 197bhp 2.2-litre turbodiesel engine able to drive all four wheels through an intelligent four-wheel-drive system. Depending on model, the Sorento features state-of-the-art safety and convenience technologies, including Advanced Smart Cruise Control, Blind Spot Detection, Rear Cross Traffic Alert, Lane Departure Warning, Around View Monitoring, Driver Alert Warning and Speed Limit Information Function.
A sportier twist through GT-Line and GT-Line S
The current Sorento kick-started the second phase in Kia's transformation from a purely value-driven company into a world-class manufacturer of premium-quality cars in 2015. Now, taking a lead from other models in the Kia portfolio, it has been given a subtly sportier look with the introduction of 'GT-Line' and 'GT-Line S' versions.
Both feature 19-inch double five-spoke alloy wheels with 235/55 R19 tyres, stainless steel side steps, ice cube-style front foglights, red brake calipers and twin exhaust pipes. 'GT-Line' has projection headlights while 'GT-Line S' has LED headlights with a dynamic bending function.
Inside, there are black leather seats with light grey stitching, a perforated leather-trimmed steering wheel and a bespoke 'GT-Line' design leather gearshifter.
'KX-1', 'KX-2' and 'KX-3' versions remain unchanged, save for the introduction of Android Auto™ and Apple CarPlay™ integration into the infotainment system. Both allow access to music, navigation and hands-free calls and texts when linked with a smartphone through pre-downloaded apps.
As Kia's flagship SUV in the UK, the Sorento has executive-class space and versatility to match its executive-class style, quality and refinement.
The phrase the product planners and designers use is "Elegant but practical". And the car immediately began reaping design awards in 2015. It received the prestigious IF Design Award in Germany, with the international jury recognising not only its aesthetics but also its finish, innovation, environmental impact and safety. The Sorento thus became the seventh Kia to receive an IF Design Award.
Familiar Sorento design cues like the shape of the D-pillar are still in evidence, but the third-generation Sorento has a sleeker, swept-back profile, and more sculpted surfaces. The low roof, rising belt line and sweeping profile give the car a bold, muscular appearance, and there are pronounced rear shoulders which create a three-dimensional look.
The Sorento was the first Kia to make use of a laser welding manufacturing technique which allows for closer body panel connections. This enabled Kia's designers to introduce more advanced shapes to the bodywork.
It was also the first car to be produced under Kia's new Global Quality Strategy, which became fully operational at the start of 2014. In the choice of materials, fit and finish and technology, the Sorento became a significant step forward for Kia.
The designers spent a lot of time on the architecture of the cabin to reinforce its quality, space and practicality. For example, the shape of the bottom of the windscreen was carefully crafted to emphasise the car's width, while the sculpted lines give an impression of solidity and modernity. Switches and buttons have been fastidiously grouped according to function and ergonomics, and they have an almost machined finish and action.
The standard instrument cluster features clear, stylish, white-on-black graphics which deliver all essential information at a glance, but in 'KX-3', 'GT-Line' and 'GT-Line S' versions this is replaced by a seven-inch TFT (Thin Film Transistor) display which adds an even more premium look to the dashboard and allows greater personalisation of the information provided.
Clean, efficient diesel engine
The 2.2-litre turbodiesel engine fitted to all seven models features a fourth-generation common-rail fuel injection system. The intake manifold, cylinder head cover and oil filter housing are made of plastic to help trim weight. The intake manifold features electronic swirl control and an exhaust gas filtration system that promotes the recirculation of clean, cool, low-pressure exhaust gas to maximise efficiency.
The engine develops its 197bhp at 3,800 rpm and 441Nm of torque from just 1,750 rpm, endowing the Sorento with outstanding driveability on- and off-road. A balancer shaft reduces vibrations and ensures the engine is extremely refined. Manual models accelerate from 0-60mph in 8.7 seconds, with the auto taking 9.1 seconds, and all versions have a top speed of 127mph.
All models have Kia's Intelligent Stop & Go (ISG) engine stop/start system to ensure that no fuel is used and no emissions are released when the car comes to a halt. This helps to improve both air quality and noise levels in urban areas.
Superior traction, comfort and refinement
The Sorento features a Dynamax intelligent electronically controlled all-wheel-drive system from Magna Powertrain. It continuously monitors driving conditions and anticipates when all-wheel drive will be needed, whereas other systems react only to changing conditions. With Dynamax, the Sorento is always in the correct drive mode for the prevailing circumstances.
Normally it delivers 100 per cent of engine torque to the front wheels, but the torque can be redistributed up to a maximum of 60:40 front-to-rear to enhance cornering stability or if road conditions deteriorate. For off-road driving, owners can manually select lock mode, which gives a 50:50 torque split at speeds of up to 25mph.
It is paired with Advanced Traction Cornering Control (ATCC). Compared with all-wheel-drive systems which control wheelspin by braking a spinning wheel or reducing engine torque, ATCC automatically and instantaneously transfers torque to those wheels which still have grip, even before the Electronic Stability Control (ESC) system intervenes. This is linked with Hill-start Assist Control (HAC) which prevents roll-back when setting off uphill.
All versions have Trailer Stability Assist to make towing safer. It works through the ESC system, and continuously monitors vehicle stability, gently applying some front braking force to the relevant side of the vehicle if it detects a potential loss of control.
Kia engineers have also striven to ensure the new model delivers a luxury-car ride and engaging and precise on-road handling. To this end, the Sorento has all-independent suspension and rack-mounted Motor Driven Power Steering (R-MDPS).
The electric motor module which controls the steering is mounted directly to the steering rack, bringing the twin benefits of sharper responses and greater precision. Self-levelling suspension is standard from grade 'KX-2' upwards.
Drive Mode Select is also fitted to versions with automatic transmission. This allows the driver to select five steering modes, from a more comfort-oriented setting to one which is firmer and sportier, according to preference. It also modifies the automatic transmission shift pattern accordingly.
Refinement is one of the key distinguishers in cars which aspire to be premium. It refers to the suppression of unwanted sounds and vibrations – what engineers call NVH, or noise, vibration and harshness.
A solid, stiff body shell is essential if NVH is to be kept in check. The Sorento is helped by the use of 53 per cent advanced high-strength steel in its construction.
Sound absorption and insulation materials have been used liberally throughout the car and the Sorento has a remarkably low drag coefficient for an SUV of 0.33, helping to curtail wind noise. Airflow over the body is improved by a rear spoiler and carefully shaped tail lamp clusters, and the underside has full-size aerodynamic shields.
Five trim levels and a host of advanced technologies
The five luxuriously appointed trim grades are, in ascending order, 'KX-1', 'KX-2', 'GT-Line', KX-3 and GT-Line S. All have seven seats with a 40:20:40 split in the middle row and a 50:50 split in the rear.
Depending on model, the Sorento features a number of highly advanced safety and convenience technologies.
They include Adaptive Smart Cruise Control to maintain a gap to the vehicle ahead, Speed Limit Information Function, a 360-degree Around View Monitor, Rear Cross Traffic Alert to prevent the owner from backing out of a parking space into the path of an approaching vehicle, Smart Park Assist with reverse and parallel parking functions, Lane Keep Assist, Blind Spot Detection, Autonomous Emergency Braking and a roll-over sensor, which triggers the side curtain airbags if the car is at risk of turning over. The Sorento has been awarded five stars in Euro NCAP safety tests.
Highlights of the extensive standard features include alloy wheels (17, 18 or 19 inches in diameter, depending on grade), black side sill and wheel-arch mouldings, roof rails, LED daytime running lights, a front wiper de-icer, electrically adjustable folding and heated door mirrors with LED indicators, door sill scuff plates (aluminium on 'KX-3', 'GT-Line' and 'GT-Line S'), steering wheel-mounted controls, all-round electric windows and reversing sensors, while safety is taken care of by Electronic Stability Control, Vehicle Stability Management, Trailer Assist and ABS with Electronic Brake Force Distribution and Brake Assist. There are six airbags, front seat belt pre-tensioners and load limiters and an Active Bonnet to protect pedestrians.
All versions have a digital DAB radio compatible with MP3 players and Bluetooth with music streaming, and now feature Android Auto™ and Apple CarPlay™. A reversing camera is available on all grades.
In 'KX-2' this is supplemented with chrome exterior door handles, a side sill chrome garnish, rain-sensing wipers, black leather/faux leather upholstery, heated front and outer rear seats, dual automatic climate control in place of air conditioning, an 8-inch touchscreen satellite navigation system with European mapping and Traffic Messaging.
'KX-3' adds a panoramic sunroof, LED dynamic bending headlights and rear lamp units, an eight-way power-adjustable driver's seat, alloy pedals, an engine start/stop button and smart entry system, a smart powered tailgate, a 10-speaker harman/kardon™ premium sound system, a 7-inch TFT colour instrument display, a wireless phone charger, Lane Keep Assist, automatic headlight beam adjustment and a Driver Attention Warning, which can detect when the driver is getting tired and issue alerts that it is time to take a break.
The 'GT-Line' model is based on the KX-2 but is distinguished by a smart key and engine start/stop button, eight-way power-adjustable front seats, a 7-inch LCD supervision cluster, Lane Keep Assist, Speed Limit information and a Driver Attention Warning. 'GT-Line S' additionally has the Smart Park Assist system, 360-degree Around View Monitor, Adaptive Smart Cruise Control, 10-way power-adjustable driver's seat with memory function, ventilated front seats, solar glass and rear side window blinds, a panoramic sunroof, Blind Spot Detection, Rear Cross Traffic Alert, Autonomous Emergency Braking, and the 10-speaker harman/kardon™ premium sound system.
The Sorento is built at Kia's largest factory, at Hwasung in Korea, and is covered by the company's industry-leading seven-year or 100,000-mile transferable warranty, subject to the exclusion of routine wear-and-tear items.
The standard body colour is Rich Espresso, but all versions can also be ordered in Midnight Black, Platinum Silver and Graphite, while all but the entry-level 'KX-1' offer White Pearl and Gravity Blue paint finishes.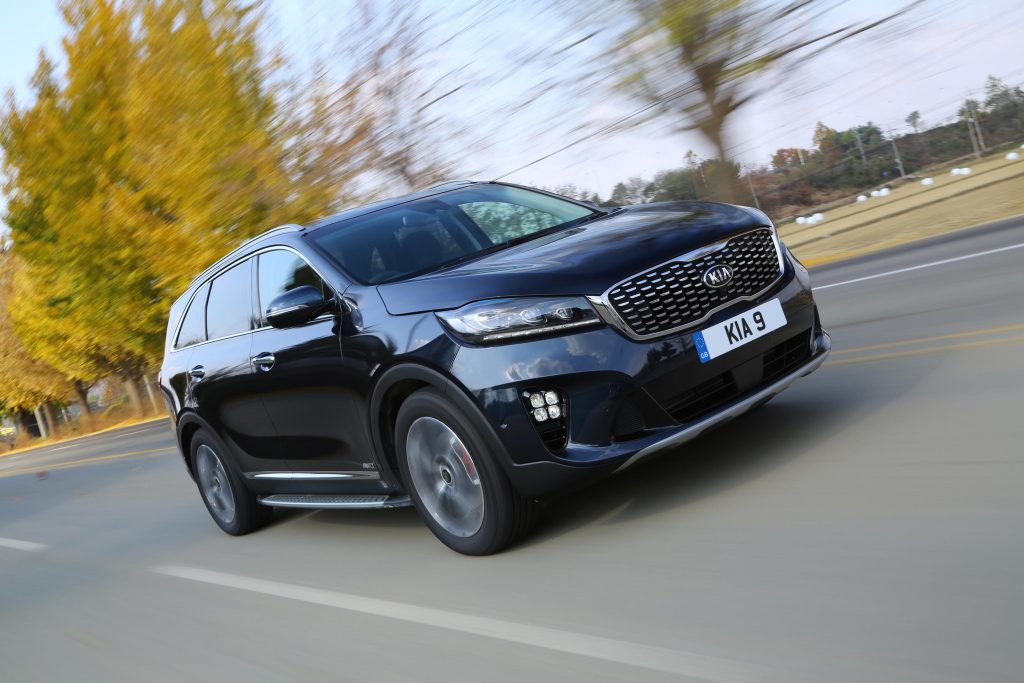 Essential facts and figures
| | | | | | | |
| --- | --- | --- | --- | --- | --- | --- |
| Model | Power bhp | Torque Nm | 0-60 sec | Top speed | Ave mpg | CO2 g/km |
| 2.2 CRDi manual KX-1 | 197 | 441 | 8.7 | 127 | 49.6 | 149 |
| 2.2 CRDi manual KX-2 | 197 | 441 | 8.7 | 127 | 47.1 | 159 |
| 2.2 CRDi auto KX-2 | 197 | 441 | 9.1 | 127 | 43.5 | 170 |
| 2.2 CRDi manual KX-3 | 197 | 441 | 8.7 | 127 | 47.1 | 159 |
| 2.2 CRDi auto KX-3 | 197 | 441 | 9.1 | 127 | 43.5 | 170 |
| 2.2 CRDi auto GT-Line | 197 | 441 | 9.1 | 127 | 43.5 | 170 |
| 2.2 CRDi auto GT-Line S | 197 | 441 | 9.1 | 127 | 43.5 | 170 |
Pricing
| | |
| --- | --- |
| Model | OTR |
| 2.2 CRDi manual KX-1 | £28,995 |
| 2.2 CRDi manual KX-2 | £32,695 |
| 2.2 CRDi auto KX-2 | £34,695 |
| 2.2 CRDi manual KX-3 | £36,695 |
| 2.2 CRDi auto KX-3 | £38,695 |
| 2.2 CRDi auto GT-Line | £36,495 |
| 2.2 CRDi auto GT-Line S | £41,995 |
TECHNICAL SPECIFICATIONS
Facts, facts and more facts
2.2 CRDi
| | | |
| --- | --- | --- |
|  No. of cylinders/valves | |  4/16 |
|  Displacement |  cc |  2,199 |
|  Bore / stroke |  mm |  85.4 x 96 |
|  Power output |  bhp |  197 @ 3,800 rpm |
|  Torque output |  Nm (lb/ft) |  441 (325) @ 1,750–2,750 rpm |
|  Compression ratio | |  16.0:1 |
|  Engine details | | Double overhead camshaft; fourth-generation common-rail fuel injection; turbocharger and intercooler; electronic piezo injectors; exhaust gas recirculation; balancer shaft; diesel particulate filter; lean NOx trap |
Transmission
 Transmission type
 Six-speed manual
 Eight-speed automatic
 Gear ratios
 1st gear

2nd gear

3rd gear

4th gear

5th gear

6th gear

7th gear

8th gear

Reverse

Final Gear

 3.538

1.909

1.179

0.814

0.737

0.628

3.910

4.750 (1, 2, 3, 4)

4.071 (5, 6, R)

 4.808

2.901

1.864

1.424

1.219

1.000

0.799

0.648

3.425

3.320
Suspension, steering and braking
| | |
| --- | --- |
|  Front axle | MacPherson struts with coil springs, gas-filled dampers and anti-roll bar |
|  Rear axle | Subframe-mounted double wishbones, coil springs, gas-filled dampers and anti-roll bar |
|  Braking system | Solid discs, 320mm front and 314mm rear, with ABS, EBD and BAS |
|  Steering | Rack-mounted, electric motor-assisted rack-and-pinion, 2.87 turns lock-lock, turning circle 11.08 metres |
|  Wheels (alloy) | 17 x 7 J alloy / 18 x 7.5 J alloy / 19 x 8 J alloy |
|  Tyres | 235/65 R17 / 235/60 R18 / 235/55 R19 |
|  Spare wheel | Full-size alloy |
Dimensions and weights
| | | | |
| --- | --- | --- | --- |
| | |  Six-speed manual |  Eight-speed automatic |
|  Wheelbase |  mm |  2,780 |  2,780 |
|  Length/width/height |  mm |  4,800/1,890/1,690 |  4,800/1,890/1,690 |
|  Minimum ground clearance |  mm |  185 |  185 |
|  Approach angle/departure |  degree |  16.9/21.0 |  16.9/21.0 |
|  Ramp angle |  degree |  18.0 |  18.0 |
|  Headroom 1st/2nd/3rd row |  mm |  1,004/998/920 |  1,004/998/920 |
|  Legroom 1st/2nd/3rd row |  mm |  1,048/1,000/805 |  1,048/1,000/805 |
|  Shoulder room 1st/2nd/3rd row |  mm |  1,500/1,472/1,342 |  1,500/1,472/1,342 |
|  Boot volume 7sts / 5 sts /full flat |  litres |  1,662/605/142 |  1,662/605/142 |
|  Kerb weight (min) |  kg |  1,932 |  1,953 |
|  Gross vehicle weight |  kg |  2,590 |  2,620 |
|  Tow weights – braked/unbraked |  kg |  2,500/750 |  2,000/750 |
|  Tow ball weight |  kg |  100 |  100 |
|  Max roof weight |  kg |  100 |  100 |
|  Fuel tank capacity |  litres |  71 |  71 |
|  Turning circle |  metres |  11.08 |  11.08 |
|  Drag coefficient |  Cd |  0.33 |  0.33 |
Performance and fuel consumption
 Six speed manual
Six speed automatic
 Acceleration (0-60 mph)
 seconds
 8.7
 9.1
 Maximum speed
 mph
 127
 127
 Fuel economy urb/ex.urb/com

17" wheels
18" wheels
19" wheels

 mpg
40.9/57.6/49.6
39.8/53.3/47.1
 38.7/47.1/43.5
 C02

17" wheels
18" and 19"wheels

 g/km

149
159

 –
170