Royal Warranted car-care expert Autoglym has launched the perfect fleet-friendly sanitising solution in the form of its individually packaged Sanitiser Cleaning Wipes, which will deliver peace of mind to drivers and operators of multi-user vehicles, as well as motorists who have to regularly use different vehicles.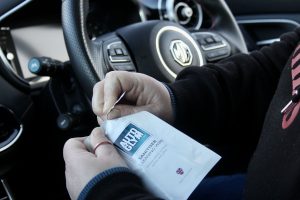 The individually packaged wipes, available in boxes of 400, are ideal for operators such as hire car fleets or demo fleets, where cars are driven frequently by different users, as well as being used as handy pocket-sized PPE by drivers who have to use different vehicles frequently, such as delivery drivers and motor trade employees.
The wipes, which have a distinctive Autoglym scent, are effective against 99.999% of bacteria and pass standard EN 1276 for destruction of harmful micro-organisms and EN 14476 for killing enveloped viruses including Coronavirus, Flu, SARS and H1N1.
Paul Caller, CEO of Autoglym, said: "Our customers have told us that there is demand for a portable, personal and disposable product that can deliver peace of mind in situations where vehicles have multiple users.
"Examples of this include hire fleets, taxis, delivery vans and car club vehicles to name but a few, while others who will benefit are the very drivers that have kept the county moving over the past several months and who regularly have to jump from one vehicle to another, as by carrying the wipes on their person they'll be able to wipe everything down before use.
"This is in many ways a simple product, but one that answers a lot of complex questions and we know will be hugely valued by fleets."
The first high profile customer for the wipes is rapidly growing car brand MG Motor, which will be supplying Autoglym Sanitiser Cleaning Wipes in all of its business and press demonstrator vehicles from February 2021 – an ideal example of where the wipes are hugely useful.
The wipes, which are also offered in a retail size tub of 100 costing £5.99, join a range of cleaner sanitisers now offered by Autoglym, including its recently introduced Hand Sanitiser and Anti-Bacterial Multi-Surface Sanitiser.
The new sanitiser range is available to include contact-free home delivery either directly or through Autoglym's franchise network.
To find out more or to place an order, go to www.autoglymprofessional.com or contact 01462 677766 | enquiries@autoglym.com