'STEP ON IT, MATE!' – CABBIE BRINGS SMILES TO LOCALS AND TOURISTS ON NORWAY'S FROZEN ROADS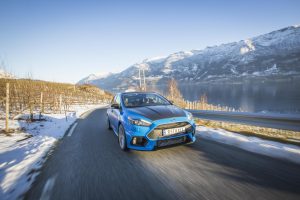 A taxi driver in Norway has a less-than-conventional approach to his car of choice for work – A Ford Focus RS.
Whereas larger, more fuel-efficient Ford models are the vehicle of choice for some UK private hire companies, Evald Jåstad has clocked up an impressive 127,000 kms (79,000 miles) in just 18 months in, arguably, the most popular taxi in Norway.
The first job of the day for cabbie, Evald, is a 16-kilometre round-trip from Odda through breathtaking Scandinavian scenery to take his son to nursery before locals and tourists call on him to take them across the Trolltunga cliffs, in style.
Regulars have nicknamed the car "Blue Lightning" thanks to the Focus RS's 350PS, 2.3-litre EcoBoost engine.
"There are not many people who can say they live their dream. But I am definitely one of them," says the 36-year-old father‑of‑two. "When I drive him to nursery, all the way there, Martin shouts out 'Bånn gass! Bånn gass! – More gas! More gas!"
But how does it compare to your typical London taxi?
| | | |
| --- | --- | --- |
| Model | Focus RS | London TX4 Taxi |
| 0-62 mph | 4.7 seconds | Not 4.7 seconds |
| Top speed | 166mph | Not 166mph |
| Engine | 2.3-litre EcoBoost petrol engine | 2.8-litre diesel engine |
| Power | 350 PS | 110 PS |
| Special feature? | Drift mode | 7.62-metre turning circle |
A Selection From Amazon
Last updated on May 31, 2023 10:13 pm