Pet Packs
With Chinese New Year marking the start of the Year of the Dog today, Land Rover introduces its range of pet-friendly accessories designed to make life with canine friends that little bit more straightforward.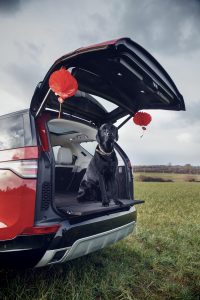 Land Rover now caters for the journey to and from the walk with its comprehensive pet packs. The boot can be protected from wet paws and fur with a rubber mat or liner tray, both offering waterproof protection. The mat covers the carpet on the load space floor, while the liner tray has a raised lip on three sites to cover both the floor and side wall carpets.
A full height partition can be easily fitted to not only keep pets safe and comfortable, but also prevent muddy paw prints on the passenger seats. The partition also enables owners to separate the load space into two sections.
In addition to the pet pack accessories, the Rear Height Adjust on the Land Rover Discovery is another feature which can make life easier for canine companions. The electronic air suspension lowers or raises the height of the vehicle at the touch of a button, making it easier for smaller or older dogs to climb into the load space.
Landy & Rover
Land Rover has long associated itself with man's best friend and recently launched a campaign introducing 'Landy' and 'Rover'. Created following research into the proportion of Land Rover customers who are pet lovers or owners, Landy and Rover have been entertaining fans across social media, showcasing the comprehensive range of accessories available for dogs and transporting them more comfortably and safely.
Barbour and Land Rover have always been a great match when it comes to clothing and accessories; the canine collection is no different. The range features the unique Barbour for Land Rover tartan and includes everything required for a country walk. Made in the UK from real leather, the range features a strong and durable dog lead, leather-lined collar, functional harness and coordinating water-resistant, quilted, wax jacket.
| | | |
| --- | --- | --- |
| Model | Pet Pack with mat | Pet Pack with liner tray |
| Discovery Sport | £605.00 incl. VAT and fitting | £611.00 incl. VAT and fitting |
| Discovery | £468.00 incl. VAT and fitting | £534.00 incl. VAT and fitting |
| Range Rover | From £567.00 incl. VAT and fitting | From £588.00 incl. VAT and fitting |
| Range Rover Sport | £618 incl. VAT and fitting | £623 incl. VAT and fitting |
| Range Rover Velar | £455 incl. VAT and fitting | N/A |
Further information about the range of Barbour for Land Rover Dog collection can be found here – https://shop.landrover.com/uk/gifts-lifestyle/dog with information on the pet pack accessories here – http://gear.landrover.com/gb/en/ or contact your local retailer.