The Morgan Motor Company is excited to announce the first in a number of celebrations for its 110th anniversary year in 2019, which will see a series of '110 Anniversary' models added to the line-up.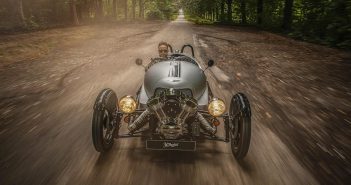 Each of the '110 Anniversary' models benefit from unique badging, denoting their significance as 110th year editions, as well as an extensive list of specially selected performance and styling options included at no extra cost.
In addition to performance and styling options, a new range of standard colours has also been introduced. In addition to the 'Sport Range' of colours, there is now a 'Classic Range' and 'Metallic Range', which includes a selection of colours chosen by Morgan Design. These colours reflect some of the most popular Morgan colours throughout the company's history, as well as some personal favourites hand-picked by Morgan's design team.
A mix of performance and visual enhancements are also offered with each '110 Anniversary' model. A front valance, rear exit sports exhaust and leather bonnet strap stand out as the more purposeful and race inspired options for Plus 4 and Roadster.
Interior trim and detail enhancements include a leather or wood rimmed Moto-Lita steering wheel, performance seats, a mohair hood pack and any choice of Yarwood leather, also available across Plus 4 and Roadster. In addition, customers will also have the option to have the '110 Anniversary' logo embroidered on their headrest in matching or contrasting stich-work, further signifying the special nature of their new Morgan. All of these options are available at no extra cost.
The Plus 4 is priced from £44,106.00 inc. VAT in the UK, with 15 options worth a total of £8,700 now included within the price of the '110 Anniversary' model.
The Roadster starts at £55,074.00 Inc. VAT in the UK, and similarly benefits from a total of 15 new options offered at no extra cost but worth £8,000.
As well as the Plus 4 and Roadster, the 3 Wheeler also receives a selection of interior and exterior '110 Anniversary' options at no extra cost. For the interior, quilted leather stitching, centre split seats, storage pockets and a mohair tonneau cover are now all included.
Stand out exterior options for the 3 Wheeler comprise any solid colour from the newly introduced colour ranges, black roll hoops, black exhaust heat shields and a body coloured engine cowl. The 3 Wheeler is priced from £39,486.00 inc. VAT in the UK. In total, 10 options are now included at no extra cost with the purchase of a new 3 Wheeler, worth a total of £3,300.
The announcement of the '110 Anniversary' model changes for 2019 is the first in a series of announcements Morgan will make in their 110th year, their most significant milestone since the 2009 centenary.
"It is an immense pleasure and an honour to lead the Morgan Motor Company as we approach such a significant milestone in our history. We are delighted to be thriving as a privately owned, British, family owned automotive manufacturer, and in our 110th year of business are stronger than ever. Milestones such as a 110th anniversary offer everyone associated with the brand an opportunity for reflection, as well as an opportunity for us to offer even more to our customers. The '110 Edition' vehicles are the beginning of our celebrations, and we look forward to making further exciting announcements throughout 2019."
Steve Morris, Managing Director, Morgan Motor Company