Munro Vehicles, a manufacturer of all-electric 4x4s, and Scotland's only volume production car company, has unveiled its first vehicle, the Munro Mk_1. Designed, engineered, and built in Britain, the Munro MK_1 is the world's most capable all-electric 4×4, born off-road to navigate the most challenging terrain and operating for up to 16 hours on a single battery charge.
The Munro combines a state-of-the-art 280kW electric powertrain to ensure zero tailpipe emissions, with a proven, robust, simple-to-maintain mechanical driveline that delivers uncompromised off-road ability. The Munro's unique attributes make it an ideal choice for those seeking to minimise their environmental footprint in numerous sectors including construction, agriculture, mining, environmental, emergency rescue, remote infrastructure maintenance, and recreation without compromising on performance or capability.
Capable of effortlessly transporting a crew of five to the most rugged locations, accommodating an 1000kg payload and 3500kg towing capacity, the Munro represents the ultimate, sustainable, utilitarian, off-road workhorse. Intensely focused on off-highway performance, reliability, ease-of-repair and longevity, the Munro is engineered to provide owners and operators with decades of service.
Priced from £49,995 (excluding VAT) in five-door, five-seat, 130-inch wheelbase Utility guise, Munro has already received deposits for several Munro MK_1s that it will hand-build next year. Orders have come from locations across the globe including the UK, Switzerland, St Lucia, and Dubai. Several pre-sale agreements have been reached with fleet operators in key industries.
In 2024, Munro will expand from its current headquarters in East Kilbride to a new purpose-built factory in central Scotland, where production will scale to more than 250 units per year initially, leading to the creation of 300 new jobs. The new site will eventually produce 2,500 vehicles per annum.  Munro is the first automotive manufacturer to build cars at scale in Scotland since Peugeot-Talbot closed its Linwood plant in 1981, which the Rootes Group established in 1963.
WHEN YOU CLICK ON LINKS TO VARIOUS MERCHANTS ON THIS SITE AND MAKE A PURCHASE, THIS CAN RESULT IN THIS SITE EARNING A COMMISSION. AFFILIATE PROGRAMS AND AFFILIATIONS INCLUDE, BUT ARE NOT LIMITED TO, THE EBAY PARTNER NETWORK AND AMAZON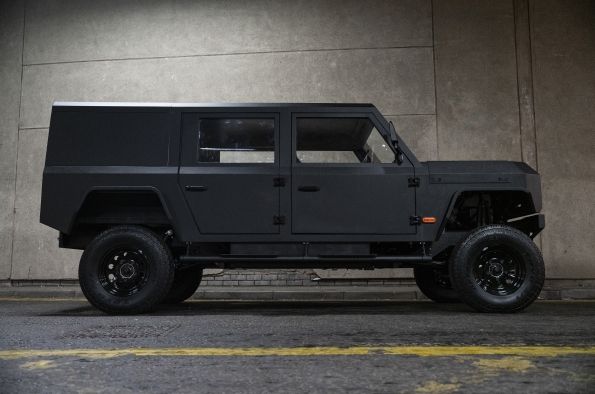 Born off-road, born electric
The company was founded in 2019 by Russell Peterson and Ross Anderson, with Peterson assuming the CEO role and Anderson appointed Head of Powertrain. The idea, which is named after a Scottish mountain that exceeds a height of 3000 feet, came to Peterson and Anderson during an off-road camping trip in the Highlands.
"We had already taken measures to reduce our own environmental footprints and had a lot of experience driving our own EV, and got quite used to the instant torque delivery," recalls Peterson. "But the off-roader we were driving through the Highlands was combustion-engined, and it was really struggling on the steep climbs. So, we were musing how much better it would be with an electric motor."
"On the return journey, we stopped at a café in Braemar, where a bank of 50kW rapid chargers were sitting empty and unused. Parked up nearby was a large group of combustion-engined safari adventure 4x4s of a type that are no longer manufactured and will have to be replaced eventually.
"It dawned on us that there was a gap in the market for an electric-powered, four-wheel-drive, utilitarian workhorse. We envisioned a vehicle with ultimate, go-anywhere, off-road ability, unrestricted by road-derived underpinnings that limit the all-terrain ability of vehicles such as the 4×4 pick-up trucks that have come to dominate the market."
Uncompromising powertrain choice
After extensively researching the market, Munro selected an axial flux electric motor.
"Axial flux electric motors are rarely used in the automotive mass-manufacture sector, where radial flux motors dominate," explains Anderson. "Axial flux motors are quite challenging to manufacture at scale and require a high degree of hand assembly, and they also come at a price premium. However, an axial flux electric motor provides the perfect solution for our application."
Choosing an axial flux motor gives significant critical advantages over a radial flux unit. Also known as a 'pancake' motor, the compact nature of the axial flux motor enables weight to be reduced by half – from 80kg to 40kg in the case of the Munro – compared with a radial flux motor. It also enables the unit to be located between the two front-seat occupants in front of the vehicle's bulkhead. This results in a near 50/50 front/rear weight distribution, which enhances agility off-road.
In addition, while most electric motors spin up to 15,000rpm and thus require a reduction drive, the Munro's axial motor spins between 5,000 and 8,000rpm. This relatively low rotational rate negates the need for a reduction drive, and the additional weight and complexity it brings, by enabling drive to be taken directly to the transmission transfer case from the motor.  By combining with a two-speed transmission, the motor can work in its 'happy place', where it performs with a much greater level of efficiency than a radial flux motor at low speed.
"A further benefit of the axial flux motor is that it generates exceptionally high amounts of torque when running in reverse. When the Munro is in high gear 'Drive' mode, lifting off the accelerator provides a degree of regenerative braking via the resistance of the electric motor," continues Anderson. "In low-gear, 'Off-Road' setting, the regenerative braking is much more pronounced. This enables the vehicle to be driven in 'one-pedal' mode and provides a highly effective hill descent function to enhance safety and performance off-road."
The Munro also features a heavy-duty mechanical braking system. Utilising non-vented as opposed to vented discs avoids any potential drop-off in performance due to mud clogging the ventilation spaces within the discs.
Exemplary range and power
The Munro is offered with a choice of two electric motors, 220kW and 280kW, along with the option of two battery packs, 61kWh and 82kWh, affording an optimum range of up 190 miles This allows the Munro to operate off-road for up to 16 hours on a single battery charge.
The vehicle's battery pack comprises 35 state-of-the-art Lithium NMC battery modules mounted in three heavy-duty aluminium boxes underneath the vehicle. This arrangement ensures it is quick, convenient, and inexpensive to replace individual battery modules if required. A fully integrated heat pump-based thermal management system bolsters efficiency, and the Munro's battery pack is guaranteed to deliver 80 per cent of its original energy capacity for at least eight years and 100,000 miles.
"With your average electric vehicle, the battery is designed to last the life of the car, so in most cases, customers will never have to worry about replacing it. But because the Munro is engineered to last several decades, we will either recondition or replace the battery pack for customers when the time comes. This has the added benefit of guaranteeing the future value of our customers' vehicles. " explains Anderson. "We will partner with companies specialising in reuse and recycling to recoup the residual value of the battery pack, which will enable us to fit the latest battery technology at a reasonable cost."
The Munro is offered with a choice of two AC charging options, 7kW to replenish the battery overnight, and 22 kW, which provides a full charge in around three and a half hours. An industry-standard DC CCS charger is also provided, enabling the battery to be replenished in just over 30 minutes.
Every Munro is geared for torque, with a top speed of 80mph, and the 280kW Performance version can surge to 62mph in a mere 4.9 seconds. However, the focus of the vehicle is firmly on utility, workability, and superior off-road drivability, as Anderson reiterates.
"Peak torque of 700Nm is available up to 50mph, which ensures excellent response off-road. It also means the Munro can effortlessly tow a braked trailer weight of up to 3500kg. Whether it's a mini digger, a power generator or livestock that needs transporting, the Munro makes light work of it."
Engineered for best-in-class off-road ability
Munro was determined to equip the vehicle with a state-of-the-art electric powertrain. But at no point did company founders Peterson and Anderson consider using a 'skateboard' chassis with two electric motors, one to drive each set of wheels. Instead, the priority was to equip the Munro with a single, central-mounted electric motor providing power to a robust, proven and easily maintained mechanical four-wheel-drive system.
"The best way to drive off-road is to ensure that the same amount of torque is delivered to each wheel and that all the wheels spin at the same speed," asserts Peterson. "And no matter how clever your computer is, you're still going to have problems if you've got a split driveline in the vehicle.
"And the other thing is many electric SUVs and pick-ups on the market tout a big headline figure like 600 horsepower. But when you think about it, it's 400 horsepower at the back wheels and 200 at the front. And as soon as the vehicle loses traction at the back wheels, you've only got the power of the front motor to pull you out. So that's one of the reasons we decided to fit one big electric motor in the middle and power all the wheels using a mechanical driveline."
The vehicle's off-road prowess is further enhanced by 480mm ground clearance, and the ability to wade through water up to a depth of 800mm. Equally impressive 84- and 51-degree approach and departure angles, plus a 148-degree ramp breakover angle, give the Munro the ability to cope effortlessly with steep hills, heavily rutted terrain, craters and boulders. It is, quite simply, the most capable production electric 4×4 on the planet.
The Munro sits on a galvanised steel ladder chassis, designed, engineered, and built at the company's HQ. Constructed with 5mm thick steel – compared with 1.5mm thick steel used in many 4X4s – the Munro's chassis has been developed to provide the ultimate combination of strength, robustness, and ease of repairability.
"The engineering is unashamedly agricultural in nature," explains Peterson, who comes from a farming background and ran his own contracting business. "Some people see the term agricultural as potentially derogatory, but at Munro, we certainly don't.
"Agricultural vehicles feature some of the most sophisticated technology you can imagine. But above all, they are engineered to do the job, no matter how much punishment they soak up, and to keep doing it year after year. The Munro has been built to the most robust standards possible and to be fully operational in 30, 40, 50 years' time."
Munro builds its own axles and uses a combination of aftermarket and motorsport-derived components for the rest of the mechanical driveline. Parts including the linkage for the coil over suspension, radius arms and steering bar have all been developed by UK-based 4×4 competition specialists. They are designed to deliver optimum performance even under the most gruelling conditions. A central locking differential is standard, with front and rear locking differentials offered as options.
A product of its environment
The Munro MK_1 launch model is the third iteration of the project. The Munro was developed in the Scottish terrain from which it takes its name. Before its global unveil, the vehicle was subjected to an intensive two-year test programme, tackling some of Scotland's most demanding conditions in all weathers.
Hugh Roberts, director of the Far by Four off-road driving and training company, is assisting in the development of the Munro. A qualified British Off Road Driving Association (BORDA) instructor, Roberts provides training throughout Scotland and his clients include Scottish Mountain Rescue and Scottish Coastguard.
"The Munro EV has always impressed me! Straight away the vehicle was competent off-road and now with the benefit of ongoing testing and development the Munro is a very polished performer" explains Roberts. "A combination of electric torque, supple suspension and a rigid chassis makes it an easy vehicle to place confidently without the need for excessive speed to clear technical terrain."
The electric motor also bestows further advantages on operators. The near-silent driving experience is a lot more pleasant to live with than a noisy diesel engine. The Munro is also completely free of vibration, which eases operator and passenger fatigue, especially on long and arduous shifts.
Rugged, safe, and spacious
The Munro utilises a structural aluminium body-on-frame design, with the body mounted to the chassis at eight points. To ensure optimum suitability for customers' needs, Munro offers a choice of mounting options. Rubber mounts reduce NVH on the road and provide a more comfortable ride, while solid aluminium spacers give greater rigidity and strength to accommodate heavy payloads.
The company initially outsourced production of the Munro's body panels. However, unsatisfied with the standard of the work, Peterson and Anderson brought the task in-house. Now, the aluminium panels are laser-cut, formed, and folded on-site before being moved a few metres to the company's paint shop.
Crew safety off-road was a key priority for the team when developing the Munro. Thanks to the high-strength steel body and frame, the Munro provides full Roll Over Protection (ROP). Optional roof-strengthening is also available for Falling Object Protection (FOP).
"From the outset, we wanted to create an electric-powered off-road vehicle that would perform without compromise in any condition. But we also wanted to design a vehicle that provides a high level of space and comfort for a full crew and all their kit," explains Ross Compton, Head of Design. "So, a five-door, five-seat body, with a class-leading 130-inch wheelbase, was a given from the start.
"If you push the driver's seat all the way back, you can easily get a laptop on your knees without touching the steering wheel. And even with the driver's seat right back, there is still lots of spare knee room for the person sitting directly behind. Not only can the Munro accommodate five adults, but it gives them enough space to check their emails on their laptops if it's blowing a gale outside."
The Munro MK_1 accommodates a 1,000kg payload and a standard Euro pallet in the loadbay. And it is designed to be loaded in a safety-first working environment without needing the operator to take a kid-glove approach.
"Our customers should be able to throw things in the back without feeling bad," smiles Peterson. "We've used thick plywood for the lining of the cargo area. It gives a nice definition between the steel and aluminium material, but more importantly, it's tough and extremely hardwearing. To ensure the cargo stays secured, we've used aluminium tracks and fastenings, each of which is strong enough to hold 400kg of weight in place."
Field-proven practicality
Most OEMs configure their vehicles' equipment and features in a studio's cosy comfort. But the mission-focussed specification of the Munro has been developed from hard lessons learnt over long hours in all weathers, in fields, on moors and mountains.
The Munro comes with two front side lockers, providing what Peterson describes as 'saddle bag' stowage. The space can carry whatever the operator requires, be it charging cables, larger tools, or wet weather gear.
"As any tractor driver knows, after you have finished fitting an implement or closing the tailgate on a trailer, you're left with the problem of where you put your dirty gloves when you get back in the vehicle. With the Munro, you can just pop them in one of the external saddle bag lockers at the front, which is also ideal for carrying smaller hand tools."
A similar practical approach was taken with fitting the industrial switchgear inside the Munro. "The switches will be familiar to anyone using farming equipment and heavy plant," continues Peterson. "They can be operated with gloves on. They're fully waterproof, so with the hardwearing floor and door surfaces, the whole vehicle can be power washed from waist height down. The switches are almost impossible to break, but if they get damaged, they are quick, easy, and inexpensive to replace."
Equipped with a 12-volt electrical system as standard, the Munro is offered with a choice of low- and high-power DC convertors for running ancillaries such as winches and light bars. In addition to two USB C sockets and two wireless charging pads, the Munro is equipped with two three-pin household sockets. These can be used to power a microwave and a kettle to keep operators well-nourished, no matter how far from base they roam.
Ceiling-mounted LED strips provide excellent in-cabin illumination, and the Munro comes with pre-wiring and a pre-mounted switch to facilitate flashing roof beacons if required.
The two-stage, robust and simple flat-designed dashboard features a double DIN screen, offered as a no-cost option and fully compatible with Android Auto and Google CarPlay. Six speakers, two located under the dashboard and one on each door, ensure excellent sound quality throughout the spacious cabin.
For vehicles where operators are not permitted to listen to the radio for safety reasons, such as railway support, customers can delete the double DIN unit from their order. It can also be upgraded with a superior unit or replaced with a UHF two-way radio.
Form follows function
The Munro MK_1 is proof of the concept that if a vehicle does the job, then it will look the part. Endowed with a clear, strong, unique identity, the Munro sits visually apart from any other classic or contemporary vehicle in the sector. And while there is no doubting the Munro's utilitarian nature, it is also an undeniably handsome and exceptionally well-proportioned vehicle.
Responsibility for the vehicle's styling was entrusted to Munro's award-winning Head of Design and Coventry University Automotive and Transport Design graduate, Ross Compton. Having previously led projects at Bollinger Motors, and Atlis Motor Vehicles, Compton is well-versed in combining practical engineering requirements with aesthetics, a discipline he has elevated to new heights with the Munro.
"Just as a good engineer will always strive to create the simplest solution, we have endeavoured to keep the design as elegant as possible. At no point have we prioritised visual appeal over purpose," explains Compton. "We are totally comfortable with the minimalist nature of the Munro's design. Ninety nine per cent of what you can see on this truck is there because it serves a function – and nine times of ten it serves more than one function as well."
At the front of the vehicle, striking quad LED headlamps and a prominent grille gave the Munro exceptional presence, whether ploughing through mud or parked outside an upmarket restaurant.
"We have made it very clear that the Munro is focussed entirely on providing the world's best emission-free off-road driving experience. But we are equally aware that not all our customers will be farmers and mountain rescue drivers, and we are entirely comfortable with that,' continues Compton. "We are confident that the Munro's classless design will look just as good in Richmond London as in Richmond Yorkshire."
The length of its 1"0-inch wheelbase primarily dictates the design parameters of the Munro's side profile. However, Compton has introduced additional elements that enhance the vehicle's proportions and endow it with visual dynamism not often achieved with five-door 4×4 models.
"The very short front overhang creates a snub nose. And that is elongated a little bit further by the way the bumper sticks out. It's just by an inch or two, so the Munro still maintains excellent approach angles," explains Compton. "While at the back, the rear of the vehicle is angled outwards rather than straight and flat, improving the departure angle and creating an additional sense of athleticism. Again, these are examples of how the engineering values and practical requirements have led the design."
A lifetime of service
Munro will select a series of agents to market the Munro but will not establish a dealer network. Each vehicle comes with a full five-year / 100,000-mile warranty, which Anderson describes as "super flexible."
"We recognise and respect our customers' right to repair and maintain their vehicle, and their doing so will not invalidate the warranty. Customers who are unable, or do not wish to look after the vehicle themselves, can either bring their Munro to their local agent, or our service fleet will visit them and carry out the work onsite at their convenience."
This company's highly versatile warranty and service model is similar to that deployed by agriculture and heavy plant machinery manufacturers. It stands testament to Anderson's and Peterson's complete confidence in the quality and durability of every Munro product and its ability to provide a lifetime of service by remaining in use for up to half a century when properly maintained and repaired.
Clear road map ahead
Munro launched in 2019 with private funding provided by Anderson and Peterson. A further injection of capital was raised in late 2021. The funding was provided by London-based Elbow Beach Capital, which invests exclusively in early-stage businesses whose technologies have the potential to deliver sustainable solutions to solve the planet's biggest challenges.
The company's ambitious strategy to exploit a significant market sector with the introduction of the world's best electric-powered 4×4 is bolstered by a highly experienced automotive guidance board. Members include Selwyn Mould, a former head of supply chain at Lotus Cars, and former Senior Finance Manager at BT Jason O'Malley and Jonathan Pollock from Elbow Beach Capital who provide advice on the financials.
Munro have already received several deposits for the 'Founders' Edition', that will be hand-built at its East Kilbride headquarters in 2023. Orders have come from customers in the UK and as far afield as Switzerland, St Lucia, and Dubai. The Founders' Edition will be manufactured for early adopters and fleet trials under UK IVA (Individual Vehicle Approval) regulation, ahead of series production.
In 2024, Munro will expand to a purpose-built production facility in central Scotland, creating 300 new jobs. At this point, the company will transition to Medium Series Type Approval in the UK and Small Series Type Approval for the EU market. Specific variants will be available in the US under the Federal Motor Vehicle Safety Standards. Vehicles will also be offered for global ex-works export, for those that can manage approval and registration in their own region.
Greater levels of manufacturing automation, such as advanced CNC machining and collaborative robots or 'cobots,' will support Munro's strategic goal of producing 2,500 units per year.
"Not every Munro will be a five-door variant, of course," reveals Anderson. "We plan to introduce a wide range of variants to meet our customers' diverse needs and will unveil our next model early next year. While it will look different to our launch model, like every Munro, it will set new standards for emission-free off-road mobility. And it will conquer the most challenging terrain, master the toughest tasks and deliver a lifetime of service."
About Munro
Munro Vehicles was founded in 2019 by Russell Peterson and Ross Anderson to manufacture the Munro MK_1, the world's most capable all-electric 4×4. Born off-road, the Munro is a unique 4×4 with uncompromising capability in the most challenging environments with the lowest environmental impact.
Scotland's only production car company, Munro Vehicles, will build 50 vehicles in 2023 before transitioning to a new purpose-built site near Glasgow in 2024. With the creation of 300 new jobs, production will be ramped up to 250 vehicles per year with a strategic roadmap in place to deliver 2,500 units annually by 2027.
The Munro is cleverly engineered to be simple and low-cost to maintain, with the extensive use of existing components. This approach ensures a superior total cost of ownership, with maximum uptime from a fully electric 4×4 that minimises its footprint no matter where it goes. 
Like the Scottish mountains the brand is named after, the Munro has been conceived to last a lifetime. Born off-road, born electric and capable of withstanding the harshest terrain and challenging elements, Munro is enduring, inspiring and ready for any challenge.