480bhp turnkey car from world's largest Ford performance specialist revealed at Performance Car Show
Steeda, the world's largest privately-owned Ford performance-based specialist, has unveiled its first turnkey V8 Mustang for the European Market. Derived from the 5.0 V8 model, the Q500 Enforcer, part of Steeda's SSV range of tuned Fords, is a practical and usable sports car that offers noticeable improvements in performance, chassis design and styling over the standard Mustang.
Designed to appeal to buyers seeking genuine performance gains many of the changes are found under the Mustang's skin. By combining a bespoke cold air intake system to increase and stabilise the flow of cool incoming air, revised engine mapping to provide instant throttle response and a custom exhaust that releases the V8 soundtrack that enthusiasts crave, the Q500 develops 480bhp, up from the standard car's 410bhp and 485lb/ft. of torque – an increase of over 70lb/ft.
Significant Changes
Significant changes have also been made to the Mustang's chassis and suspension set up. Developed on Steeda's own test track in Georgia as well as on racetracks including Sebring and Homestead Miami, the Q500 boasts adjustable suspension and chassis upgrades to sharpen responsiveness. These comprise bespoke thicker front and rear adjustable anti-roll bars that feature solid billet ends and mounts, Steeda's own progressive rate springs, strut tower brace and upgraded bushes for the Mustang's independent rear suspension sub-frame. The result is a lowered stance designed to offer the comfort of the factory car with improved turn-in, a much more planted rear end and a noticeable reduction in wheel hop and deflection that can affect the standard Mustang.
The Q500 also features Steeda's sub frame alignment kit to eliminate misalignment caused by a difference in bolt and hole size that has been reported on some factory cars. Customers selecting the optional wheel packages will have Michelin Pilot Sport 4S tyres fitted as standard, whilst track-focussed customers can opt for the Cup derivative. Steeda's UK first car, revealed at the Performance Car Show, is fitted with satin black 20" Velgen VMB7 wheels that, despite being one inch larger in diameter, and running larger tyres from Michelin all around (265/35/20 and 295/35/20) are Identical in weight to standard Mustang wheel and tyre combination. 19" wheel options are also available.
WHEN YOU CLICK ON LINKS TO VARIOUS MERCHANTS ON THIS SITE AND MAKE A PURCHASE, THIS CAN RESULT IN THIS SITE EARNING A COMMISSION. AFFILIATE PROGRAMS AND AFFILIATIONS INCLUDE, BUT ARE NOT LIMITED TO, THE EBAY PARTNER NETWORK AND AMAZON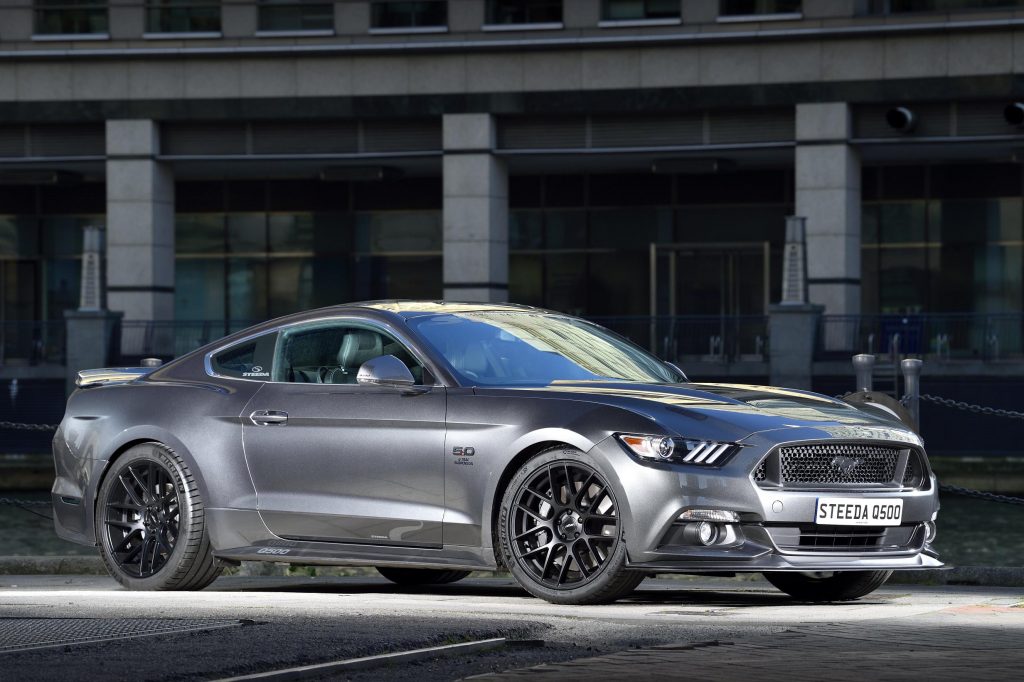 'Factory-Plus' Appearance
Targeting a 'factory-plus' appearance, Steeda's subtle exterior styling updates tighten the Mustang's iconic lines. A discrete splitter, developed on Steeda's race Mustang, reduces lift at the front whilst a polyurethane duck tail has been carefully designed to improve stability yet not adversely affect rear vision. The interior benefits from detail upgrades including Steeda sill trim finishers. A build plate, located under the bonnet and the Steeda script on the rear of the car, confirm its SSV provenance and are only fitted to turnkey cars.
In keeping with the Mustang's tradition of customisation, Steeda offers a comprehensive range of options suitable for either road or track. The most significant on the demo car is the Steeda Coilover Kit, adding fully adjustable dampers front and rear with a height-adjustable front coil over setup including camber adjustable top mounts and a rear spring and damper setup with a height adjustable spring seat. Other available options include a heavy-duty Tremec Magnum XL six-speed manual that can be specified with multiple gear ratio options, an upgraded twin plate clutch, heavy-duty aluminium driveshafts, vented brake discs as well as options to have custom paint finishes for brake calipers and under the bonnet. Options can be specified during build or retro-fitted at a later stage.
Price
Priced at £8,998 over the base GT vehicle, the Q500 Enforcer is available to order now from Ford dealer Haynes of Maidstone, Kent. All turnkey Steeda cars come with a comprehensive factory warranty.
"Steeda has been developing Mustangs for 30 years in the US," says Steeda UK's director Robbie Kazandjian. "Drawing from that experience and our comprehensive collection of suspension and chassis upgrades, the largest of any manufacturer for Fords, we have created a very special Mustang that offers an involving, affordable and thrilling alternative to offerings from the German manufacturers."
The Q500 joins the Q350 Sport Mustang and the Mondeo Sport in a growing range of offerings from Steeda for the European market. In the US, where its production-based cars have won more championships and races than all its competitors combined, Steeda is one of the most renowned Ford specialists offering a range of its own road and race parts for Fords including Fiesta, Focus and Fusion/Mondeo models. Steeda is already working on the Q Series packages for the new 2018 Mustang facelift which will launch later this year in Europe with further cars set to be revealed during the year.
About Steeda 
Founded 30 years ago, Steeda is the world's largest aftermarket manufacturer of Ford performance equipment and a leader in parts and upgrades for Mustang, Fusion/Mondeo, Fiesta, Focus vehicles, F-150 trucks and more. Alongside its comprehensive parts catalogue of over 4000 parts, Steeda also offers a range of turnkey Steeda Specialist Vehicle (SSV) vehicles which are now also available in the UK via Ford dealer Haynes of Maidstone, Kent. Headquartered in Pompano Beach, Florida, Steeda also has a second facility in Valdosta, Georgia that features a 1.2 mile all weather test track, skidpan, brake test area, and dynamic road surface area to aid in the further development and refinement of its Ford performance products.