Do you remember Cherry Bomb® exhausts? Did you know they're still made? I'll be honest – I didn't!
Youngsters reading this may not be able top relate to simpler times, when many of us were able to buy a cheap car and jazz it up (or 'Gaz it up', as some of us knew it!) with the addition of some bucket seats, racing harnesses and a roll cage, without having to fear that we were going to get pulled over every two minutes by the Old Bill, or treated like lepers by insurance companies.
And, of course, to make the car sound 'spot on', it just HAD to have a Cherry Bomb exhaust / 'silencer' somewhere underneath it. They looked cool, let the car breath a bit more easily and, above all at the time, sounded GRRRREAT!
Whilst taking a trip down memory lane the other day, I was thinking about some of the things that were common features when I started driving in the 1980's and onwards; things like the Feu Orange air fresheners, the stick-on window Garfield teddy bears, Care Bears on the dashboard (at least, I think it was Care Bears – I never did follow that trend!), Cherry Bomb Exhausts and so on. I actually have an original Feu Orange and a Garfield to this day.
My meanderings, as they often do, took me over to the search facility on eBay and, lo and behold, I was delighted to see that Cherry Bomb exhausts are still a thing. In fact, they're more than that. I seem to recall there being one basic design, but years of expertise and development have resulted in quite an extensive range nowadays and I'd hazard a guess that they perform as well as they sound, otherwise they simply wouldn't exist after this amount of time. The business world is harsh and only good products last! Custom Chrome Ltd must be doing something right, as they offer a substantial range today.
Back in the day, we'd make a Cherry Bomb fit, using whatever pipe and brackets we had, reducers, exhaust hangers, etc. Nowadays, you can buy all of this from the Cherry Bomb® website, and more.
So, now I've got to thinking; my next project needs to incorporate a Cherry Bomb. We've got a few old cars knocking around here and winter is approaching, so some time in the workshop looms. Truth be known, I can't wait to hear that noise and become 19-years old again!
See Cherry Bomb® exhausts on eBay –> CLICK HERE
Watch out for imitations – many try to copy the original!
You can also visit the Cherry Bomb website, here –> https://www.cherrybomb.co.uk/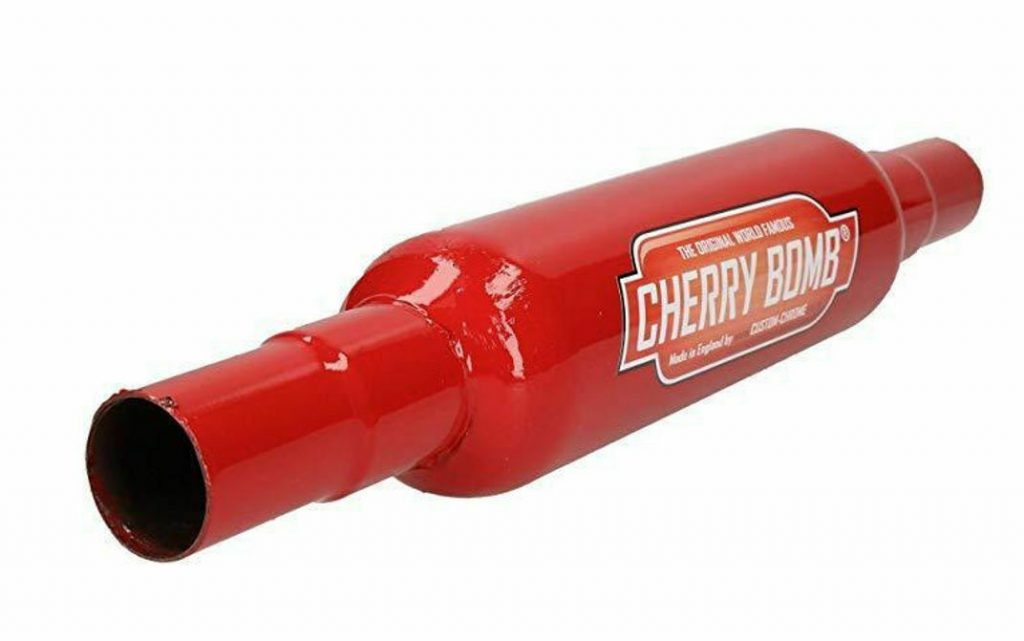 A Selection From Amazon
Last updated on August 11, 2022 10:26 pm