Silverstone Auctions first sale of 2021 is The Race Retro Live Online Auction, taking place on Saturday 27th March.
The lot list is shaping up magnificently with a number of unrepeatable competition cars each with their own unique history going under the hammer in their next live online auction.
WHEN YOU CLICK ON LINKS TO VARIOUS MERCHANTS ON THIS SITE AND MAKE A PURCHASE, THIS CAN RESULT IN THIS SITE EARNING A COMMISSION. AFFILIATE PROGRAMS AND AFFILIATIONS INCLUDE, BUT ARE NOT LIMITED TO, THE EBAY PARTNER NETWORK AND AMAZON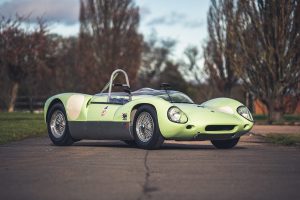 This pale-green 1960 FIA Lotus 19 Monte Carlo was raced by Hill, Gendebien, Maggs and Ireland with Jim Clark tasting victory by winning in this car! It was also the last car driven by the late Sir Stirling Moss before he retired as a professional. The Lotus 19 was a remarkable car from the fertile mind of Colin Chapman with a particularly beautiful fibreglass body clothing. Silverstone Auctions will present the car with a fresh engine (dyno sheet on file-240bhp) and fresh competition preparation such as recommissioning, competition preparation and development by Andrew Tart. With much recent expenditure and now superbly presented for competition – this is an important car with impeccable provenance!
The 1959 Studebaker Silver Hawk Racer which is superbly finished in gleaming Cameo Beige by Full Circle in Marden is a very rare, late fifties example of the glamorous Coupé. The suspension is, unbelievably, adjustable for handling speed incredibly well (camber and casting). The Silver Hawk racer sat on the front row grid at Goodwood in 2019. This beautifully presented classic racer is ultra-competitive, simply maintained and admired everywhere! Silverstone Auctions welcome any inspection of this amazing Studebaker. A fabulous opportunity to own one of the world's most prestigious classic saloon car races.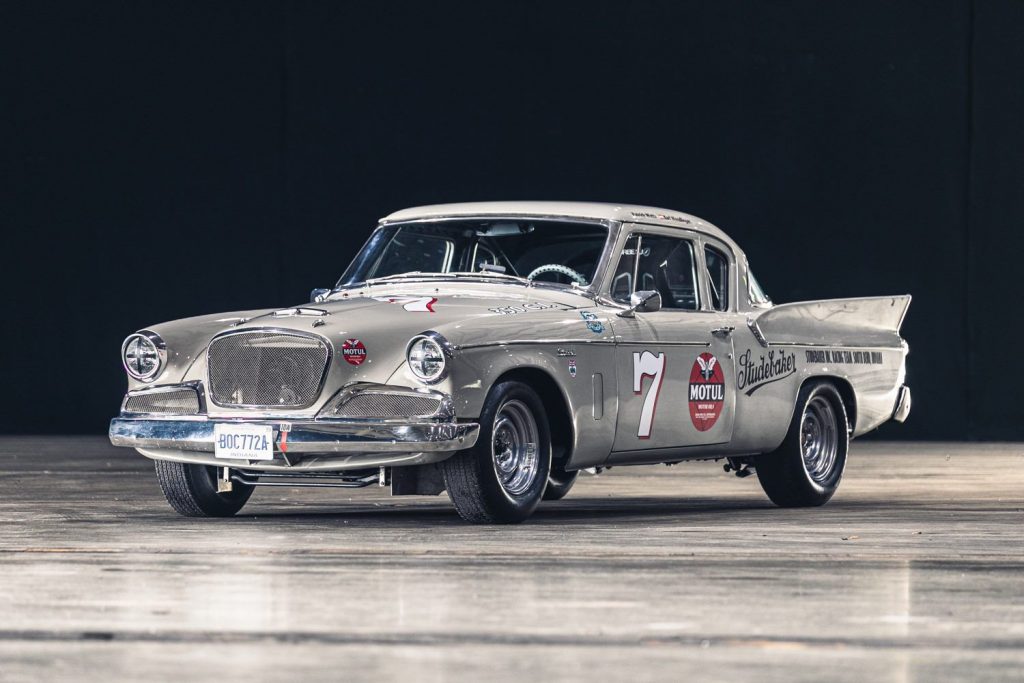 Gary Dunne Sales Controller for Silverstone Auctions has said "This is our tenth Race Retro auction and we have both modern and historic competition cars confirmed for the sale. Including the 1960 FIA Lotus 19 Monte Carlo, which is a privilege and real honour to offer a car with such provenance!"
Designed by Jonathan Palmer and Peter Sneller of Zeus Motorsport is the state of the art, 2004 Palmer Jaguar JP1 TS and bespoke Trailer. The open two-seat track-day car is powered by a track-spec Jaguar Racing Cosworth 3.0 litre offering 198mph and 0-100 in 7.6 seconds! The Jaguar was maintained in-house by Harwoods Jaguar under their ownership as well as by PalmerSport. "The Palmer Jaguar JP1 captures perfectly the performance and spirit of a Jaguar". A further example of the unique competition cars up for auction in The Race Retro Live Online Sale.
Another exceptional example of the competition cars up going under the hammer at Silverstone Auctions next sale is the 2017 Morgan AR V6 – Championship Winning Race Car. ARV6 was the most powerful racing car that Morgan had ever sold, one of only six ARV6 built. This car has 10 outright wins from 11 races in the hands of 19-year old Scot, Elliot Patterson. This is the perfect Morgan race car for experienced racers and novices alike and the gentlemanly spirit of the Morgan Challenge Series has earned a high level of respect amongst fellow motorsport enthusiasts, of which several ARV6 have competed previously. In slightly menacing Matte Black with some amazing futuristic detailing, this ARV6 is undoubtedly the coolest Morgan racer on the planet – given that only six were built globally, it would take someone brave to say no!
In light of government guidelines, Silverstone Auctions have now changed the date for The Race Retro Live Online Auction to Saturday 27th March, taking into consideration the importance of pre-sale viewings for their customers!
Competition and Classic cars are still being invited for Silverstone Auctions Race Retro sale, the process for submitting an entry couldn't be easier or safer! The team can be contacted on 01926 691141, by email enquiries@silverstoneauctions.com or via their website.