Announcement
Bicester Heritage has announced a new, three-year partnership with leading classic car insurance specialist Hagerty, which will become the exclusive insurance partner to Bicester's renowned Sunday Scramble events.
Hagerty hosts the ever-popular Valuation Arena at the Scramble events, with its team of classic experts providing valuation guidance and bespoke certificates for participating enthusiasts.
The new deal will also see Hagerty support insurance requirements and risk assessment management for the Bicester Heritage team and offering support to the 35-plus businesses that call the historic motoring hub home.
Sunday Scrambles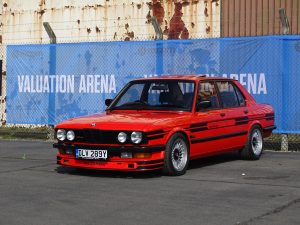 Past Sunday Scrambles have seen the Hagerty valuation team examine some exceptional classics from a pristine BMW Alpina B9 to a Datsun 240Z, as well as more challenging valuations such as a Riley 9 Special and a GMC Truck.
In doing so, Hagerty has raised over £1,000 for charities such as the Air Ambulance and the Marshal's Trust, as every valuation is accompanied by a donation.
Angus Forsyth, Hagerty's International Managing Director, said: "Bicester Heritage is such a focal point for any classic car enthusiast, so we are delighted to partner with the team and support their events, help their tenants and devise new and exciting content with them.
"We expect the partnership will initially add value to the Bicester tenants and attendees of the Sunday Scramble events, but as we develop more content and ideas with the team at Bicester, we strongly believe that there will be a much broader appeal to the classic car community. We also look forward to learning about the exciting developments at Bicester Heritage and sharing this information with our global database of terrific clients."
Daniel Geoghegan, Managing Director of Bicester Heritage, added: "Over the past five years, we have enjoyed an excellent working partnership with Hagerty not just across events but also as very impressed clients; we had no hesitation in wishing to build on these strong foundations. As well as supporting our mission to revolutionise the classic car ownership experience, Hagerty's innovative spirit and genuine enthusiasm for motoring represents a strong cultural fit with Bicester Heritage. Together we look forward to enhancing the classic car community."
Open Day
The next open day at Bicester Heritage will be Sunday Scramble 'Drive It Day' on 22nd April. Tickets are available for the event – as well as access to Hagerty's Live Valuation Arena – at www.bicesterheritage.co.uk/events.