Specialist insurer to sponsor Grand Avenue Club at The London Classic Car Show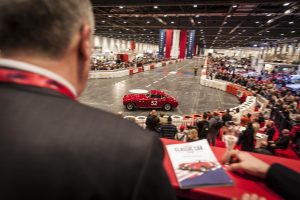 The organisers of The London Classic Car Show (15-18 February) are delighted to announce an exciting new partnership with ERS. ERS has been providing specialist classic car insurance for more than 70 years and, highlighting its heritage, has been appointed as the Classic Car Insurance Partner to the capital city's must attend event for more than 40,000 discerning classic car owners, collectors, experts and enthusiasts.
Enthusiasts and collectors offered live insurance quotes
ERS is also sponsoring the prestigious Grand Avenue Club VIP area, where a team of its expert underwriters will be working with specialist insurance brokers A-Plan Private Clients and Grove & Dean to provide live classic and prestige motor insurance quotes to visitors throughout the show.
Live insurance quoting is a first for The London Classic Car Show and will give enthusiasts and collectors the opportunity to find out if they can get a custom quote for cover tailored to their specific needs before the start of the spring season.
Tom Donachie, Head of Bespoke Underwriting at ERS said: "We are thrilled to be involved with this year's London Classic Car Show and to be working with A-Plan Private Clients and Grove & Dean to bring a new dimension to the event. Being able to provide live insurance quotes for visitors is a very exciting prospect and we can't wait to see what incredible cars we get the chance to underwrite."
Renowned broadcaster Jonny Smith joins ERS at ExCeL
Furthermore, renowned motoring broadcaster and enthusiast Jonny Smith will be joining ERS during the show. He will be available to give ERS guests exclusive access to his insights and expertise on their burning motoring questions.
The company will also be sharing findings of research it has undertaken on classic car ownership now and in the future around the show. More updates will be available via the dedicated ERS page on The London Classic Car Show website, www.thelondonclassiccarshow.co.uk/ers and on twitter at @ERSmotor.
Tickets on sale with significant discounts for those booking in advance
All those wanting to attend the 2018 London Classic Car Show can take advantage of significant discounts on offer when booking in advance. If purchased now, adult admission costs just £25 (£30 on the door) and a range of upgraded Premium and Family Tickets are also available online.
Tickets for the ERS Grand Avenue Club are priced from £55 and provide fast track entry to the show, a complimentary Show Guide, exclusive viewing areas, private bar and catering with two free drinks, dedicated seating and cloakroom.
Moreover, all tickets also include entry to the London Classic Car Show's sister show Historic Motorsport International, which celebrates the UK's leading role in all areas of historic motor sport. Full details can be found on the show's official website – thelondonclassiccarshow.co.uk.