Bicester Heritage – the UK's Centre of Excellence for Historic Motoring – has welcomed newly registered charity StarterMotor to the site.
StarterMotor is dedicated to enhancing the education experience of students in the maintenance and use of historic vehicles by giving them a valuable dose of first-hand experience by handing over vehicles from its own fleet for students to work on and drive.
Bicester Heritage is home to Banbury and Bicester College's revolutionary Historic Vehicle Restoration Apprenticeship Scheme, which welcomes students to the site for a detailed course on all things historic motoring with a direct line to employment.
WHEN YOU CLICK ON LINKS TO VARIOUS MERCHANTS ON THIS SITE AND MAKE A PURCHASE, THIS CAN RESULT IN THIS SITE EARNING A COMMISSION. AFFILIATE PROGRAMS AND AFFILIATIONS INCLUDE, BUT ARE NOT LIMITED TO, THE EBAY PARTNER NETWORK AND AMAZON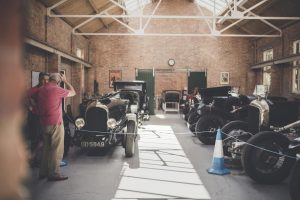 StarterMotor has teamed up with the college and Activate Learning to provide vehicles for these students to not only experience the full circle of ownership, but also to use in competitions, events and show.
By doing so, the charity is ensuring that the new generation of automotive fanatics has the necessary equipment to keep the classic car legacy alive.
Both the apprenticeship scheme and StarterMotor were launched in order to respond to a skills gap in the industry, as The Federation of British Historic Vehicle Clubs identified that half of the 28,000 employees that worked in the vehicle renovation industry in 2011 are aged 45 or older. There are now 34,900 working in the industry, with an average age of 42.
Businesses are expected to need up to 150 apprentices a year for the next five years in order to protect the future of an industry that is worth an estimated £5.5bn a year – and StarterMotor is providing an essential stepping stone for its future.
Adrian Shooter – Chairman of StarterMotor – said: "I was lucky enough to be able to persuade my father to buy me an old Morris 8 engine to tinker with when I was 11. That got me started on a lifetime of restoring and driving old cars, which is why I am so enthusiastic about giving young people the chance to experience the excitement for themselves."
David Cox, StarterMotor's Charity Manager, added: "StarterMotor gives students vital access into the historical car market, helping develop valuable skills and engaging with the next generation of enthusiasts."
Dan Geoghegan, Managing Director of Bicester Heritage and Starter Motor trustee, concluded: "The learning curve can be transformed with genuine experience, StarterMotor hands over the keys and provides the opportunity both for fun and enhanced skills."
For more information on StarterMotor, head to www.startermotor.com
A Selection From Amazon
Last updated on September 18, 2023 12:04 pm