The Beginning
Back in 1954, Suzuki Motor Co, Limited was formed and Michio Suzuki designed and developed his first Automobile together with Son in law Shunzo who headed up the young engineering team, many of whom were in their twenties. Using Suzuki's 'Yaramaika' principal (translated as 'Let's do it') and his determination to drive forward, Shunzo quickly began researching vehicles produced overseas, gaining a wealth of knowledge to build the first Suzuki car, known as the Suzulight.
WHEN YOU CLICK ON LINKS TO VARIOUS MERCHANTS ON THIS SITE AND MAKE A PURCHASE, THIS CAN RESULT IN THIS SITE EARNING A COMMISSION. AFFILIATE PROGRAMS AND AFFILIATIONS INCLUDE, BUT ARE NOT LIMITED TO, THE EBAY PARTNER NETWORK AND AMAZON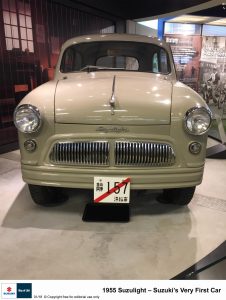 Shunzo Suzuki used several European models for benchmarking as well as an Austin 7 from the UK, a popular car of the era and available at a very reasonable cost. The Suzulight was a compact and light vehicle weighing less than 500kg, it was designed to be easy to drive and maintain as well as inexpensive to buy. Powered by a 360cc, 16PS two cylinder, two-stroke engine it was way ahead of its time with independent coil spring suspension and rack and pinion steering.
Measuring just 2,990mm long, 1,295mm wide and 1,400mm high the Suzulight easily met the Japanese 'Keijidosha' or Kei light car legislation and Shunzo Suzuki and his team quickly began their first development road testing of it.
Testing The Prototype
As a prototype car, its most memorable early drive was a long trip across the Hakone mountainous region between Hamamatsu and Tokyo which proved to be a real challenge as no paved roads existed at the time. Although arriving in Tokyo very late in the evening, the team arrived to present the car to the President of 'Yanase' or Government Automotive office. The President stayed on late to personally greet the team and made his way out to thoroughly test the car.
He returned very impressed some time later and immediately gave Shunzo and his team full approval to put the car into production. This commenced in October 1955 and Shunzo made his first two deliveries to doctors who used the small and lightweight car on their daily rounds. Initial production was 3-4 cars per month but by early 1956 monthly volume had climbed to 30 units. The Suzuki success story had begun and in 1957, Shunzo Suzuki became the 2nd President of Suzuki Motor Co, Limited.
How Many Left?
It's rumoured that only one or two of the original Suzulight cars exist now, one of which is in the Suzuki Plaza Museum in Hamamatsu City, Japan.
64 years later, Suzuki remains globally renowned as the 'small car experts' and produces over three million cars per year. Shunzo Suzuki's original strategy of the design and production of lightweight vehicles lives on with the latest platforms introduced for Ignis, Swift and Baleno. The next light new model to arrive from Suzuki will be the Swift Sport in June 2018, weighing in at just 970kg.