A poll of 4,500 Ferrari fans names the all-time top 5 greatest V8 Ferraris with the 458 Italia in first place.
Thousands of prancing horse devotees have overwhelmingly declared the Ferrari 458 Italia to be the greatest ever V8 from Maranello. Pitched against everything from the tax-break 208 to the current 488GTB, the 458 mopped up a landslide 42% of the vote, more than twice the support for its nearest rival.
The poll was conducted on behalf of Enzo, the new quarterly magazine dedicated exclusively to Ferrari, and a total of over 4,500 votes were received. Enzo is produced by the team behind Octane magazine and the poll was taken among online readers of Octane as well as those of its sister publications evo and Auto Express.
In its latest issue, Enzo conducts an epic, beautifully photographed group test of some of the greatest V8 Ferraris of all time and delivers its verdict. Now the general public has delivered theirs with the 458 Italia claiming its commanding victory ahead of the F355 and Ferrari's latest offering in this field – the 488GTB.
Every issue of Enzo is 100% Ferrari with the team compiling a selection of road tests on the latest models as well as drive stories and track tests of classics from the Maranello brand's glorious past. Readers also get interviews with leading personalities in the Ferrari world, expert insights into the marque's past and future, plus much, much more.
Subscriptions to Enzo are available now from www.enzo-magazine.co.uk and anyone signing up now gets the first and second issues for just £6.
WHEN YOU CLICK ON LINKS TO VARIOUS MERCHANTS ON THIS SITE AND MAKE A PURCHASE, THIS CAN RESULT IN THIS SITE EARNING A COMMISSION. AFFILIATE PROGRAMS AND AFFILIATIONS INCLUDE, BUT ARE NOT LIMITED TO, THE EBAY PARTNER NETWORK AND AMAZON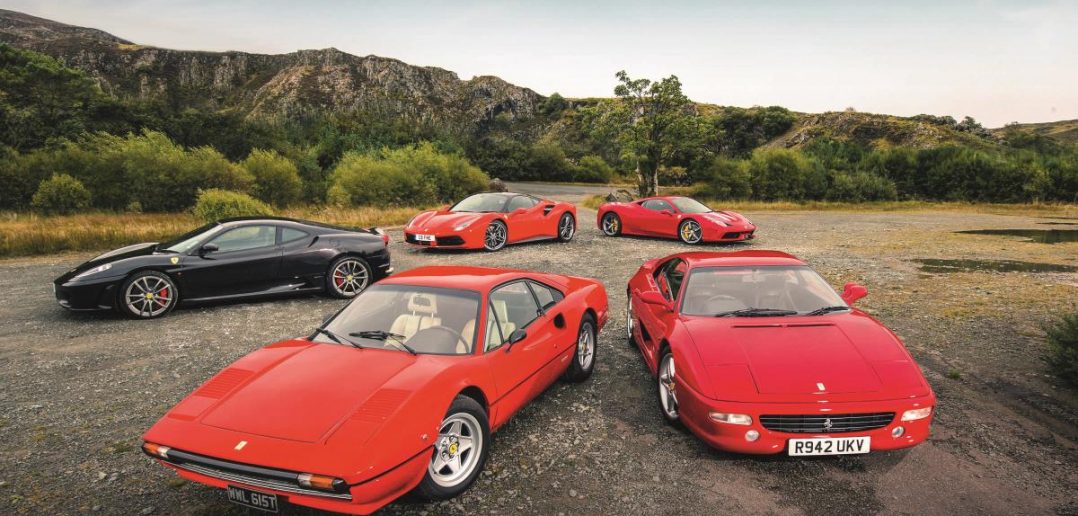 The top 5 greatest ever V8 Ferraris
1) Ferrari 458 Italia
Having taken its bow at Frankfurt in 2009, the successor to Ferrari's 430 stayed in production until just a couple of years ago and was mobbed with plaudits and awards from day one. With a mid-mounted 4.5-litre V8, it revs to a mighty 9,000rpm, boasts more than 550bhp, propelling it to 62mph in 3.4 seconds and on to a top speed of over 200mph.
2) Ferrari F355
Following on from the less popular 348, the F355 was the darling of 1990s Ferraris and, with a capacity increase and the introduction of a new cylinder head, it was considered a real return to form. The longitudinal 3.5-litre V8 cost just over £80,000 new and pumped out 375bhp for 0-60mph in 4.7 seconds and over 180mph. Built in record numbers for a Ferrari at the time (over 11,000 were manufactured), it garnered some 20% of the vote.
3) Ferrari 488GTB
With just under 10% of the votes, the GTB was the first 488 variant to be introduced when it went on sale in 2015. Performance from the 3.9-litre twin-turbo V8 is spectacular with the 0-60mph dash being completed in just 3 seconds and the 488GTB topping out at 205mph. If you have £180,000 burning a hole in your pocket, you could barely spend it in a more thrilling way.
4) Ferrari F430
Just pipping a perennial favourite to fourth place with 6% of the vote is the car that bridged the gap between the 360 and the 458. Having been first shown at Paris, it was in production from 2004 until 2009 and was powered by a 4.3-litre V8. Mid-mounted, of course. Kept honest by the E-Diff, it was a brilliant cross-continent sports car capable of a 3.9-second 0-60mph and just shy of 200mph.
5) Ferrari 308
Unquestionably the benchmark Ferrari that set the template for the company's modern era, Leonardo Fioravanti's svelte masterpiece may not have been the first V8 middie built by Ferrari – that accolade belongs to the Dino-badged 308GT4 – but it remains the most recognised and revered. Performance may be blunt by modern supercar standards, but 0-60mph in 6 seconds and a top speed of 152 was plenty in 1975!
A Selection From Amazon
Last updated on May 4, 2023 6:39 am