The Lamborghini Gallardo, favoured by celebrities such as David Beckham and Pierce Brosnan, has been revealed as the nation's favourite supercar.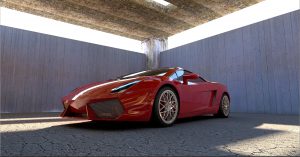 The newly released data from TrackDays.co.uk, which offers a huge variety of the most desirable models, reveals the Gallardo is the supercar that Brit's most want to drive given the chance.
Indeed, like the awesome power of the car itself, driving experience bookings for the Gallardo are off the scale compared to other popular models such as the Nissan GTR, Ferrari 360 and Aston Martin DB9.
The Gallardo actually takes almost a fifth of driving experience bookings with TrackDays.co.uk, well ahead of its nearest rival the Audi R8 with 12 per cent of bookings.
Dan Jones, operations manager at TrackDays.co.uk, said: "While it has always been popular with A-list celebrities, the Gallardo would also be the supercar that most Brits want to drive if they had the opportunity.
"No surprise given its jaw-dropping looks and incredible performance figures with a top speed of more than 200mph and being capable of 0-62mph in just over three seconds!"
It's also a double celebration for Lamborghini as it also tops the bookings for the 'Supercar Choice Experience' when customers can select the manufacturer experience they want, as opposed to a specific model.
Dan added: "We all dream of owning a supercar and it is the Lamborghini, and the Gallardo in particular, that most Brits see as their ultimate dream car. With as few as 14,000 models ever built, and with some models still costing more than £100,000, taking one for a blast around a race track is the closest that most of us will get to enjoy its awesome looks, performance and handling.
"And while the Gallardo is beyond the reach of most pockets you can get to own one, albeit for a few hours, by booking a driving experience from as little as £39!"
Supercar Top 10
Percentage of driving experience bookings with TrackDays.co.uk from Feb 2017 to Feb 2018
Lamborghini Gallardo – 19.2%
Audi R8 – 12.4%
Aston Martin V8 Vantage – 9.0%
Nissan GTR – 9.0%
Ferrari 430 – 9.0%
Ferrari 360 – 8.4%
Ariel Atom – 7.2%
Aston Martin DB9 – 7.2%
BMW i8 – 2.6%
Porsche 911 Carrera – 1.9%
Manufacturer Top 10
Percentage of driving experience bookings with TrackDays.co.uk from Feb 2017 to Feb 2018
Lamborghini – 23%
Aston Martin – 17%
Ferrari – 14%
Ariel – 12%
Nissan – 12%
Audi – 10%
Porsche – 4%
Jaguar – 3%
McLaren – 3%
BMW – 2%