The Castle Combe Autumn Classic
WHEN YOU CLICK ON LINKS TO VARIOUS MERCHANTS ON THIS SITE AND MAKE A PURCHASE, THIS CAN RESULT IN THIS SITE EARNING A COMMISSION. AFFILIATE PROGRAMS AND AFFILIATIONS INCLUDE, BUT ARE NOT LIMITED TO, THE EBAY PARTNER NETWORK AND AMAZON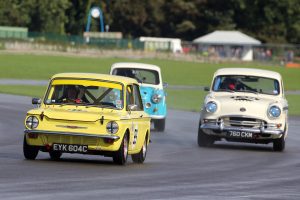 A grid full of period Touring Cars will be one of the crowd-pleasing highlights at the seventh Castle Combe Autumn Classic on Saturday 6 October, 2018.
The race for pre-1966 cars will be held in memory of Terry Sanger, a local hero through the 1960s as he raced more and more outrageous saloon and touring cars.
After a break in 2017, the fabulous spectacle of pre '66 touring cars will be back in 2018 and the event organisers are already working to attract a grid full of American V8s, Lotus Cortinas, Alfa Romeos, BME 1800s and Mini Coopers. The sight of these cars sliding into the corners and racing door handle to door handle will be a real highlight of the race programme. It is a race that, for the older Castle Combe fans, will rekindle memories of drivers like Vince Woodman, Geoff Mabbs, Ron Fry, Steve Neal, Brian Cutting and Richard Longman.
The race will be open to cars complying with FIA Appendix K regulations, which ensures period authenticity. With more than 100 eligible cars now based in the UK, the team at Castle Combe is aiming to attract a 30-car grid for this special race.
First established in 2012, the Autumn Classic has quickly established itself as a must-do date on the classic racing calendar and consistently delivers glorious racing from grids full of cars of the 1950s, 1960s and 1970s.
The Terry Sanger Trophy
The Terry Sanger Trophy will celebrate the life of a true racing character who was inextricably linked with Castle Combe. Remarkably, his life story encompassed two of the key features of the 2018 Autumn Classic: as a youngster he was marshalling at Quarry when Stirling Moss crashed in 1953. Later, Sanger raced a Ford GT40 and contested the daunting Targa Florio road race in a factory car in 1969.
But it is for his saloon car racing that the Bradford-on-Avon driver is best remembered. He raced cars extensively in the 1960s and was famous for racing an early special saloon, a Ford Cortina Mk1 with a Ford V8 engine installed. Later, having retired from racing, he regularly drove the fast intervention medical car at the circuit.
In his very early days, Sanger had need of medical attention when he came off a BSA Gold Star motor bike. Speaking in 1999, he recalled one of many funny moments from his motor sport career.
"One of my earliest memories was riding the BSA Gold Star at Castle Combe. One of the funniest moments was when I came down to Camp on about the third lap. We were all trying to be the last of the late brakers and I braked far too late. Being heavy, I went clean over the handle bars and I was sat on my backside still doing about 70mph with the bike right behind me, following a straight line off the corner.
"In those days, fifteen feet from the edge of the road were steel posts driven into the ground with a rope stretched between them. The spectators stood behind that and they gently held the rope up as I slid underneath it. But I kept going and by this time my behind was getting a bit sore. I actually went feet first into the Red Cross tent. Ray Cordy, from Bristol, was already in there because he'd fallen off at the start. He looked down at me as I went sliding past and out the other end of the tent. He said: 'You'd better deal with him first, he's in a hurry!" Terry Sanger died in 2013 aged 79.
More Details
For more details about the Castle Combe Autumn Classic and for entry information regarding the Terry Sanger Trophy for Pre '66 Touring Cars please email jol@castlecombecircuit.co.uk or keep an eye on our website www.autumnclassic.co.uk