The Honda Racing team are celebrating today after the all-new CBR1000RR-R Fireblade SP took its debut victory in the opening 2020 Bennetts British Superbike Championship race, as well as the National Superstock 1000 Championship race in perfect conditions at Donington Park.
Andrew Irwin claimed his second BSB win this afternoon in fine style at the Leicestershire circuit after a nail-biting battle with his teammate, and brother Glenn, who made it a double podium finishing hot on Andrew's heels to claim second place.
Across all sessions Andrew and Glenn have been progressing with solid lap times and with all eyes on the new Fireblades racing debut on British soil, the pressure was felt in the garage as they lined up for Race 1. Launching off the line, both Andrew and Glenn made up places from their starting positions (Glenn fifth, Andrew seventh) and were in the podium mix from the start.
By just over half way it was a Honda 1-2 at the front with the Irwin brothers leading the pack, but championship rival Josh Brookes was reeling them in and made his move for the lead. On lap 18, the brothers made a brave move on Josh, to take the leading two positions and it was Glenn leading Andrew. On the last lap Andrew made his move on his brother to take the lead and his second BSB victory with the Honda team, Glenn crossed the line second – just 0.119s behind.
However, the celebrations were about to continue as Tom Neave took his debut Superstock 1000 win – making it a double victory for the Honda team with the 2020 Fireblade. Strong throughout all sessions Tom topped the timesheets in both free practices and started the race from second on the grid.
The Lincolnshire lad took the race lead early on and showed the strength of the Fireblade leading the race throughout, crossing the line 2.026s ahead of Damon Rees in second place. Teammate Davey Todd has impressed in all sessions as he makes his return to short circuit racing after a four-year break, he crossed the line ninth.
The team and riders will now put their focus towards tomorrow for two more British Superbike races and one more Superstock 1000 race.
WHEN YOU CLICK ON LINKS TO VARIOUS MERCHANTS ON THIS SITE AND MAKE A PURCHASE, THIS CAN RESULT IN THIS SITE EARNING A COMMISSION. AFFILIATE PROGRAMS AND AFFILIATIONS INCLUDE, BUT ARE NOT LIMITED TO, THE EBAY PARTNER NETWORK AND AMAZON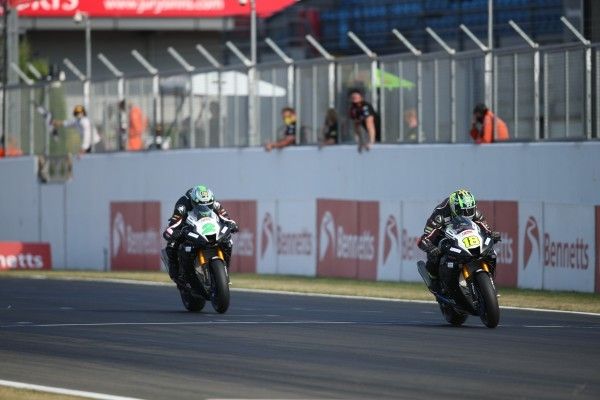 #18 Andrew Irwin
Today was a good day, we've done a lot of hard work and from Spain I knew we'd made a step in performance. It's only one race, we have another 17 to go, so we have to maintain the focus; keep working hard and also keep improving as we know our rivals will continue to do so. It's a credit to the new Fireblade already, you look at the bike and a lot of the material is the same as the road bike, and already it's so competitive, so from that point of view it shows how good it is as a standard bike. I would like to thank all the team; Harv, Honda, my crew – everyone that's helped, I feel we're in a good place and hopefully we can improve in a few places tomorrow and have another two consistent finishes.
#2 Glenn Irwin
It feels really good, it's been a long time since I stood on the podium and I didn't expect it to come so soon. What a day for the team, me finishing second and to have my teammate and brother in P1 is a fantastic debut for the all-new Fireblade. We've enjoyed testing and also been reserved to where we are, after the official test we were quietly confident and keeping our feet on the ground, and that hard work and attitude has paid off and got us where we are today. Thanks to everyone at Honda Racing for this.
#68 Tom Neave
I can't even get my words out! I feel like I've got the monkey off back and with everything I went through last year with all my injuries, and all the work I've put in over the winter – it feels like it's finally paid off and I'm so proud to do it for Honda. It's my dream team and probably one of the best days of my life really! I feel like the weight has been lifted for tomorrow and I feel like we can improve – this is just the beginning.
#74 Davey Todd
In all honesty if someone had said at the start of the weekend a top-10 for my first race back, I would have taken it, but as we've worked through the weekend so far with Friday and this morning, I knew a lot more was possible, so I thought we were going to be more competitive in that race. In the first half we had a lot more pace than I was able to show there, I was quick in parts of the track that made it difficult to ride with other riders, there's a few things I want to tweak with the bike that we know we did wrong. But it's just my lack of track time to be honest, to get things right. But we'll get things right and have another go tomorrow!
Team Manager Havier Beltran
What a start to the season, I really want to take this opportunity to thank everybody back at Honda UK; all of our sponsors, partners and suppliers for their continued loyal support and getting us to where we are today. 2020 has been a difficult year for all of us, but what a great start to both the British Championship and Superstock Championship to be first and second here at Donington Park for Race 1, and for Tom Neave to take his debut win on the stock Fireblade – it's a fantastic achievement for all the riders and also the team. We have 17 more races ahead of us, so we need to keep our feet on the ground, focus on our objectives and not get too ahead of ourselves at this stage. I'm looking forward to seeing what tomorrow brings.
A Selection From Amazon
Last updated on August 2, 2023 11:11 pm