WHEN YOU CLICK ON LINKS TO VARIOUS MERCHANTS ON THIS SITE AND MAKE A PURCHASE, THIS CAN RESULT IN THIS SITE EARNING A COMMISSION. AFFILIATE PROGRAMS AND AFFILIATIONS INCLUDE, BUT ARE NOT LIMITED TO, THE EBAY PARTNER NETWORK AND AMAZON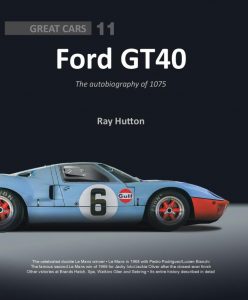 Ford GT40
The autobiography of '1075'
By Ray Hutton
Published by Porter Press International
Publication date: 10th December, 2017
Jacketed Hardback ● RRP: £60.00 ● ISBN: 978-1-907085-68-0
320 pages ● Format 285mm x 235mm ● 300+ photographs, inc. colour
This sumptuous book tells the story of one of the world's most important racing cars, the iconic Gulf-liveried blue-and-orange Ford GT40 that won the Le Mans 24 Hours in 1968 and again in 1969. The second victory at la Sarthe came after one of the closest-fought battles in the race's history.
There were also championship wins for this car, chassis number 1075, at Brands Hatch and Spa in Europe, and at Watkins Glen and Sebring in the USA. In two short but glorious years, '1075' was raced by such famously great drivers as Jacky Ickx, Pedro Rodriguez and Brian Redman.
Over the course of 320 pages – lavishly illustrated with nearly 300 period images, plus exclusively commissioned studio photography – this car's entire competition life is brought vividly back to life. Author Ray Hutton, long-time editor of Autocar magazine, witnessed '1075' race in period and knew team manager John Wyer and many of the GT40 drivers personally.
Story highlights
Early in 1968, after non-finishes at Daytona and Sebring, Jacky Ickx and Brian Redman overcame Porsche's challenge to win the six-hour BOAC 500 at Brands Hatch.
In torrential rain at the Spa 1,000Km in Belgium, Ickx demonstrated his wet-weather mastery on his home circuit to take a second victory for 1075, ably supported by Redman.
Back in the USA, Ickx and fellow Belgian Lucien Bianchi scored a third win at Watkins Glen amid controversy about team orders.
With Ickx sidelined by injury, Mexican ace Pedro Rodriguez joined Bianchi in the car at Le Mans in 1968. They won comfortably after Porsche's four-car works challenge collapsed.
A return to the Sebring 12 Hours, the second of three outings in 1969, brought unexpected success for Ickx and Jackie Oliver against formidable new opposition from Porsche, Alfa Romeo and Ferrari.
Ickx and Oliver teamed-up again at Le Mans in 1969 and once more achieved a surprise victory, this time in a race whose outcome remained uncertain until the last lap.
The author
Ray Hutton's first race working as a motorsport journalist, the BOAC 500 at Brands Hatch in 1968, was also the occasion of 1075's first win. Ray was also a reporter at the epic Le Mans race of 1969, and came to know team manager John Wyer and all of 1075's drivers. Formerly a long-serving editor of weekly magazine Autocar, Ray is now honorary president of the International Car of the Year Jury, vice-president of the Guild of Motoring Writers, and an associate member of the British Racing Drivers' Club. His work has twice won the Guild's Montagu Trophy and the Bentley International Trophy.