Exceptional Cars Series No. 3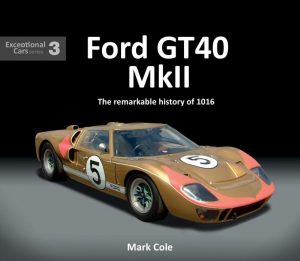 Ford GT40 Mk II
The remarkable history of 1016
By Mark Cole
Published by Porter Press International
Publication date: OUT NOW!
Jacketed Hardback ● RRP: £30.00 ● ISBN: 978-1-907085-64-2
128 pages ● Format 240mm x 280mm ● 135 photographs, inc. colour
This book tells the story of a car that appears in one of the most famous snapshots in motorsport history, the finish of the 1966 Le Mans 24 Hours, when Ford scored its first victory there in the third year of trying and GT40s crossed the line together in first, second and third places.
Distinctive in its gold-and-pink colour scheme, this Ford GT40 Mark II, chassis number P/1016, gave Ford its clean sweep at Le Mans '66 by taking third place. Driven by Formula 1 driver Ronnie Bucknum and NASCAR racer Dick Hutcherson, 1016 followed home the similar cars of Bruce McLaren/Chris Amon and Ken Miles/Denny Hulme.
With a monstrous 7-litre V8 engine, the Mark II was an evolution of the original Ford GT, and Bucknum played a big part in its development. So too did another Californian, Richie Ginther, who shared 1016 with Bucknum in the 1966 Daytona 24 Hours. This book traces the car's development and the engineering role of the Holman & Moody team who ran the car at Le Mans in '66.
In a short but distinguished career, 1016 was also driven by such notable names as Bruce McLaren, AJ Foyt, Mark Donohue and Peter Revson, before becoming a star exhibit at the famous Harrah Motor Museum in Reno, Nevada. Today it is part of Claude Nahum's fine collection, restored to the specification and appearance it had at Le Mans in '66.
Story highlights
Participation in the 1966 Daytona 24 Hours in the hands of Ronnie Bucknum and Richie Ginther, who both also raced for the Honda Formula 1 team that year.
Driven in the 1966 Sebring 12 Hours by Bucknum and then-double (later quadruple) Indianapolis 500 winner AJ Foyt.
Third place at Le Mans in 1966 in the hands of Bucknum and Dick Hutcherson, who had won nine NASCAR races the previous year.
Raced at Daytona in '67 by two more top-rank American drivers, Mark Donohue and Peter Revson, both apparently destined for stardom until killed in Formula 1 accidents.
Driven at the '67 Le Mans Test Weekend by another driver influential in the GT40's development, Bruce McLaren.
The role in the Mark II's development by legendary NASCAR team Holman & Moody, whose long-standing relationship with Ford included winning 48 of 55 NASCAR races in 1965.
The author
A motorsport commentator on Eurosport TV for 25 years, Mark Cole was previously the press attaché for the FIA World Sports Car Championship. Earlier in his career Mark was club editor of Autosport magazine, and press officer at Thruxton and Silverstone circuits.
This book is available from Amazon – CLICK HERE for details.