The First Three Shelby Cobras – The sports cars that changed the game
By shoe-horning an American V8 powerplant into a British-designed and built chassis, the Shelby Cobra became a sports car legend on both sides of the Atlantic. This book tells the varied stories of the first three to be built. CSX2000, the only prototype, was owned by Carroll Shelby and his family until sold for $13.75 million in 2016. CSX2001, the first production car, had a colourful competition career in Europe. And CSX2002, the first Shelby Cobra to race, initiated a series of competition successes that made the model famous.
When it was first suggested that the AC Ace chassis should be given an American Ford V8, AC Cars in Surrey merely expected this to extend the production life of a model past its prime. But rather than postponing the end a story, the extra power this gave the car, and the racer's spirit of Shelby American in California, was the beginning of a whole new tale, which this fascinating book tells.
In looking at the origins of this legend, this 128-page book – the fourth in the Exceptional Cars series – is lavishly illustrated with a mix of period and contemporary images, many previously unseen.
Story highlights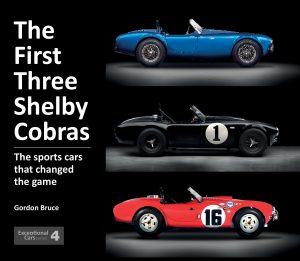 The story behind CSX2000, the only prototype Cobra, retained for more than half-a-century by Carroll Shelby and his family. This car's sale raised $13.75 million for the Carroll Shelby Trust, which supports the charitable activities of the Carroll Shelby Foundation.
The first production car, CSX2001, was delivered to American racing driver Ed Hugus and subsequently sold to French airline pilot Jean-Marie Vincent, whose competition activities included the 10-day, 8,000-kilometre Tour de France, which in 1964 comprised eight circuit races and nine hillclimbs.
CSX2002 came close to scoring victory over Chevrolet's equally new Corvette Sting Ray on its debut at Riverside Raceway, California, in October 1962, driven by Bill Krause. Five months later, at Tucson, Arizona, this car achieved the first win for a Cobra when driven by Dave MacDonald.
CSX2002 contributed significantly to Cobra development and was campaigned by top drivers including Krause, MacDonald, Ken Miles, and Dan Gurney.
All three cars are now the pride of car collections in the USA. CSX2000 and CSX2002 are part of the Larry Miller Collection; CSX2001 belongs to renowned California-based motorsport aficionado Bruce Meyer.
The Author – Gordon Bruce
Gordon Bruce was Road Test Editor of Motor magazine and then a Ford PR manager before founding his eponymous marketing consultancy. His associations with the AC/Shelby Cobra date back to 1983, when he won the Intermarque Championship in a 405 bhp example of the car.
Book Details
Exceptional Cars Series No. 4. Published by Porter Press International. Publication date: 1st February 2018. Jacketed Hardback ● RRP: £30.00 ● ISBN: 978-1-907085-55-0. 128 pages ● Format 240mm x 280mm ● 120+ photos, inc. colour