Classic Car Auctions will be bringing out the star spangled banner at its December sale for a trio of American muscle cars that will be offered at its next sale at the Warwickshire Event Centre on 1st December.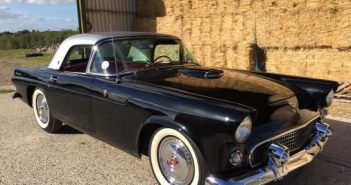 Leading the charge will be a 1955 Ford Thunderbird estimated at £28,000 to £32,000. Powered by a 4.8 litre V8 with an automatic gearbox and 198bhp, this T-Bird is finished in gleaming Raven Black with a Silver hardtop and red interior. Imported to the UK in 2014 it was treated to a bare metal respray, new hood and new white wall tyres, completing the classic Route 66 cruiser look with new interior trim and carpet.
"American cars are generally much bigger, brasher and louder than their European cousins", says Richard Greenhalgh, classic car specialist at Classic Car Auctions. "They're always an exciting sight on UK roads due to their rarity, whether it be a classic Ford Mustang or a big shouty Corvette, wherever you go people see you and most definitely hear you coming from a long way off."
Stampeding its way into the sale is a 1971 Ford Mustang Mach 1 estimated at £15,000 to £18,000. The SportsRoof model is finished in Pewter Silver with the factory correct Mach 1 graphics adorning the car along with a black interior. The Mustang had a complete bare metal respray in 2016 where the interior was also completely refitted including the carpets and headlining. Powered by a 285bhp 5.8 litre V8 engine which was rebuilt in 2016, the car has been fitted with a new fuel tank and fuel lines, along with uprated discs and springs.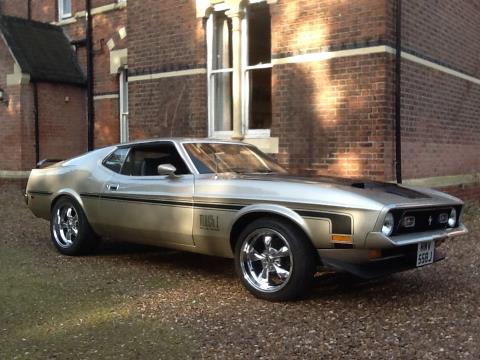 "The American cars offer something you rarely find in European motors, fun. The power, the speed, the noise and the looks are all there for one reason, to put a smile on your face. The cars we have on offer at the December Sale all offer something different, the Corvette brings the speed, the Mustang brings the noise and the Thunderbird has looks to die for," concludes Richard.
One of the more interesting prospects at the sale is a 1999 Chevrolet Corvette C5 offered without reserve. Imported from Japan in 2016, this example of America's answer to the Porsche 911 is finished in Light Silver Metallic with a black leather interior. With only 55,296 miles this 'Vette is equipped with a 5.7 litre LS1 V8 engine which puts out 345bhp and offers open roof motoring thanks to its targa top. In excellent condition throughout, this is an incredible opportunity for bidders at CCA's December Sale.
For more information on the American muscle and the rest of the cars on offer at the December Sale please visit: https://www.classiccarauctions.co.uk/cca-december-2018-classic-car-sale/view_lots/pn/all