This weekend (21/22/23 August) the 2020 Bennetts British Superbike Championship continues at Snetterton, which hosts rounds four, five and six of the revised calendar, where the Honda Racing team will be looking to build on their results after a stunning opening round at Donington Park.
Arriving at this weekend's triple-header Glenn Irwin leads the championship with 60 points after scoring three-second place finishes, while younger brother and teammate Andrew is close behind in second with 50 points, after taking two race wins aboard the all-new CBR1000RR-R Fireblade SP last time out.
On the other side of the garage the teams' Superstock 1000 contenders Tom Neave and Davey Todd will also both be looking to start where they left off after the opening round. Tom scored his first-ever Superstock 1000 win, as well as taking a Superstock 1000 lap record, while Davey continued to progress scoring two top-ten finishes after a four-year break from short circuit racing.
Although a successful weekend on both sides of the garage at the opening round, the Honda team and its riders aren't being complacent with the results and know that there's still development to be done with the all-new Fireblade, and that their championship rivals will be looking to push forward to claim vital championship points at the Norfolk circuit.
WHEN YOU CLICK ON LINKS TO VARIOUS MERCHANTS ON THIS SITE AND MAKE A PURCHASE, THIS CAN RESULT IN THIS SITE EARNING A COMMISSION. AFFILIATE PROGRAMS AND AFFILIATIONS INCLUDE, BUT ARE NOT LIMITED TO, THE EBAY PARTNER NETWORK AND AMAZON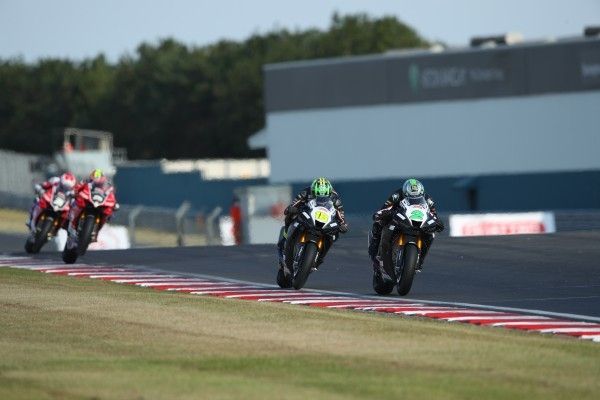 —
Weekend Schedule – Rounds 4/5/6 
Snetterton 300:
Friday 21 August:
11:55 – SSTK 1000   – FP1
15:10 – BSB               – FP1
16:40 – SSTK 1000  – FP2
Saturday 22 August:
10:10 – BSB               – FP2
12:45 – SSTK1000    – Qualifying
13:20 – BSB               – Datatag Extreme Qualifying
16:15 – BSB               – Race 1 (14 laps)
Sunday 23 August: 
12:40 – SSTK1000   – Race (12 laps)
13:30 – BSB              – Race 2 (16 laps)
16:30 – BSB              – Race 3 (16 laps)
—
Keep up-to-date with all team news follow Honda Racing UK on Facebook, Twitter and Instagram.
The 2020 Honda Racing team merchandise is now available to purchase online, click here to check out the range.
#18 Andrew Irwin
I'm really looking forward to Snetterton, we go there with an open mind and not expecting too much. Just because we had a really strong weekend at Donington, doesn't mean we necessarily go to Snetterton and expect the same results. I think the new Fireblade is competitive, so it should hopefully be competitive everywhere. I'm now a three-time British Superbike race winner instead of a one-time race winner, so I maybe have a bit more belief we can do a good job. The first race we start from the back of the grid but we'll try and make the most out of that situation, try and get a good lap time to set us up well for the two races on Sunday, and just try and get three solid point scoring rides and keep the consistency where I believe it should be. The past Fireblade was always competitive at Snetterton, last year I had a solid weekend with a 4th and a 5th, so the DNA of the Fireblade has been good there and hopefully we can continue with strong results this weekend and there's no reason why we can't have some top-six finishes.
#2 Glenn Irwin
It was nice to get to Round 1 and get it in the locker as such, race experience for me was vital after 11 months away and to leave Donington Park leading the championship with 60 points and three-second places was a dream start. Wins are easy to dream of, but to roll out on a new bike, which is quite simplified in its development, I don't think I could have dreamt of what we did achieve across the board for the whole team. My outlook on the season hasn't changed, naturally you want to win, and I think if the season was based on the results at Donington then we would be confident, but we have to keep realistic and keep working. We arrive at Snetterton in good form and I'm intrigued to see how the new Fireblade will measure up. Last year the Ducati's were dominant, so we know we have some work to do and if we can make inroads there, then we can perhaps start to get excited for the championship after this weekend.
#68 Tom Neave
Coming into this weekend, I think I'm a lot calmer with my approach, if anything getting the win has made me feel more confident and less anxious. I have always wanted to prove to the team I can get a result for them, and now we have that win and a Superstock 1000 lap record, so I do feel like a weight has been lifted and I can stop focusing on the first win and enjoy riding, knowing another win will come. Having a race win to my name is mega, but the championship isn't just won in one race, so it's still head down and keep working hard. Snetterton is a track I have won at before in Superstock 600s, it's a nice fast, flowing circuit, similar to Donington, so we'll run with the same settings as Round 1 and I think we'll be competitive from the off. The weather is looking good, I've been working hard training, so I'm as ready as I can be!
#74 Davey Todd
I'm turning up to this weekend a lot different to what I felt like I was for Round 1 – now I know what I can achieve, and also what the Fireblade is capable of as well. I'm really excited to get there and make more improvements with myself more than anything and a few to the bike, as I'm still getting it right for how I want it. After Round 1 my idea of the season changed, I did a lot more than I expected to do, but as a racer naturally you always want more, and I know we're capable of so much more. The last time I raced at Snetterton was four years ago, it's been a long time and it's the only time apart from our test that I've raced the Snetterton 300 circuit, so it is certainly a learning curve but it's an awesome track to ride and I can't wait to get going!
Team Manager Havier Beltran
We're going into Snetterton this weekend on a high and we're looking forward to developing and continuing to develop. We made a great start to the season with the all-new Fireblade, but it also puts the expectations higher and we're realistic and mindful about this. The team has been working on the bikes and we've made some changes with the view to continue where we left off. We know the circuit suits the bike, but we have to continue to learn and also from our competition; we were the ones to beat at the opening round, so everyone will be coming into this round stronger and wanting to chip into our points lead.