2018 ARENACROSS
Buildbase Honda extended its lead at the top of the Pro Team Championship after a close and combative second round of the 2018 Power Maxed Arenacross Tour at Newcastle's Metro Radio Arena on Saturday night.
WHEN YOU CLICK ON LINKS TO VARIOUS MERCHANTS ON THIS SITE AND MAKE A PURCHASE, THIS CAN RESULT IN THIS SITE EARNING A COMMISSION. AFFILIATE PROGRAMS AND AFFILIATIONS INCLUDE, BUT ARE NOT LIMITED TO, THE EBAY PARTNER NETWORK AND AMAZON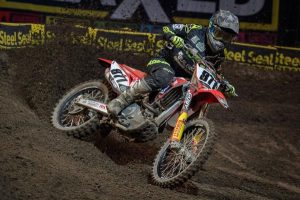 In the individual Pro standings Charles Lefrancois now shares the championship lead despite narrowly missing the podium and his team-mate Fabien Izoird has advanced to third with a storming second in the Main Event.
On a tight and twisting track, both riders took a win apiece in the qualifying races. Charles – the overall winner at round one – remained consistent through his heat races with 4-4 scores but Fabien had to pick himself up off the ground in his opening heat race to finish fifth.
He then took a cool and calculated win in his second heat and after grabbing two bonus championship points with second in the Hot Lap competition overcame a mid-pack start to pass his way up to second in the Main Event as Charles battled through to fourth.
"I felt a lot a lot better tonight than I did at round one in Manchester and have had a great feeling with the bike all day," said Fabien. "I qualified near the front despite a crash in my heat races which I was a little disappointed about and in the Main Event I had a horrible start but came through well for second and scored good points.
"It wasn't what I wanted because tonight I think I had the speed for the win but most important today was my feeling with the bike which was great. I'm very happy to be on the box and now I'm looking forward to the next one in Birmingham next weekend."
Despite struggling with his starts, Charles impressed with his speed and line choice which ensured he remains at the head of the Pro pack.
"Tonight was a good result for the championship," he said. "My start in the Main Event was very bad but I had good speed to fight through to fourth. I am not happy to not finish on the podium but I had a great feeling on the bike so I have lots of confidence for round three."
Team boss Dave Thorpe was full of praise for his riders following a rock-solid night for the French pairing in the North East.
"Fabien was very unlucky to go down in his first heat but he bounced back remarkably well to win the second," he said. "Charles' good starts last week deserted him tonight but he never gave up and made some great passes in the Main Event.
"It took Fabien too long to get past Evgeny Bobryshev and once he got up to second the leader was long gone but we're more than happy with second and fourth – it's a very good result for the team and both riders rode really well. Great racing and a great night!"
Pro results here…
http://www.arenacrossuk.com/results/2018-round-2/98-2018-results/2018-round-2/2714-pro-main-event
Pro championship here…
http://www.arenacrossuk.com/results/2018-championship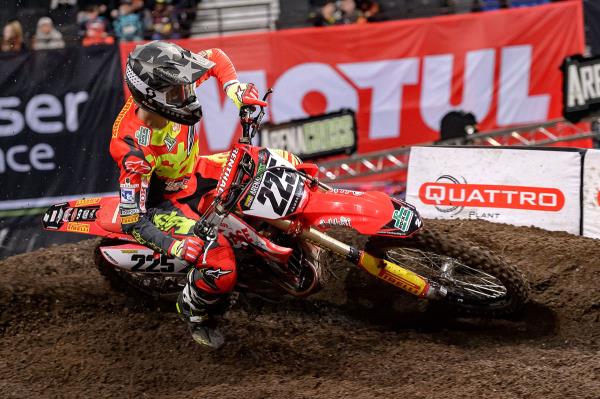 A Selection From Amazon
Last updated on July 21, 2023 6:42 am