The Honda British Touring Car Championship team experienced the highs and lows of the series at a swelteringly hot Brands Hatch on Sunday (9th August). Dan Cammish took his second win of the season in the opening race but then a double retirement in race two ruined the rest of the Halfords Yuasa Racing team's day.
In Saturday practice Dan Cammish admitted to a lump in his throat the first time he drove past Hawthorns bend on the Grand Prix circuit, where 10 months earlier his 2019 title bid had ended in a barrier less than two laps from the end of the final round. But he quickly put this behind him to secure a second successive front-row qualifying position, his Honda Civic Type R just three hundredths shy of the pole position time. Team-mate Matt Neal just failed to crack the top 10, lining up 11th half a second further back.
Cammish made a good start behind pole sitter Rory Butcher, and for much of the race the Honda man ran only half a second behind Butcher while maintaining a solid gap to closest championship rival Colin Turkington in third. Then with 12 of the 15 laps done the race was turned in Cammish's favour – by misfortune to the second Halfords Yuasa Racing Honda.
Neal had endured a frustrating race in the pack, being forced back to 18th place. As he tried to recover he made contact with the car of Senna Proctor and the Honda was spun into retirement, sparking a safety car period while the car was recovered. On the restart leader Butcher ran wide into the first corner and suffered a puncture, Cammish taking over the lead and pulling away to score his second victory of the season.
Weighed down by a full allocation of success ballast, Cammish's Civic Type R bogged down at the start of race 2 and Turkington, Tom Ingram and Ollie Jackson all went past. Jackson was soon demoted again to put Cammish back in the podium positions, and he looked set to challenge the top two in the closing stages of the race. But then a mechanical issue sent the Honda tumbling down the order to a 19th-place finish. Already in the pits was team-mate Neal, the Hondas among several cars suffering from issues in the sweltering conditions.
With both Hondas at the wrong end of the grid for the final race their drivers would aim to try and secure as many championship points as possible. Carnage in the pack on lap one helped, Cammish leaping from 19th to 12th, and he continued to press the cars ahead, climbing into the top ten. But then with eight laps down another mechanical issue forced the Honda into retirement, the car cruelly stopping at the track side just yards from where the Honda man's 2019 title bid had ended 10 months earlier.
Matt Neal, meanwhile, brought some consolation to a very disappointed Halfords Yuasa Racing team with an inspired drive from 24th on the grid, passing cars throughout the race to eventually secure sixth spot and some possibly vital points.
A day that started so well had ended in a frustrating manner for the Honda team but there will be little time to dwell on their misfortune, the BTCC resuming in just two weeks' time at Oulton Park in Cheshire.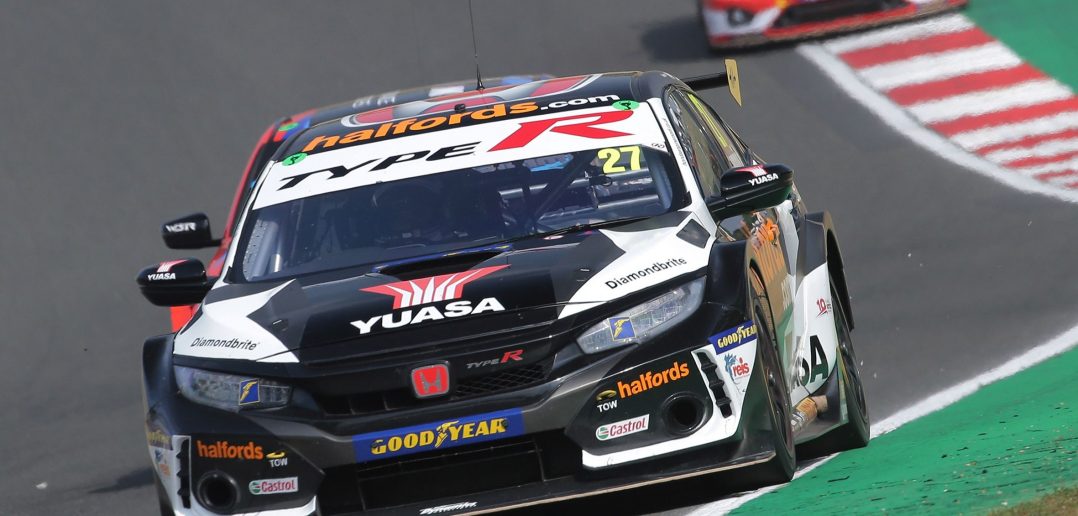 Dan Cammish – Halfords Yuasa Racing Driver
"Ultimately a frustrating day in sweltering hot temperatures, but I was delighted to win race one, what a turnaround after last year's disappointment. It was my third win in three years on this track, driver and car do go well here."
Matt Neal – Halfords Yuasa Racing Driver and Team Dynamics Director
"Some days in motorsport you just don't have the luck, and in the heat of today we had the pace but not the luck. I was pleased with my drive in the final race, I passed a lot of cars and scored some perhaps vital points, but it's scant consolation when our pace suggested we could have had so much more."
BTCC Drivers' Championship, after 6 rounds
1. Colin Turkington 95 points
2. Ashley Sutton 79 points
3. Tom Oliphant 70 points
5. Dan Cammish 61 points
10. Matt Neal 38 points
BTCC Manufacturers' Championship, after 6 rounds
1. BMW 191 points
2. Honda 137 points
3. Toyota 82 points
BTCC Teams' Championship, after 6 rounds
1. Team BMW 160 points
2. Halfords Yuasa Racing 97 points
3. Laser Tools Racing 93 points
* all points provisional pending judicial decisions 
Rounds 7-9 of the British Touring Car Championship are scheduled to take place at Oulton Park, Cheshire, on Sunday 23rd August.
A Selection From Amazon
Last updated on August 3, 2023 1:51 am