Britain's biggest motor sport series set to celebrate 60th anniversary year in style
WHEN YOU CLICK ON LINKS TO VARIOUS MERCHANTS ON THIS SITE AND MAKE A PURCHASE, THIS CAN RESULT IN THIS SITE EARNING A COMMISSION. AFFILIATE PROGRAMS AND AFFILIATIONS INCLUDE, BUT ARE NOT LIMITED TO, THE EBAY PARTNER NETWORK AND AMAZON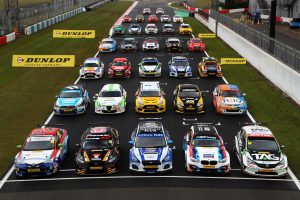 Series organiser, TOCA, has announced a capacity 32-car entry for the 2018 Dunlop MSA British Touring Car Championship at its annual Season Launch event at Donington Park yesterday (27 March).
An unprecedented 17 race-winners headlines one of the strongest line-ups in the series' illustrious 60-year history, as the best tin-top drivers in the country battle it out for the most coveted crown in UK motor sport.
Four manufacturer-backed teams are joined by a host of independent entries, with the strength-in-depth again proving testament to the quality and appeal of the BTCC.
BMW will look to retain its Manufacturers' crown, with Honda, Subaru and Vauxhall taking on the Bavarian marque. Team BMW also clinched the Teams' title in 2017 and will this year have to take on a field consisting of 11 marques and a total of 12 models of car.
The race for the 2017 Drivers' title proved to be another classic as a new champion was crowned in the shape of Adrian Flux Subaru Racing star Ashley Sutton. The 24-year-old tops an ever-growing number of young emerging stars in the BTCC, with its stellar cast of driving talent set to wow the crowds again this year.
Tom Ingram and Speedworks Motorsport will bid to defend their Independents' laurels, whilst 13 drivers will challenge for the Jack Sears Trophy – with new rules further spicing up that particular contest.
Long-term television partner ITV will again broadcast the action live, free-to-air and in high-definition on ITV4, as well as producing additional extensive highlights programmes.
The BTCC prides itself on strong and close relationships with its long-term partners, with title sponsor and official tyre supplier Dunlop epitomising that ethos.
Dunlop's sponsorship, which began in 2005, and the official tyre supplier partnership, which began in 2003, will soon head into a third decade – making it one of the most enduring major sponsorships in top-level motor racing.
This year's Dunlop MSA British Touring Car Championship will again comprise 30 races across ten events at nine venues around the UK, with the season commencing at Brands Hatch on 7/8 April and concluding on the legendary Grand Prix circuit at the same venue on 29/30 September.
A host of diamond jubilee celebrations are also planned throughout the year, with the BTCC's event at Snetterton set to be a particular highlight (see later in release).
A new BTCC 60th anniversary logo has also been produced to celebrate this memorable year, incorporating a wreath as per previous celebratory BTCC seasons, plus a 60th diamond detail. Furthermore, specially TOCA-commissioned artwork by Guy Allen has been released, which takes in a number of the iconic cars and stars from the first 60 years of the BTCC.
Under starter's orders
More than half of the drivers in the 32-strong 2018 field are BTCC race-winners, with the remaining 15 runners and riders looking to add their names to that particular roll of honour.
Ashley Sutton was crowned the new Dunlop MSA British Touring Car Champion in 2017 and the talented young gun will look to defend his title in the #1 Adrian Flux Subaru Racing Levorg GT. Sutton will be joined in the Subaru squad by BTCC legend Jason Plato – the series' most successful driver of all time – and the returning Josh Price.
Colin Turkington will spearhead BMW's challenge, having just missed out on a third BTCC title last season, whilst Rob Collard and Andrew Jordan complete the impressive WSR-run team.
Matt Neal is joined by BTCC debutant Dan Cammish at Halfords Yuasa Racing, with the Japanese marque looking to bounce back from a challenging campaign last time out. The multiple champion Team Dynamics outfit has a new arsenal at its disposal, however, with the latest Honda Civic Type R its weapon of choice for 2018.
The manufacturer-backed Vauxhall Astras enter their sophomore season having scored some impressive results last year, which also saw Senna Proctor scoop the Jack Sears Trophy. Proctor remains with the squad for 2018, and is joined by Josh Cook, making for a young talented pairing at Power Maxed TAG Racing.
Tom Ingram has enjoyed impressive results in recent seasons – culminating in his first Independents' Drivers title last year – and the Speedworks star is now chasing the main prize in 2018.
Arguably the surprise package of 2017 was Eurotech Racing, as Jack Goff stormed to the runners-up spot in the Independents' standings, with Brett Smith also making his mark after entering midway through the campaign. Both drivers return for the team in 2018 as Eurotech also-welcomes WIX as title sponsor.
Team Shredded Wheat Racing with Gallagher also boasts a potential title-chasing line-up with Tom Chilton and James Cole behind the wheel of its Ford Focus RS models, whilst Sam Tordoff returns to the BTCC as part of the Motorbase Performance stable – the Yorkshireman will run under the Team GardX Racing with Motorbase banner.
One of the most hotly-anticipated cars on the grid this season is the Alfa Romeo Giulietta, as the much-loved Italian marque returns to the BTCC. Fans' favourite Rob Austin will pilot the striking-looking car for DUO Motorsport with HMS Racing.
A trio of Mercedes' will be entered with race-winning duo Aiden Moffat and Adam Moffat staying with Laser Tools Racing and Mac Tools with Ciceley Motorsport respectively, with debutant Tom Oliphant also joining the latter mentioned squad.
MG machinery changed hands over the winter months, with the Essex-based AmD now running the popular models – the capable pairing of Rory Butcher and Tom Boardman will be carrying out driving duties in the MG6s. AmD will also continue to run its two Audi S3 Saloons, with Ollie Jackson and debutant Sam Smelt behind the wheel.
The fledgling BTC Norlin Racing squad continues its progression in Britain's toughest motor racing championship, and will do so with the proven Honda Civic Type R package. The team performed well in its maiden BTCC campaign, with series returnee James Nash and Chris Smiley carrying its hopes for 2018.
Impressively, Team HARD will run four Volkswagen CCs in this year's Dunlop MSA British Touring Car Championship, with Jake Hill, Mike Bushell, Michael Caine and Bobby Thompson driving for the Kent-based operation.
The Simpson Racing Honda Civic Type R will be run by Eurotech in 2018, having switched from Team Dynamics, with Matt Simpson looking to build on the progress he has made in his first two BTCC seasons.
These are exciting times at Team Parker Racing too, with two-time race-winner Stephen Jelley getting his hands on the hugely successful BMW 125i M Sport, as the Leicestershire-based outfit look to move further up the BTCC order.
In total, there will be a full grid of 32 drivers with Alfa Romeo (DUO Motorsport with HMS Racing), Audi (AmD with Cobra Exhausts), BMW (Team BMW, BMW Pirtek Racing), Ford (Team Shredded Wheat Racing with Gallagher, Team GardX Racing with Motorbase), Honda (Halfords Yuasa Racing, WIX Racing with Eurotech, BTC Norlin Racing, Simpson Racing), Mercedes (Mac Tools with Ciceley Motorsport, Laser Tools Racing), MG (AmD with AutoAid/RCIB Insurance Racing), Subaru (Adrian Flux Subaru Racing, Autoglym Academy Racing), Toyota (Speedworks Motorsport), Vauxhall (Power Maxed Racing) and Volkswagen (Team HARD. with Trade Price Cars, Trade Price Cars with Brisky Racing) all represented.
Diamond Double
A special 'Diamond Double' race at Snetterton (28/29 July) will headline the Dunlop MSA British Touring Car Championship's 60th anniversary diamond jubilee celebrations in 2018.
The third race at Snetterton will be an extended 60-mile contest, with all cars competing without any success ballast and with double championship points on offer.
Furthermore, there will be a separate qualifying session for this showpiece race, with all cars qualifying at their base weights.
Snetterton – also well-known for the BTCC Night Race in the 1990s and 2000s – has long been a staple of the summer calendar for race fans and this exciting addition is set to add yet further fever to the festival atmosphere.
Further special celebrations at the Silverstone Classic, Goodwood Festival of Speed and other events around the country are set to mark this memorable milestone for the UK's most popular motor sport series.
Rules are rules
A number of rule changes have already been ratified by TOCA that will take effect from the opening round of the 2018 Dunlop MSA British Touring Car Championship.
An Increase in driving standards penalties were announced last December, whilst the race three partial reverse-grid draw will now extend to 12… i.e. the reverse-grid draw will be from positions 6-12 (rather than 6-10).
Eligible drivers for the Jack Sears Trophy will be those that have never scored an outright podium position, and teams are now permitted a maximum of two driver changes per season (previously one).
A number of other minor changes took place, which can all be found in the 2018 Sporting and Technical Regulations.
BTCC Series Director, Alan Gow, said: "Our capacity line-up for the 2018 Dunlop MSA British Touring Car Championship, with a remarkable record 17 race-winners, yet again underlines the championship's strength and depth.
"Last year saw the incredible rise-and-rise of eventual champion Ash Sutton, and he is just one of an ever-growing number of emerging talents in the BTCC. The mix of young guns taking on the established stars has been one of the fascinating stories in recent years, and that looks set to continue in 2018.
"Once again, we expect to see battles throughout the field with the Manufacturers', Independents' and Jack Sears Trophy providing as much entertainment as the fight for the overall Drivers' title.
"Whilst firmly focussing on the future we are also immensely proud of the BTCC's illustrious 60-year history, which we will be celebrating throughout 2018. We are delighted to have confirmed the 'Diamond Double' race at Snetterton as part of these diamond jubilee celebrations, and look forward to a number of other 60th anniversary activities during the year.
"This is a truly phenomenal period for the BTCC. The continued and unrivalled support from Dunlop, ITV, IHG and our host of loyal partners remains the envy of comparable motor sport series' around the world. Add to this our incredible fanbase, the media interest that you see here today and of course the unparalleled excitement provided on-track… the BTCC remains the greatest show in British motorsport."
Please click here for the full 2018 entry list.