Donington Historic Festival
Visitors to this year's Donington Historic Festival (May 4, 5, 6, 2018) will enjoy three days of world-class historic motorsport from an outstanding line-up of grids featuring an incredibly diverse range of racing machines spanning nine decades. From pre-War sports cars to the Super Tourers of the early 2000s, and from single-seaters to gorgeous GTs, the action-packed event will have something to appeal to lovers of all eras of motorsport.
Fans of the earliest decades of motorsport can enjoy the sight of huge 1920s Bentleys and powerful Bugattis sharing the track with tiny Austins and Morgans in the 'Mad Jack' Pre-War Sports Car race, named after Richard 'Mad Jack' Shuttleworth, winner of the first-ever Donington Grand Prix in 1935.
Single-seater fans have three grids to enjoy. New to the Festival for 2018, the HSCC Derek Bell Trophy is for Formula 5000 and Formula 2 single-seaters built and raced between 1967 and 1979 – so watch out for potent cars with wings and slick racing tyres. There are two FJHRA/HSCC 'Silverline' Championship grids – one for front-engined and one for rear-engined Formula Juniors, each showcasing the lovely little machines that were developed for a racing formula that was introduced 60 years ago to train future Grand Prix drivers.
Touring Cars
The Festival features Touring Cars galore. Mini Coopers line-up against V8-engined Ford Falcons in the HRDC 'Coys Trophy' celebrating the BTCC 1958-1966, and Hillman Imps and Morris Minors take on Mk1 Jaguars and Alfa Romeo Giulietta Ti Berlinas in the HRDC 'Touring Greats' for pre-'60 Touring Cars with invited 'TC63'.
There are always plenty of Ford Lotus Cortinas in the U2TC for pre-66 under two-litre Touring Cars but they face stiff opposition from such models as BMW 1800 TISA and Alfa Romeo Giulia Sprint GTA. Equally hard-fought is the Historic Touring Car Challenge with Tony Dron Trophy, which brings together a fantastic array of pre-1991 British and European Touring Cars – the type of beefy machines that most of us could only dream of driving back in period.
Bringing back more recent memories, the mighty 2-litre Super Touring Cars of the 1990s and pre-1990 Group A cars go head-to-head with pre-2006 FIA S2000 and invited BTC cars in the Super Touring Car Challenge. Expect to see Vauxhall Vectras, BMW 318s and Alfa 156s taking on Honda Accords, Peugeot 406s and Audi A4s.
'Big cat' enthusiasts will have plenty to purr about when C-types, D-types, low drag E-types and other pre-66 Jaguars power round Donington Park in the Jaguar Classic Challenge, while the Lister Jaguars, Ferrari 246 Dinos, Lotus 15s and other stunning, purpose-built pre-61 sports-racers of the Stirling Moss Trophy are always hugely exciting. The drivers are competing for the actual cup that Sir Stirling Moss won in the 1955 British GP, which gives them an added incentive not to hold back.
Royal Automobile Club Woodcote Trophy
The Royal Automobile Club Woodcote Trophy features some of the most beautiful post-War to pre-56 road-racing cars ever built, including D-type Jaguars, DB3/S Aston Martins and Austin-Healey 100Ms, while the GT & Sports Car Cup sees genuine pre-66 GT cars and pre-63 sports-racing cars of a type that was raced in the World Endurance Championship in period take to the track. Finally, the Pre-63 GT features such iconic machines as Short Wheelbase Ferraris, DB4GT Astons, AC Aces, SZ Alfas and Lotus Elites – all to genuine pre-1963 specification.
Spectators can also enjoy the all-access open paddock, pitlane walks, Group B rally car and historic kart demonstrations, thousands of classic cars gathering in the infield and DHF's family-friendly, inclusive atmosphere.
WHEN YOU CLICK ON LINKS TO VARIOUS MERCHANTS ON THIS SITE AND MAKE A PURCHASE, THIS CAN RESULT IN THIS SITE EARNING A COMMISSION. AFFILIATE PROGRAMS AND AFFILIATIONS INCLUDE, BUT ARE NOT LIMITED TO, THE EBAY PARTNER NETWORK AND AMAZON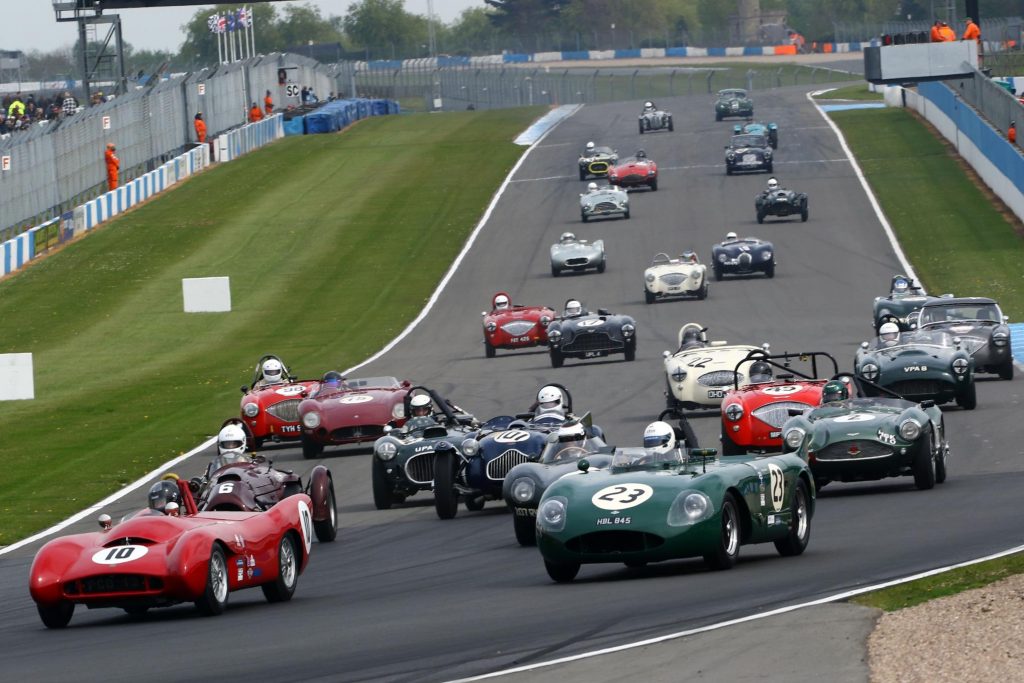 Advance discounted tickets
Online tickets offer great discounts over buying on the gate, starting at £10 for the Friday qualifying day (£15 on the gate). Children aged under 13 are admitted for free and there are discounted tickets for teenagers aged 13-15. Car parking is free, and owners of pre-1990 classics who are not attending with one of the registered clubs can request a free infield display parking pass when they book their tickets.
For more information on the Donington Historic Festival and to book your tickets, please visit www.doningtonhistoric.com.