JUST IN TIME FOR CHRISTMAS….
Advance discounted tickets for the 2018 Donington Historic Festival (Donington Park, May 4th, 5th & 6th, 2018) are now on sale, providing the perfect opportunity to treat a historic motorsport fan to a Christmas present they'll be delighted to receive.
With advance tickets costing from just £10 and special Earlybird tickets offering even greater savings off the advance discounted ticket prices, it's certainly a more original gift than socks or mugs bearing pictures of classic marques, and gives the recipient a great day or weekend out to look forward to next year.
The Donington Historic Festival (DHF) brings world-class historic motor racing to one of the UK's best-loved circuits, as packed grids of classic race cars delight the crowds with hard-fought, highly competitive racing. The diversity of the grids – DHF features racing machines spanning nine decades and with everything from single-seaters to Le Mans prototypes, GT cars and Touring Cars – means the event offers something for everybody. Add an all-access open paddock, pitlane walks, thousands of classic cars gathering in the infield and DHF's family-friendly, inclusive atmosphere, and you have the recipe for a fantastic three-day event.
Donington Park is a favourite with competitors, who love tackling its sweeping bends and challenging corners, while spectators enjoy a spectacular view of the race action from the infield. Now operated by MotorSport Vision (MSV), who also run several other major UK circuits including Brands Hatch, Donington Park is set to see some exciting changes and improvements in 2018 and, as one of its headline events, Donington Historic Festival will benefit from all those developments.
Duncan Wiltshire, Historic Promotions Managing Director, said "We are hugely excited to be staging DHF in 2018 in partnership with MSV. The new developments can only be beneficial for Donington Park, and with a fantastic racing programme already taking shape, the 2018 Donington Historic Festival should be something rather special!"
Chris York, Donington Park Venue Manager, commented: "Since its launch in 2011, the Donington Historic Festival has become a much-loved and important fixture on our race calendar. We'll be working more closely than ever before with the Historic Promotions team on the event, and have a huge number of venue improvements planned, so we're confident the 2018 edition will be the best Festival yet!"
WHEN YOU CLICK ON LINKS TO VARIOUS MERCHANTS ON THIS SITE AND MAKE A PURCHASE, THIS CAN RESULT IN THIS SITE EARNING A COMMISSION. AFFILIATE PROGRAMS AND AFFILIATIONS INCLUDE, BUT ARE NOT LIMITED TO, THE EBAY PARTNER NETWORK AND AMAZON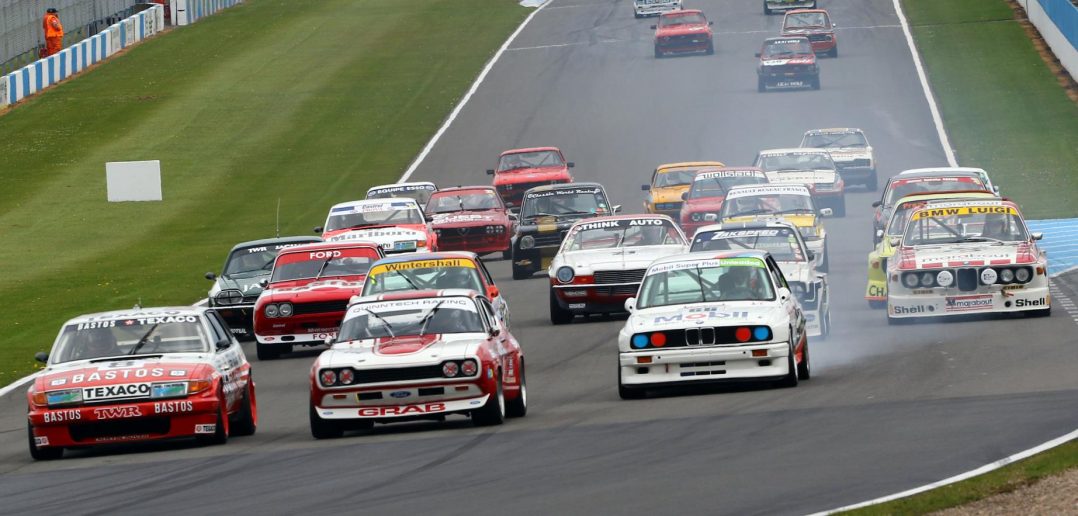 Earlybird tickets now available
Online tickets offer great discounts over buying on the gate, starting at £10 for the Friday practice and qualifying day (£15 on the gate). Book Earlybird raceday or weekend tickets by January 31 2018 and make even greater savings – a three-day weekend ticket will cost just £34 online (£40 from Feb 1, £50 on the gate), while raceday tickets cost £21 online (£25 from Feb 1, £30 on the gate). Children aged under 13 are admitted for free and there are discounted tickets for teenagers aged 13-15.
Car parking is free, and owners of pre-1990 classics who are not attending with one of the registered clubs can request a free infield display parking pass when they book their tickets.
To treat that classic motorsport fan – or yourself – to a cracking last-minute Christmas gift, and to make some great savings, visit www.doningtonhistoric.com to book advance discounted tickets now.
For more information on the Donington Historic Festival please visit www.doningtonhistoric.com.