BRABHAM BT62 NAME AND ENGINE NOTE REVEALED IN NEW CLIP FROM BRABHAM AUTOMOTIVE
Evoking the spirit of the iconic Brabham marque and the legendary cars that have carried its name, Brabham Automotive has today announced Brabham BT62 as the name of its first project, along with an audio tease of the car at idle during dynamic testing.
WHEN YOU CLICK ON LINKS TO VARIOUS MERCHANTS ON THIS SITE AND MAKE A PURCHASE, THIS CAN RESULT IN THIS SITE EARNING A COMMISSION. AFFILIATE PROGRAMS AND AFFILIATIONS INCLUDE, BUT ARE NOT LIMITED TO, THE EBAY PARTNER NETWORK AND AMAZON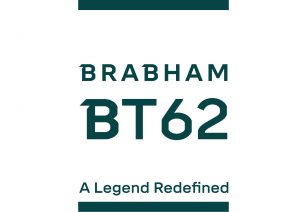 Since 1961, when Jack Brabham and Ron Tauranac began designing and manufacturing cars, all Brabham vehicles have been given the prefix 'BT', in honour of the team's founders, along with a chassis numbering code for each specific type of car.
With its unveiling less than two months away, the all-new Brabham BT62 continues the lineage of the marque's greatest and most memorable cars, from BT7, the first Brabham to win a Formula 1 race, to BT19, which made history in becoming the first car bearing its driver's name to win a World Championship; the radical, ground-hugging BT46B 'fan car', and BT52, the first turbo-charged car to win a Formula 1 World Championship.
As the next to bear the legendary BT designation, the latent potential of the Brabham BT62's engine note hints at a car that is inspired by Brabham's historic racing pedigree and uncompromising and fearless determination to succeed.
Reflecting on the significance of the name, Managing Director, David Brabham said. "I am thrilled to announce Brabham BT62 as the name of Brabham Automotive's first project. With more than 700 racing cars produced since its inception in the 1960s, the Brabham marque boasts a remarkable heritage, so to see the first Brabham in 26 years wear the iconic BT designation will be a huge moment in our history."
Far more than just a concept or styling exercise, the Brabham BT62 has already been through a rigorous and extensive engineering programme and is nearing the end of an intensive testing process prior to its global debut.
The Brabham BT62 will be unveiled on Wednesday 2 May 2018, marking the next chapter in the evolving story of one of the most celebrated and evocative names in motor racing history.
More information will be announced shortly, and both media and the public are invited to register via the new website, www.brabhamautomotive.com, to receive updates as they become available.