Over the last four years, Vanessa Ruck, also known to her thousands of followers across the world as @TheGirlOnABike, has explored the world – both on and off-road – always equipped with her Cardo Systems PACKTALK Bold.
WHEN YOU CLICK ON LINKS TO VARIOUS MERCHANTS ON THIS SITE AND MAKE A PURCHASE, THIS CAN RESULT IN THIS SITE EARNING A COMMISSION. AFFILIATE PROGRAMS AND AFFILIATIONS INCLUDE, BUT ARE NOT LIMITED TO, THE EBAY PARTNER NETWORK AND AMAZON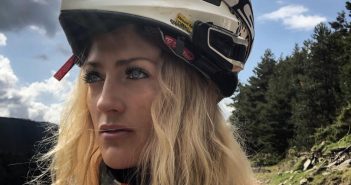 Following a life-changing accident in March 2014, after being hit by a red-light-jumping car while out cycling, the PACKTALK unit has played a vital role in her road to recovery and regaining her confidence on two-wheels. Taking the PACKTALK Bold to 18 countries – to date – and using it for cruising on her Harley, adventure and enduro riding, Vanessa now wouldn't ride without it.
Vanessa comments: "After an accident, it's very easy to lose your confidence. Having the ability to speak to my husband while riding has been a big support for me getting back out there. It's given the freedom to try new things, knowing that I'm not alone. What I didn't know was the level of the journey I would embark on!"
Having never used communications units before, research was key when Vanessa was choosing the best unit for her requirements, upgrading as the range and features developed – starting with the Q3 and now riding with the PACKTALK Bold.
"We needed a reliable system and wanted a good battery life and range. We also wanted something to face all the elements. Everything that Cardo Systems offers. Although, back then though, we didn't think we were going to be using them for the hard enduro riding and off-road riding that we do now!"
The PACKTALK Bold units are used in a variety of ways by Vanessa while riding alone and with other riders – features such as the waterproofness, Dynamic Mesh Communication (DMC), natural voice operation and sound quality being key benefits over competitors.
"I've thrown everything at the units – from snow enduro riding in the Ukraine and falling head first in the snow, connecting with friends while green laning and to two-way comms with my husband while riding my Harley! They've stood up to every challenge whether that's navigating this year's Valley's Xtreme hard enduro event in the UK or navigating London on two wheels…
"On a safety level it's great – warning each other of rogue car drivers or patches of oil on the road or avoiding pile-ups off-road or telling others of debris on the lane. On the social-side it's a hoot! It means you can enjoy the adventure together!
"It still blows my mind how streamlined the different functions are. Being able to chat, navigate and listen to music all in one space is just ace!"
Vanessa is currently taking part in the ACU Michelin British Enduro Championship and the British Extreme Enduro Championship in the UK on her 2020 Husqvarna 250i and has entered the Red Bull Romaniacs in the IRideWess hard enduro in July and the Hellas Rally in Greece in May.
You can find Vanessa on Instagram, Facebook and YouTube, and www.thegirlonabike.com.
Join the conversation and the #CardoFam on Facebook, Twitter and Instagram.