Caterham is opening the world's highest car dealership – 450ft in the air on Brighton seafront.
The pop-up store, supported by Avon Tyres and Halfords Advanced, will be based in British Airways i360 pod on Thursday 30th September and is opening to celebrate the first UK sighting of Caterham's new Seven 170, its lightest ever car.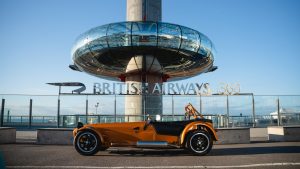 In addition to being able to see the Seven 170 and other Caterham® products on display, the British manufacturer will also be taking on its most ambitious car build challenge yet by assembling a Seven 170 from scratch in a day.
A team of Caterham® engineers are setting themselves the dauting challenge of building the car in around six hours using Halfords Advanced hand tools. The build is happening between 10am-4pm – which is no easy feat when it's estimated a one-person build takes around 100 hours.
It will not only be the first time a car has ever been built in one of Britain's tallest visitor attractions, but the first time a car has been inside the pod at all.
Standing at 531ft, British Airways i360 is taller than the London Eye, Big Ben and Tower Bridge. The glass viewing platform offers stunning, 360-degree views of the south coast and the English Channel, which car enthusiasts can also enjoy while the vehicle build is in action.
Caterham Cars CEO, Graham Macdonald, said: "This is our lightest ever product so we wanted to launch it in a memorable way. We certainly feel opening the world's highest car dealership in the British Airways i360 does that while also bringing to life how light the car is.
"In addition to opening the dealership, our team of engineers will showcase one of the most exciting things about our product – that you can build it yourself. We have built cars in interesting places before but never this high. It will certainly add another layer of complexity and excitement to the build."
Halfords Workshop Buyer Emma Bailey said: "As the official tool suppliers of the Caterham Racing series, we are delighted to be supporting this brilliant event. We supply Halfords Advanced tools to all Caterham Race Technicians across five manufacturer-backed championships, meaning hundreds of drivers benefit from our tools that all come with a lifetime guarantee."
Customers who are interested in visiting the dealership and seeing the new Seven 170 should contact their local retailer to arrange a viewing: https://www.caterhamcars.com/en/retailers
Anyone wanting to watch the build can buy a ticket: https://britishairwaysi360.com/plan-your-visit/tickets/.
About the Seven 170
The Seven 170 weighs a little over 440kg* and produces 84bhp and 116nm of torque, resulting in a power-to-weight ratio in excess of 170 bhp-per-ton*. It can sprint from 0-62mph in just 6.9 seconds and top speeds can exceed 100mph.
In addition, the Seven 170 is one of Caterham's most environmentally friendly cars to date. Both ULEZ and Euro 6 complaint, the new model boasts Caterham's lowest emission Seven. With a CO2 figure of 109g/km it is even greener than some hybrid vehicles, including the Toyota Yaris 1.5.
Designed to offer an array of choices to the potential new Seven owner, the Seven 170 is available as either a complete kit or factory built.
Car buyers can pick from two packs, the road-ready 170S or stripped back, more track-focused 170R.
The 170S, for the more laid-back driver, comes with a five-speed gear box, road suspension pack, 14" Silver Juno alloy wheels, full windscreen and weather gear including a hood and side screen, black leather seats, a Momo steering wheel and in a choice of four paint colours.
While the 170R, an additional variant not previously available on the Seven 160, comes with a five-speed gearbox, sport suspension pack, 14" Black Juno alloy wheels, composite race seats, a four-point race harness, limited-slip differential, Momo steering wheel, carbon-fibre dashboard and four paint options.
Available from just £22,990 in kit form and with competitive finance from as little as £199.99 with a cash deposit of £ 6,312.30[1], the Seven 170 offers not only the opportunity for drivers to experience the paired back nature of the two-seater sports car, but the self-actualisation of building one too.
*specification dependent