On the 18th November 2019, Saxton 4×4, the UK's largest 4×4 dealership, purchased a striking pink Range Rover. But not just any Range Rover – this one was recently owned by former glamour model Katie Price.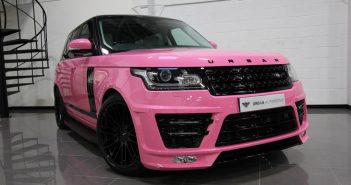 The custom-painted, 'Barbie Rosa Pink' Range Rover Autobiography naturally stood out at an auction in Essex and was instantly snapped up by the buying team at Saxton 4×4.
"We're always looking to source the best and most unique cars, it goes along with the special experience we like to offer our customers," said the head of the buying team at Saxton 4×4, "A car's history is very important and can add to its value. Being owned by a celebrity offers extra kudos and can make the car more desirable."
There seems to be truth in that, research by Auto Trader showed that a car previously owned by a celebrity can be sold for as much as 241% more than the same car owned by an average Joe.
Currently, the Range Rover is being prepared to Saxton's high standards before going on sale. And it's expected to attract a lot of attention – just like its previous owner. The car itself has enjoyed its own celebrity status, appearing in countless newspaper articles and magazines over the few years it was owned by Katie.
Katie Price went by the name Jordan when she modelled in tabloid newspapers in the '90s. She went on to appear in various reality shows like I'm a Celebrity…Get Me Out of Here! More recently she has become known as a best-selling author, writing several autobiographies, novels and children's books.
It wasn't just the eye-catching colour or the celebrity-ownership that attracted Saxton 4×4 to the car, "This particular car has been professionally enhanced by Urban Automotive and with Saxton 4×4 being an official Urban centre, made the car a good candidate for our inventory." The modifications added by Urban Automotive include the body styling and the 22" alloys.
Anybody interested in owning a piece of tabloid history is urged to keep their eyes peeled on the forecourts of Saxton 4×4 over the next few weeks.