Expanded technician programme will help ex-services find jobs with Jaguar Land Rover retailers
WHEN YOU CLICK ON LINKS TO VARIOUS MERCHANTS ON THIS SITE AND MAKE A PURCHASE, THIS CAN RESULT IN THIS SITE EARNING A COMMISSION. AFFILIATE PROGRAMS AND AFFILIATIONS INCLUDE, BUT ARE NOT LIMITED TO, THE EBAY PARTNER NETWORK AND AMAZON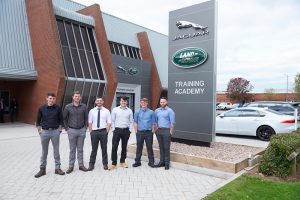 Jaguar Land Rover is helping ex-servicemen and women find new careers as technicians in its UK retailer network. The training programme, run with forces' charity Mission Motorsport, is part of Jaguar Land Rover's commitment to employ 1,000 former military personnel by 2020. A three-week intensive course will help those who have served their country transfer their valuable skills to the retailer network of Britain's biggest carmaker.
Phil Cannell, Jaguar Land Rover's Technical Academy Manager, said: "This intensive, fast-track programme aims to capture the unique and transferable skills of armed forces personnel, giving them an opportunity to forge new careers as retail vehicle technicians. It addresses the challenges of supporting military into civilian careers while providing our retailers with the highest calibre of staff."
Technical, electronic and mechanical training is held at the Jaguar Land Rover Academy in Warwickshire. The expanded project follows a successful pilot in late 2017, which saw six technicians recruited by Jaguar Land Rover retailers.
Joshua Gelder joined the military at 17 and now works at Inchcape Land Rover in Chester after training on the pilot scheme. He said: "I applied for the opportunity because I knew Jaguar Land Rover had a strong connection with the military. I wanted to find something that would develop the skills I had gained in the military and allow me to feel part of a team again. The course really helped take my practical and theoretical skills to the next level."
Rob Lummis, Head of Employee Experiences at Jaguar Land Rover, said: "This initiative represents a partnership between Jaguar Land Rover, Mission Motorsport and our retailers across the country. The project is the first time that we've looked directly at how we can link our ex-service personnel in this way with vehicle technician roles and we're really pleased to see these people have settled in so well in their new jobs.
"We'd like to thank the retailers who have already signed up to this initiative. They've got some great technicians."
Simon Broughton, Head of Business at Hatfields in Liverpool, has employed two new technicians. He said: "For us to employ and train someone for a level two technician role would usually take around a year, so this programme is fantastic in securing the right people, in a timely way, to support our customers.
"Ex-forces personnel are very focused and structured thanks to the environment they've come from. Other retailers should consider signing up for this because the experience has been nothing but positive."
Mission Motorsport
Mission Motorsport  has worked with Jaguar Land Rover since 2014 helping them develop their pioneering Armed Forces Engagement Programme that has helped 800 service leavers find employment. The expansion of this initiative, finding nationwide opportunities for service leavers and veterans in the national retail network, is another step forward.