WHEN YOU CLICK ON LINKS TO VARIOUS MERCHANTS ON THIS SITE AND MAKE A PURCHASE, THIS CAN RESULT IN THIS SITE EARNING A COMMISSION. AFFILIATE PROGRAMS AND AFFILIATIONS INCLUDE, BUT ARE NOT LIMITED TO, THE EBAY PARTNER NETWORK AND AMAZON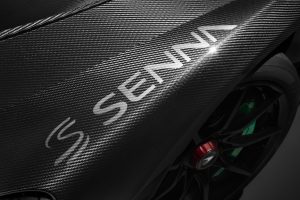 The new McLaren Senna is set to raise heartrates at the 88th Geneva Motor Show as it bares all to appear in Visual Carbon Fibre

The McLaren Senna Carbon Theme by McLaren Special Operations (MSO) is one of five themes developed by MSO for a car that has been the centre of attention since the first images were released in December.

The Visual Carbon Fibre exterior is the most obvious individual feature of the McLaren Senna Carbon Theme by MSO. Comprising 67 parts, the full body set takes almost 1,000 hours to produce. Solar Yellow detailing on the sill exteriors, rear wing and front active aero blades – a process that accounted for almost 250 hours of MSO time – combines with Laurel Green brake calipers in recognition of the helmet colours of the legendary Brazilian Formula 1 racing driver.
Solar Yellow and Laurel Green detailing echoes the helmet livery of Ayrton Senna, legendary Brazilian Formula 1 driver and three-time World Champion at the wheel of a McLaren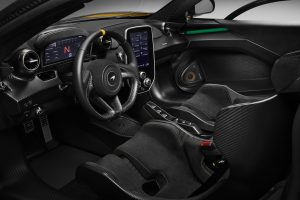 The colours are carried through to the interior of the car, with the door gas strut in Laurel Green and the contrast stitching on the Carbon Black Alcantara® trim on seats, door inners and facia. The steering wheel also has a leather centre band in a similar yellow hue.
Both seats feature a Senna 'S' on the headrest and the same detail is repeated in satin finish Visual Carbon Fibre on the end plates of the rear wing, a result achieved using a highly specialised process that sees each matt-finished logo embedded into the gloss carbon fibre panel. One of the front fenders proudly displays the Senna brand.
"The McLaren Senna customers in the process of specifying their own, personalised cars are almost without exception commissioning an elevated level of MSO content, so we are definitely appealing to our target audience," explained Ansar Ali, Managing Director, McLaren Special Operations. "With the car having generated so much interest since its unveiling in December, we knew we needed to produce something very special in order to showcase the unique talents of McLaren Special Operations; the McLaren Senna Carbon Theme by MSO at the Geneva Motor Show is exactly the kind of project we thrive on delivering and once customers have had the opportunity to view it in person, I would not be at all surprised to see a rise in expressions of interest for MSO Visual Carbon Fibre cars similar to this one."
McLaren Special Operations is also introducing a new McLaren Senna wheel option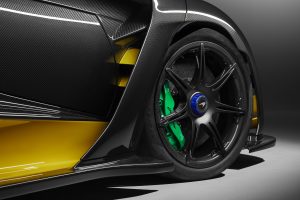 McLaren Special Operations is also taking the opportunity to introduce a new McLaren Senna wheel option in Geneva. The standard wheel is available in three finishes, but the new MSO 7-Spoke, Hybrid Carbon Fibre Wheel is the only alternative design available from McLaren for the car. The centre-lock wheel is a forged aluminium/carbon fibre rim component that at 7.5kg (front wheel) without a tyre fitted, is up to 10 per cent lighter than the standard-fit wheel.
Benefitting dynamic performance by reducing unsprung weight, the carbon fibre hybrid wheels offer a 10-15 per cent reduction in rotating inertia, improving acceleration, braking and steering responses.
The MSO 7-Spoke Hybrid Carbon Fibre Wheel, which also offers McLaren Senna customers a further opportunity to personalise their purchase, is a retailer-fit only option that will be available to order soon in either Diamond Cut or Stealth finish. The Memphis Red and Vega Blue satin finish centre lock wheel nuts fitted to respectively the left- and right-hand sides of the McLaren Senna Carbon Theme car are available now to MSO Bespoke order.
Legalised for road use, but not sanitised to suit it, the new McLaren Senna was designed and developed from the outset to excel on a circuit and as a result has an uncompromised performance focus that is reflected in its appearance. The aggressive looks are the strongest expression yet of McLaren's 'form follows function' philosophy and McLaren Special Operations is already seeing significant interest from McLaren Senna buyers wanting to make their cars even more distinctive.
Just 500 examples of the McLaren Senna will be produced and all are already assigned. Each vehicle is priced at £750,000 and will be hand-assembled by specialists at the McLaren Production Centre in Woking, Surrey, England, in a process taking close to 300 hours. Cars commissioned from McLaren Special Operations will take considerably longer to build and carry a financial premium; the bespoke personalisation carried out on the McLaren Senna Carbon Theme by MSO, for example, adds a little under £300,000 to the price.
McLaren Automotive will hold a press conference at the Geneva International Motor Show at 10:45 CET on Tuesday March 6, introducing the McLaren Senna and detailing corporate developments and a surprise announcement…